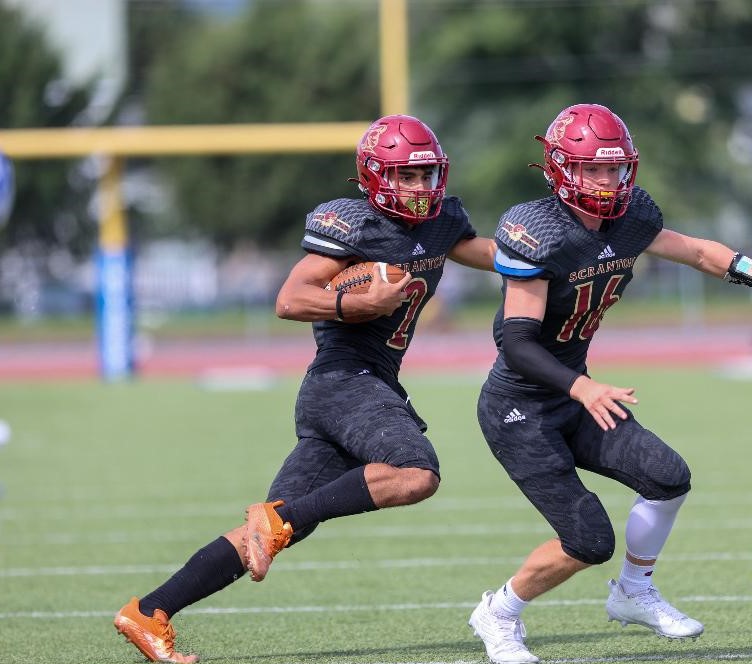 By Tom Robinson, NEPASportsNation.com
SCRANTON – Scranton threw away scoring opportunities with costly, early penalties on offense.
The Knights defense and special teams simply created more.
Scranton eventually scored the game's first 21 points on the way to a 21-9 victory over Scranton Prep Saturday afternoon in a Lackawanna Football Conference Division 1 opener for both teams at Memorial Stadium.
Dohnavin Laybourn-Boddie provided the game's biggest offensive play and consistently led the defense as the Knights improved to 4-0 overall while dropping the Cavaliers to 2-2.
Scranton led just 7-0 at halftime despite advantages of 8-1 in first downs and 129-19 in total offense.
The Knights reached the Red Zone on their first three possessions, but penalties at the Cavaliers 13 and 4 spoiled two of the chances. They were penalized 8 times for 94 yards in the first half and 12 times for 135 yards in the game.
Laybourn-Boddie added to the lead on the first play of the second half when he took an off-tackle play 65 yards for a touchdown, quickly breaking into the clear, then sprinting the distance.
Quarterback Billy Maloney accounted for the other two touchdowns, running 20 yards for the last score, then hitting Matt Shilling for the two-pointer and a 21-0 lead with 8:36 left.
Maloney passed to Donato Stepney for a 22-yard touchdown in the first quarter.
Shilling and Stepney joined Laybourn-Boddie in leading the defensive effort on a day when Scranton built statistical advantages of 14-6 on first downs, 276-73 in rushing yards and 323-144 in total offense.
Laybourn-Boddie had six tackles and three assists. He recovered a fumble and had a sack along with two more tackles for losses.
Shilling had five tackles, including a sack. He also intercepted a pass and forced a fumble.
Stepney had four tackles and three assists and Scranton's biggest defensive play.
Following Laybourn-Boddie's long touchdown run, Scranton Prep put together its best drive, getting as close as the 3 and setting up fourth-and-3 from the 5.
The Cavaliers had the Knights fooled on a reverse to the left and wide side of the field. There were seven players left outside the hashmarks, five of them Cavaliers and two of them Knights.
Although three Scranton Prep players were positioned to block Stepney, he fired through them and stopped Liam Barrett for a six-yard loss.
Louis Paris completed three passes for 58 yards in a fourth-quarter drive by Scranton Prep, then scored from the 1 with 4:08 left.
The Cavaliers then took over at the Knights 25 after Raymond Rinaldi's on-side kick rolled up the sideline until Aidan Colleran could jump on it.
Scranton Prep got as close as the 5 with more than three minutes still on the clock, but Elijah Ortiz forced a sack on a fumble on first down. Then, Craig Pabst broke up a second-down pass before rushing Paris into a fourth-down incompletion.
Scranton took a safety with 54.2 seconds left after forcing Scranton Prep to use up its remaining timeouts.
Maloney finished with 127 yards rushing on 20 carries while hitting 6 of 10 passes for 47 more yards.
Laybourn-Boddie ran for 98 yards on 9 carries and caught 2 passes.
Stepney added 48 yards on 4 carries and was Scranton's leading receiver with 3 catches for 34 yards.
Jacob Martinez added to the defensive effort by making two sacks and assisting on another. He had four tackles and two assists total.
Scranton Prep was led defensively by Jake Gentile and Andrew Summa.
Gentile made five tackles and assisted on five others. Summa had five tackles and three assists, along with the safety for tracking down the Scranton punter.
Paris came off the bench to go 6-for-10 for 71 yards passing. He was 5-for-7 for 74 yards in the second half.