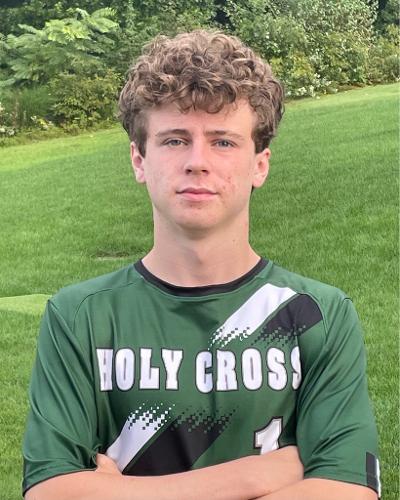 EDITOR'S NOTE: As a step in getting ready for the upcoming 2022 fall sports season, NEPASportsNation.com is taking a look back at the 2021 season in District 2.
Champions
North Pocono and Holy Cross each won both District 2 and regular-season division titles.
The Trojans and Crusaders won the top two divisions of the Lackawanna League.
North Pocono won District 2 Class 3A and Lackawanna Division 1.
Holy Cross won District 2 Class A and Lackawanna Division 2.
Hazleton Area, in Class 4A, and Wyoming Seminary, in Class 2A, were the other District 2 champions.
Blue Ridge was the Lackawanna Division 3 champion.
Crestwood and Wyoming Area won the Wyoming Valley Conference Division 1 and 2 titles.
State impact
North Pocono made the Pennsylvania Interscholastic Athletic Association quarterfinals with the only state tournament win by a District 2 team.
The Trojans defeated Danville, 4-1, then fell in the Class 3A quarterfinals to Archbishop Wood, 4-3.
Standings
Lackawanna Division 1: North Pocono 11-1-2, Abington Heights 11-2-1, Valley View 9-1-4, Wallenpaupack 6-6-2, Delaware Valley 5-7-2, Scranton 3-11, Scranton Prep 2-10-2, Honesdale 2-11-1.
Lackawanna Division 2: Holy Cross 11-1, Dunmore 10-2, Lakeland 6-6, Western Wayne 6-6, Mountain View 5-7, Gregory the Great 4-8, Forest City 0-12.
Lackawanna Division 3: Blue Ridge 11-1, Elk Lake 10-2, Riverside 7-5, Old Forge 6-6, West Scranton 6-6, Montrose 1-11, Mid Valley 1-11.
WVC Division 1: Crestwood 11-2-1, Hazleton Area 11-3, Tunkhannock 8-5-1, Dallas 7-5-2, Wilkes-Barre Area 6-4-4, Wyoming Valley West 6-7-1, Pittston Area 1-11-2, Berwick 0-13-1.
WVC Division 2: Wyoming Area 12-0, Holy Redeemer 9-3, Wyoming Seminary 8-4, Lake-Lehman 6-6, Nanticoke 5-7, Hanover Area 1-11, MMI Prep 1-11.
Playoffs
The District 2 championship game scores were: Hazleton Area 1-0 over Wilkes-Barre Area in Class 4A, North Pocono 4-0 over Wallenpaupack in Class 3A, Wyoming Seminary 3-2 over Wyoming Area in Class 2A, and Holy Cross 7-1 over Mountain View in Class A.
Hazleton Area, North Pocono and Holy Cross all held up top seeds on the way to their titles.
Wyoming Seminary won its championship as a third seed, beating second-seeded Dunmore, 5-2, before taking out top-seeded Wyoming Area to avenge two regular-season losses in divisional play.
Wallenpaupack, the seventh seed in Class 3A, and Mountain View, the sixth seed in Class 2A, each made the final, beating the second- and third-seeded teams before losing to the top seeds.
Wallenpaupack dumped second-seeded Valley View, 2-0, in the quarterfinals and third-seeded Crestwood, 1-0, in the semifinals.
Mountain View took down third-seeded Elk Lake, 2-1, in the quarterfinals and second-seeded Blue Ridge, 3-2, in the semifinals.
Wilkes-Barre Area was the third seed in the District 2-4 Class 4A Subregional, but defeated second-seeded Williamsport, 3-1, in the semifinals.
Delaware Valley and Old Forge each made the semifinals as fifth seeds by defeating fourth seeds.
Delaware Valley topped Wyoming Valley West, 2-0, in Class 4A while Old Forge beat rival Riverside, 3-2, in A.
Power Rankings
North Pocono and Wyoming Area finished as the top teams in the final Riverfront United Super Six Power Rankings of District 2 teams.
North Pocono led the Big Schools, followed by: No. 2 Hazleton Area, No. 3 Crestwood, No. 4 Valley View, No. 5 Abington Heights and No. 6 Wallenpaupack.
Wyoming Area led the Small Schools, followed by: No. 2 Wyoming Seminary, No. 3 Holy Cross, No. 4 Blue Ridge, No. 5 Dunmore and No. 6 Elk Lake.
Noteworthy
Ron Prislupski from Holy Cross and Shay Gillen from Valley View were named to the East Region All-American team. … Prislupski, Gillen, Hunter Rolles from Crestwood, Gerald Welsted from Blue Ridge and Thomas Iskra from Wyoming Seminary were named all-state by the Pennsylvania State Soccer Coaches Association. … Prislupski was believed to be the state scoring leader with 72 goals and 17 assists. … Hazleton Area also won the District 2-4 Class 4A Subregional title because of Williamsport's inclusion in the event as District 4's only Class 4A team. … North Pocono and Wyoming Area each won 19 games while losing just twice. North Pocono also had two ties.