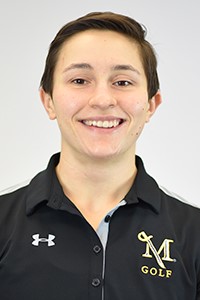 Hannah Yanoski made history during her senior season on the Millersville University women's golf team.
Yanoski shot the first even-par round in program history to open the Charleston Invitational where she went on to win with a 7-over-par, 149 for the second-lowest, 36-hole score in team history.
The Valley View graduate won two of her five tournaments, picking up back-to-back victories, and becoming just the sixth Marauders women's golfer to win twice in the same season.
Yanoski earned first-team, All-Pennsylvania State Athletic Conference honors, moving up from second-team a year ago.
After three straight seasons with stroke averages between 83 and 85, Yanoski averaged 81.9, sixth-best in school history.
Yanoski followed up her win in a 75-player field in West Virginia by finishing first of 41 players in the Dr. Edwin B. Cottrell Invitational at West Chester.
For her career, Yanoski averaged 83.8 in her 54 rounds, third-best scoring average in Millersville history. She was also the third player from the team to receive all-PSAC recognition twice.
Millersville and the other PSAC schools compete on the National Collegiate Athletic Association Division II level.