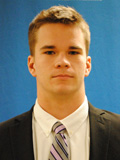 Tyler Kirsten, Josh Lydon and Mike Bartoletti were all recognized by the Landmark Conference for their roles in the University of Scranton's baseball title.
The Landmark championship and National Collegiate Athletic Association Division III national tournament berth that went with it were both firsts in program history.
Kirsten, a junior shortstop from Wallenpaupack who had the second-highest batting average in the Landmark, was a first-team conference all-star.
Lydon, a junior pitcher from Dallas, was a second-team Landmark star.
Bartoletti, from Old Forge, was named Landmark Coach of the Year for the third time since 2011.
The Royals went 16-8 in the Landmark regular season and 20-11 overall.
They defeated Elizabethtown in a best-of-three championship series after dropping the first game, 13-7.
Scranton came back to win, 4-0, then 6-3.
Landmark Pitcher of the Year Daniel Johnson worked the first seven innings of a combined three-hit shutout in Game Two.
Kirsten went 4-for-5 with two runs and an RBI in the deciding game.
On his way to Landmark Conference Championship Series Most Valuable Player, Kirsten was 6-for-14 in the series with a triple and four RBI.
Kirsten played all 31 games and led the team with a .397 average and 46 hits while sharing the RBI lead with 23. He was second on the team with 10 doubles while posting a .449 on-base percentage and .517 slugging percentage.
Lydon and Hunter Ralston, a sophomore from Pittston Area, were second and third on the team in innings pitched.
In eight starts, Lydon was 4-2 with a 5.26 earned run average. He gave up 39 hits and 10 walks while finishing second on the team with 31 strikeouts in 37 2/3 innings.
Ralston made nine appearances, including six starts. He was 2-4 with a 5.45 ERA. Ralston struck out 21 while allowing 39 hits and 15 walks in 33 innings.
Corey ZIentek, a freshman outfielder from Hazleton Area, and Mason Boettger, a junior pitcher/catcher from Old Forge, were also part of the championship team.
Zientek played in 23 games and led the team with a .568 slugging percentage, 3 triples and 3 home runs. He was second in runs scored with 26 while batting .311.
Boettger's only appearances were as a pitcher and he was effective in his three chances, working three innings and striking out four while allowing one hit in three scoreless innings.
All seven 20-win seasons in Scranton history have come since Bartoletti took over in 2003. He posted his 300th career Scranton win May 2 against Juniata and finished the season 306-369-1 in 19 seasons.
Scranton played in the NCAA Division III Regional in Collegeville, Minn. where it lost twice and was eliminated, 11-4, by defending national champion Chapman.