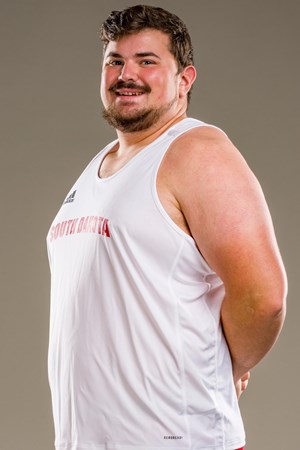 Matt Slagus from the University of South Dakota wrapped up his season with an appearance in the National Collegiate Athletic Association Division I Track and Field West Preliminary in the hammer throw.
The redshirt junior from North Pocono finished 41st in the preliminary, which qualified athletes for the national championships, with a throw of 188-5.
Slagus was fourth in the hammer throw (198-10), eighth in the discus (166-7) and 11th in the shot put (52-9½) at the Summit League Championships. He qualified for the West Preliminary with a career-best hammer throw of 203-1, which was also third-best in school history.
During the indoor season, Slagus was fifth in the weight throw with 63-9¾. He had been fourth in the event in the indoor season in 2019-20.
Slagus has been a contributor in each of the throwing events, other than javelin, for four indoor and three outdoor seasons.
At North Pocono, Slagus was a two-time Pennsylvania Interscholastic Athletic Association state runner-up in Class 3A in the discus, an event in which he also set a District 2 meet record. He was also a state silver medalist in the shot put.
Slagus then competed in the hammer throw, an event not held during the PIAA season, and set a Pennsylvania record of 206-0.