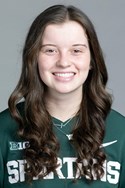 Marissa Trivelpiece made an early impact on the Michigan State University softball program, appearing in 36 of 40 games and making 32 starts as a freshman.
The Spartans went 14-26, playing their entire schedule within the Big Ten.
The Hazleton Area graduate opened the season coming off the bench, began getting infield starts early in the season and was the everyday shortstop by the time it ended.
Trivelpiece led Michigan State offensively in the next-to-last game of the season, going 2-for-3 with a walk in a loss to Ohio State.
The team leader in walks (15) and on-base percentage (.352), Trivelpiece batted .211 for the season for a team that struggled offensively, averaging just .226 and producing only 2.4 runs per game.
Trivelpiece tied for second on the team in doubles (five) and homers (two). She drove in nine runs and scored eight.
At Hazleton Area, Trivelpiece was the finalist for the Gatorade State Softball Player of the Year and led the Lady Cougars to a state championship game appearance. She was also a 1,000-point basketball scorer and multi-year, all-star, including Wyoming Valley Conference Division 1 Player of the Year honors from NEPABasketball.com for her efforts on a championship team as a junior.