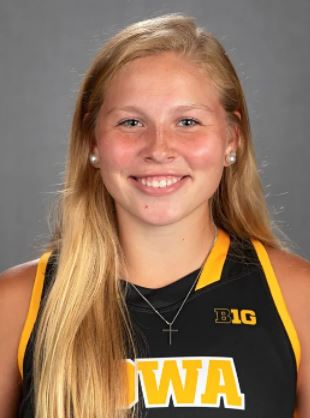 Alex Wesneski appeared in every game as a freshman for the University of Iowa field hockey team that reached the National Collegiate Athletic Association Division I Final Four and finished the season ranked fourth nationally.
The Wyoming Seminary graduate tied for second on the team in goals with three and was third in scoring with eight points with the help of two assists.
Field hockey, normally conducted in the fall, was moved to the spring for 2020-21 because of the pandemic.
Iowa went 5-3 in the Big Ten and 12-6 overall. The Hawkeyes reached the Big Ten semifinal against second-ranked Michigan, then beat another Big Ten opponent, Northwestern, 3-1, in the NCAA quarterfinals. Eventual champion North Carolina eliminated Iowa, 3-0, in the national semifinals.
Wesneski came off the bench to score two first-half goals in a 3-0 victory over ninth-ranked Maryland in the Big Ten quarterfinals.
"We've been working on scoring early and scoring a lot, and it's just really nice for all of that to come together right now," Wesneski said, according to a report on the school's athletic website following the April 21 victory.
Wesneski was a state champion and a four-time, all-state selection in field hockey along with scoring 1,000-plus points as an all-star basketball player while at Wyoming Seminary.