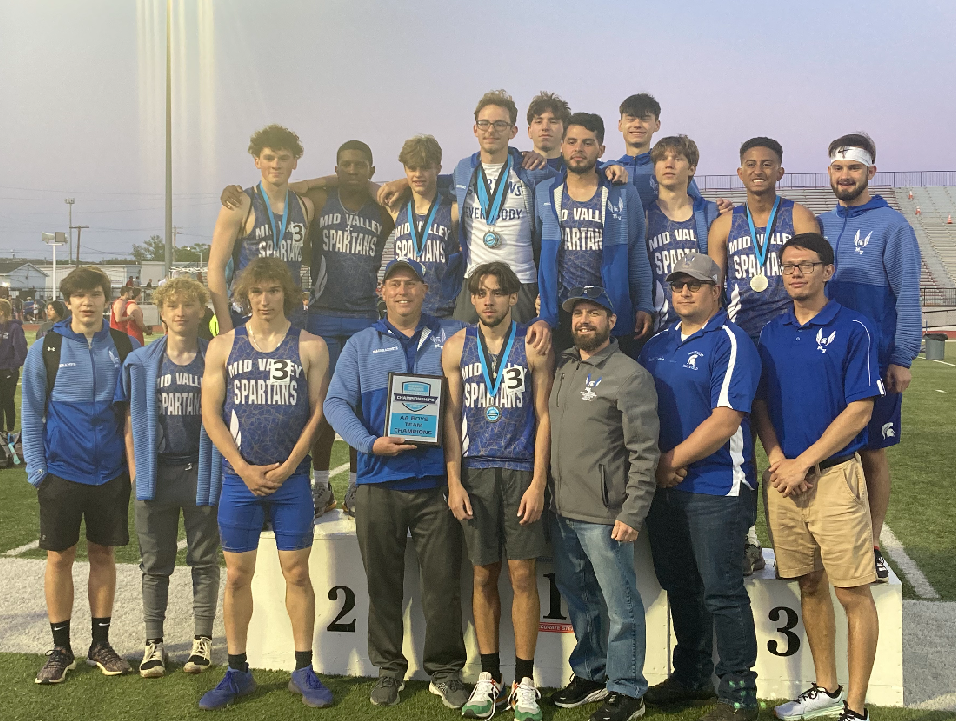 By Tom Robinson, NEPASportsNation.com
SCRANTON – The dominance of Class 3A power North Pocono meant that gold medals were in short supply for Class 2A boys athletes during the Robert Spagna Lackawanna Track Conference Championships May 10 at Scranton Memorial Stadium.
Mid Valley won just one event overall, partially disguising what was an overwhelming effort by the Spartans when compared to their Small School counterparts.
With Josh Angelo's shot put win and Jomar Rodriguez's record-setting, 100-meter dash leading the way, Mid Valley more than doubled the team points output of its nearest pursuer while running way with the Class 2A boys title.
Division 3 champion Mid Valley outscored Division 4 champion Blue Ridge, 77-32, for the title even though Angelo was the only one able to provide the 10 points that go with a first-place finish.
"That just shows our team's depth," Mid Valley coach Nick Kazinetz said.
The Spartans scored points in 12 out of 18 events and had the top Class 2A finisher in 7 of those events.
"I'm proud of the kids in all the events," Kazinetz said. "That's what a true team does.
"Obviously, the kids from North Pocono really were stellar on the track. My hat's off to their program, but we kept plugging along."
Angelo won the shot put my more than three feet with a heave of 48-0.
Rodriguez was part of a deep field in the 100 where he finished third overall and best of the Class 2A sprinters. He finished one-hundredth of a second out of second place and 15-thousandths out of first in 11.11 seconds.
"I was very excited for Jomar Rodriguez," Kazinetz said. " … He beat a lot of quality competition."
Mid Valley's depth showed in the relays where it was second to North Pocono in the 1600 and a close 3200 race as well as sixth in the 400, placing first among Class 2A teams in all three.
Zachary Popko and Gabe Pacyna were on both second-place relays.
Nathan Zarnowski was second in both hurdles races, leading the Small Schools in the 300. Kyle Marcinkevich's third in the 400 was best among Small Schools.
The Spartans scored in 9 of the 11 events on the track.
Zarnowski was second to Riverside's Nathan Oliphant in the 110 high hurdles.
Western Wayne pole vaulter Richie Reed, Holy Cross high jumper Nathan McAndrew and Lakeland discus thrower Lacota Dippre joined Angelo and Oliphant as the overall winners from Class 2A teams.
Reed won by two feet while McAndrew went four inches higher than any other high jumper. Dippre won by more than 28 feet.
MORE
Full team scores and top three finishers from each event can be found at: https://nepasportsnation.com/spagna-ltc-championship-results/.