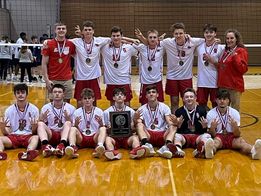 Connor Cranage had 18 kills and 8 digs Thursday when Blue Ridge swept Berwick in three sets at Wilkes University in a match that decided the District 2 Class 2A boys volleyball championship.
The Raiders won by set scores of 25-17, 25-19, 25-21 in the match for third place in and the final state berth from the District 1-2-11 Class 2A Subregional. Because teams from District 1 and 11 met for the title, the match also determined the District 2 champion.
Cranage received plenty of help.
Nick Laude had five kills. Carson Gallagher had 32 assists and 7 service points. Aiden Glasgow had 11 digs.
Morgan Thomas, Dylan Bradley and Gerald Welsted all had three kills. Thomas also had seven points while Bradley had six.
Hunter Madl led Berwick with 12 kills and 5 digs while Graham Marshman had 6 kills and 16 digs.
Blaze Croop had 9 service points, with the help of 2 aces, and also contributed 17 digs and 3 assists.
Andrew Blockus had a team-high 21 assists, along with 5 digs and 2 blocks.
Zander Unger, who had two blocks, and Justin Rodney added three kills each.
Blue Ridge improves to 14-3. The Raiders, ranked third in the Riverfront Sports Super Six Boys Volleyball Power Rankings, advance to Tuesday's first round of state play in or near Philadelphia, against the District 12 champion.
Fourth-ranked Berwick finishes the season 12-4.