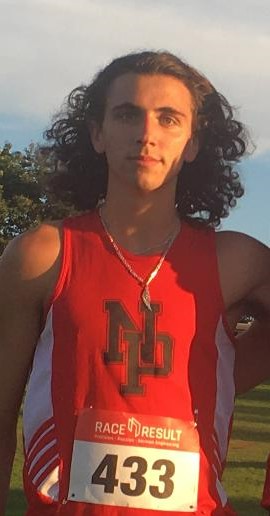 Caleb Kenyon set a Nay Aug Park course record Tuesday, leading the way as North Pocono won a battle of unbeaten teams with Mid Valley as part of another perfect day for the Trojans in a Lackawanna League boys cross country cluster meet.
Kenyon finished the 3.05-mile course in 16:14.3 as North Pocono defeated Mid Valley (21-37), Scranton (18-43) and West Scranton (15-50) to improve to 17-0 and assume sole possession of the league lead.
With Nay Aug used as the home course by multiple teams – currently Mid Valley, Scranton and Tuesday's host, West Scranton – the time of 16:17 posted by Luke Jones of Elk Lake in 2012 held up for nine years until Kenyon's winning effort Tuesday.
Teammate Aiden Horne made it a 1-2 finish in 16:28 before Scranton's Brian McCormack came in third in 18:28.4.
Both Abington Heights and North Pocono topped previously unbeaten Mid Valley.
Abington Heights beat the Spartans, 20-38, and swept the same three teams as North Pocono while improving to 16-1. The Comets and Scranton Prep passed Mid Valley into a second-place tie.
Valley View won twice, but fell to Mid Valley, 27-33.
Mason Natalini from North Pocono was fourth
While North Pocono beat Mid Valley with its 1-2-4 placement in the six-team meet, Abington Heights topped the Spartans with its depth.
The Comets had Thomas Walsh finish fifth, then Nicholas Booth, Gavin Ross and Sean Rooney take seventh through ninth and Alex Duffy 12th.
Michael Novak and Gabe Pacyna led Mid Valley in sixth and 10th.
Ethan Williams, in 11th, was Valley View's lead runner.
Aidan LaTourette edged Lakeland's Scott Bevilacqua by 3.5 seconds in 18:09.4 while helping make Honesdale the only team to go 3-0 during a meet on the Hornets' home course.
Luke Murray also placed third, then Joseph Taraschuk, Logan Novobilski and J.P. Ahern provided support, finishing 10th, 12th and 13th.
The closest meet was with Lakeland, 25-33.
The Chiefs joined Wallenpaupack and Delaware Valley in going 2-1. Lakeland beat both those teams.
Lackawanna Trail's Bradyen Clarke was fourth and Lakeland's Thomas Rohan fifth. Dylan Kopa added an eighth-place finish for Lakeland.
Wallenpaupack was led by Alec Crouthamel in sixth and Nicholas Warrington in 11th.
Delaware Valley placed Nixon Kameen seventh and Griffen Kowal ninth.
Scranton Prep moved into the second-place tie by beating Mountain View, Susquehanna and Forest City all by at least 25 points during its home meet.
Graham Oven and Ryan Flaim gave Scranton Prep a 1-2 finish.
Oven's 19:08 beat Flaim by three seconds and Mountain View's Cohen Anderson by five.
Teddy Novak from Holy Cross was only another three seconds behind.
Scranton Prep's Wyatt Stelmak and Peter Pavuk then took sixth and seventh, followed by Spencer Decker and Michael Allardyce from Holy Cross.
Gordon Kopa from Scranton Prep and Luke Healey from Holy Cross rounded out the top 10.
Holy Cross swept the same three teams while Susquehanna and Mountain View picked up wins uncontested over Carbondale.
Carbondale and Forest City did not have any boys runners so their meet was a "no contest".
Montrose and Blue Ridge each went 3-0, beating Dunmore, Riverside and Old Forge in a meet at Elk Lake.
The Bucks, Vikings and Blue Devils all defeated the host Warriors to finish the day 1-2.
Riverside's Daniel Danilovitz won by 27 seconds in 18:03.
The top five came from five different schools.
Nathaniel Sinkovich from Montrose was second, followed by Joe Cardillo from Dunmore, Justice Johnson from Elk Lake and Heath Bowker from Blue Ridge.
James Bixby was sixth, Nicholas Harder eighth, then Logan Birchard and Andrew Chidester in 11th and 12th for Montrose. Cody Leonard was 14th, giving the Meteors six runners in before any of their opponents for the day had more than two.
Blue Ridge had runners fifth, seventh and ninth with Duncan Geyer and Max Ksenich following Bowker.
Elk Lake's Dylan Way was 10th.
MORE
Complete scores: For the scores of every dual meet combination from Tuesday's cluster meets, go to the scoreboard at https://nepasportsnation.com/tuesdays-district-2-scoreboard-7/.