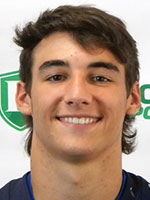 Berwick shut out Wyoming Valley West over the final 2½ quarters while scoring the game's last three touchdowns Saturday afternoon to rally for a 21-14 victory in a non-league game between Wyoming Valley Conference football teams.
Matt Lonczynski threw a touchdown pass with three seconds left in the first half to begin the comeback, then scored the game-winning touchdown on a 2-yard run with 8:11 left.
The Bulldogs have pulled out three straight wins, all by seven points or less and all by going ahead to stay in the second half.
Wyoming Valley West broke two long scoring plays in the second quarter for its 14-point lead.
Isaiah Cobb, who carried 18 times for 135 yards before missing the fourth quarter because of an injury, broke a 46-yard run to open the scoring a minute into the second quarter.
Conner Olisewski continued his outstanding all-around play for the Spartans (3-4) by catching a 73-yard touchdown pass from Luke Buss and leading the defensive effort. He made eight tackles, assisted on one and picked off his sixth pass of the season.
The Bulldogs worked their way back.
Lonczynski's touchdown pass went for 6 yards to Spencer Kishbaugh.
Berwick tied the game midway through the third quarter on a 4-yard run by Ben Knorr.
Knorr and Ryan Bankes produced much of the Berwick offense.
Bankes carried 24 times for 132 yards.
Knorr caught 6 passes while going more than 50 yards both rushing and receiving.