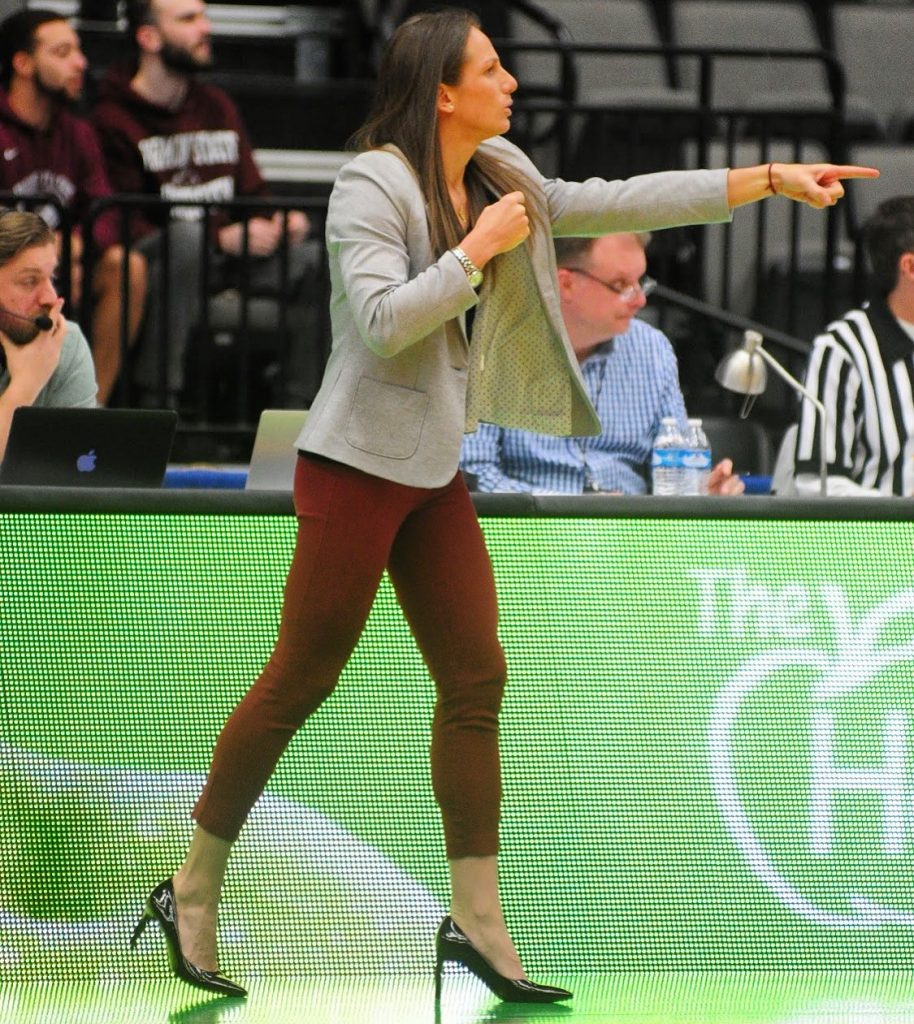 By Tom Robinson, NEPASportsNation.com
Becky Burke's coaching success has her in motion again, returning to the northeast while moving closer to home and closer to the top of women's college basketball.
The University at Buffalo announced Wednesday that Burke, fresh off a Big South Coach of the Year season at the University of South Carolina Upstate, will be the next head coach of the Bulls.
The Abington Heights graduate will be introduced in Buffalo during a Friday noon press conference.
"It's been a situation where I've been pursued and reached out to," Burke said in a phone interview hours after the decision was announced. "It was never my goal or something that I said 'I have to leave Upstate and go pursue other opportunities'.
"It is nice when you have success that people come calling. It's super humbling and I'm just really thankful to have been approached and it worked out perfect."
Burke, who received interest from multiple schools, goes from leading a team that finished the season 196th in the RPI rankings of the nation's 356 National Collegiate Athletic Association Division I teams to one that was 59th.
Buffalo went 25-9 and reached the NCAA Tournament where it battled Tennessee in an 80-67 loss.
The Bulls success helped former coach Felisha Legette-Jack land a job at Syracuse, one of the teams Buffalo beat. Some of her players are expected to follow Legette-Jack to Syracuse, her alma mater.
After a successful series of coaching assignments building or rebuilding teams, Burke's latest task will be maintaining a healthy program.
"It's obviously different from my past experiences," Burke said. "But, I'm very thankful and very excited because I feel 100 miles ahead of where I normally am when I take over a program.
"Coach Felisha took some of her players with her to Syracuse and there will be a couple needs to fill, but, as a whole, in terms of what their culture is and what it feels like to win and play in the NCAA Tournament, they've already been there and done that."
Burke said she will not try to replicate Legette-Jack's approach. She will continue her own style in handling the coaching intangibles and the establishment of program standards, but will cater the "Xs and Os" to the traits of her team.
"The common denominator is that we're going to win and be successful," Burke said. "It's just going to look a little different in how we do it."
Buffalo vice president and director of athletics Mark Alnutt explained the selection of Burke in a story posted on the university's athletic website.
"Throughout the search process, she quickly separated herself from the other candidates by displaying an infectious passion for the sport, a strong work ethic, and a competitive nature while forging genuine relationships with her student-athletes as she prepares them for success both on and off the court," Alnutt said. "She articulated a vision for this program which will build upon the success that we've had and continue to make our brand nationally recognized as a premier basketball program.
"Becky is a rising star in our industry and a proven winner which is very apparent at all her previous stops.
"University at Buffalo women's basketball is in very good hands for years to come."
The 2021-22 season was Burke's second at USC Upstate. The Spartans were picked to finish 10th in the Big South Conference in a preseason coaches' poll, but wound up third.
USC Upstate tied program records for conference (14) and overall (22) victories during its Division I era.
Scranton Prep graduate Rachael Rose was Big South Freshman of the Year while running an offense that finished sixth in the nation in field goal percentage.
Burke's coaching career has already taken the 2008 Abington Heights graduate to Indiana, California, Arizona, West Virginia, South Carolina and now New York.
The move left Burke in the position of again having to explain the decision to her team.
"It's extremely hard," Burke said. "It's heavy stuff. They're delicate conversations and they're not fun.
"There's no easy way to say it to make them feel better about it, but at the end of the day its full transparency and being completely honest with them."
Burke started the program at Emory Riddle Aeronautical University in Arizona, which followed up a winning debut season with 21 wins in the second season.
NCAA Division II, and a national tournament appearance in her second year, was next when Burke took over at the University of Charleston in West Virginia.
That led Burke to South Carolina and her third straight two-year head coaching job.
Now closer to home, Burke said she anticipates the end of that trend.
"I took a head coaching opportunity at a very early age and it's been a good thing that I've had the opportunity to move on at everywhere I've been," said Burke, pointing out that being in the northeast, closer to home, is important to her. "But I took this job in Buffalo to be there; to plant roots and not only build something, but sustain it and be there to see recruiting classes graduate and have a home base.
"I don't plan on continuing that trend. I feel like Buffalo will be home for me and I'm excited about it."
Burke scored more than 2,000 career points at Abington Heights where she was the state Class 4A Player of the Year as a senior. She started in the national championship game as a freshman at the University of Louisville where she scored more than 1,000 career points with the help of 249 career 3-pointers, fifth-best in school history.