NEPA Elite News
NEPA Elite's longest trip in the program's two-season history could also end up being its most rewarding.
The Clark 17U girls team won two more games Wednesday in Dallas, Texas to advance to the championship game of the PBR Super 64 National Championships Stanford Bracket, which will be held Thursday at noon against the Mavs from Arkansas.
"All my girls are making sure this is not a wasted trip," said Kevin Clark, the team's head coach and the founder of the AAU basketball program out of Riverfront Sports in Scranton.
The NEPA Elite Clark girls will have one day off between the end of the tournament in Texas and getting to Atlantic City to try to defend their Hoop Group Showcase League title, which was the highlight of their debut season in 2020.
This is the third straight event that the Clark team will play for the championship.
The Clark girls won the 17U Legacy Championship Division, the top division of competition in the Hoop Group's Pennsylvania Showcase at East Stroudsburg University.
In their next event, they reached the final of a 32-team bracket before settling for second place in The Prime Event East, a Select Basketball Event at Spooky Nook Sports in Lancaster County. The team was again entered in the top division, the 2022 Division Platinum Championship bracket.
Facing another 32-team bracket, NEPA Elite is 4-0 so far in its trip to Texas, winning twice each Tuesday and Wednesday to reach the final.
After three straight victories by double-figures margins, NEPA Elite rallied in the second half, then scored all nine points of overtime to get through the semifinals with a 54-45 victory over Team Lex Station, the second Texas team it has defeated on the trip.
"The biggest thing we've been looking for in all of our games is: At what point are we going to click?" Clark said. "I don't know if it's the travel, but it took a while to click. It took longer than we wanted or hoped, but then we would get to the point where we made more shots and made more plays.
"Once we got to overtime, it was our game. I was thrilled with the way we played."
NEPA Elite won the tap in the three-minute extra session, but could not score.
Team Lex Station spread the floor, taking its time on its first possession of overtime, but the move backfired when Moriah Murray stole the ball from a Team Lex dribbler.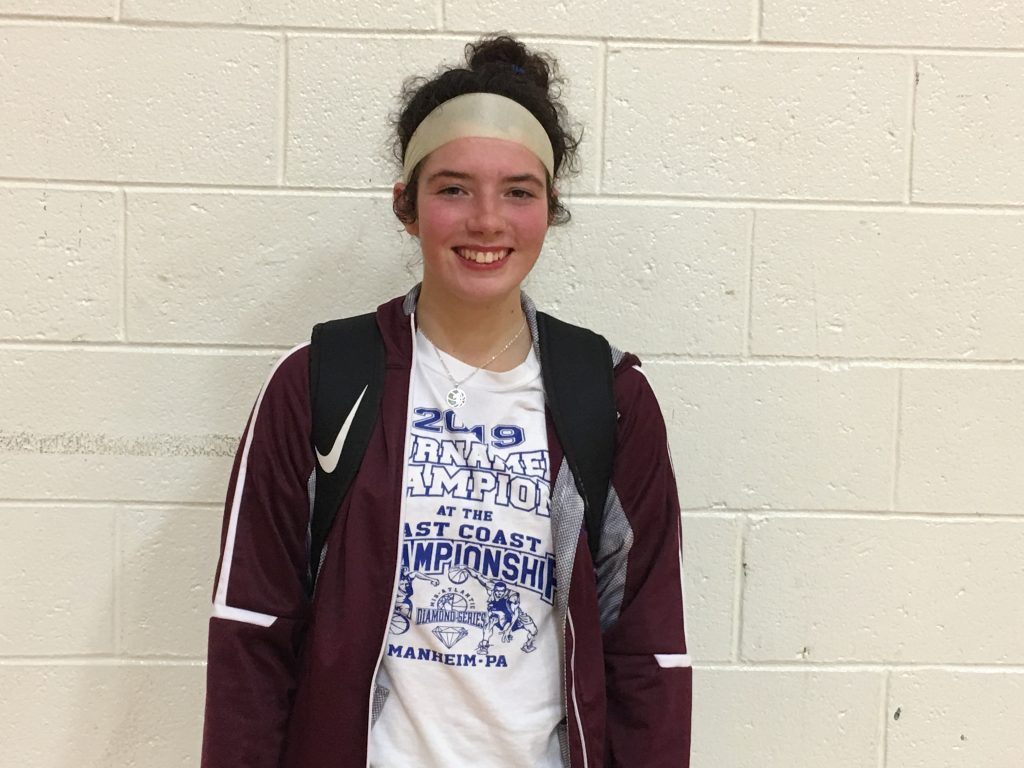 Murray took off on a fastbreak and was fouled. She hit the first for the go-ahead point and NEPA Elite got to the offensive boards, resulting in Ciera Toomey following Murray to the line.
Team Lex never did score in overtime as NEPA Elite pulled away.
Murray, Toomey, Anna Scoblick and Kaeli Romanowski led the team through overtime.
Murray went 3-for-4 from the line and had the momentum-turning steal. Toomey made both her free throws and also blocked a shot in addition to her offensive rebound. Scoblick drove the middle for the team's only basket of overtime, creating a 40-35 lead with 1:21 left and followed that up with a steal. Romanowski made her two free throws and grabbed the last two defensive rebounds.
While Clark has sometimes waited for the offense to find its groove, the defense and rebounding have carried the team, which has also thrived by showing improved depth and balance this week.
"Every single girl has contributed, which has been great," Clark said. "The girls, to their credit, when their number is called have produced. I can't say enough about their ability to contribute."
It has not always been easy.
"It's much-different basketball, in-your-face, aggressive defense and against that challenging defense, it took us a while to get going," Clark said.
NEPA Elite has answered with even better defense.
"This is the best defense I've ever coached or seen," Clark said. "We can miss 15 shots in a row and our defense will keep us in it until we find something."
Kaci Kranson returned from a broken wrist that cost her 6 weeks of game action, but kept herself ready to go and expanded the team's rotation from 9 to 10 players.
"She had a month and a half off and she didn't skip a beat," Clark said. "She came out guns blazing."
The sometimes-overwhelming efforts on the boards have completed the package.
"We've staying in front of the basketball with our defensive effort and forcing tough shots," Clark said. "Then, we're doing a really good job of staying in the paint and boxing out."
NEPA Elite won its first three games by a total of 58 points, including Wednesday's 64-42 quarterfinal victory over the New York Gauchos.
The Gauchos were held scoreless for the first 4:38 of the second half while NEPA Elite ran off 12 straight points to open a 43-19 lead. The lead swelled to as many as 28 points.
Ciera Toomey led the way with 19 points.
Kylie Lavelle and Kranson added 10 each.
Team Lex took a 19-15 halftime lead in the semifinal.
Murray was scoreless at the half, but wound up with a team-high 11 points.
Toomey added 10 points.
Murray and Toomey are also championship teammates in high school at Dunmore. Lavelle, Murray's future Drexel teammate, plays at Riverside. Kranson plays at Holy Cross.
All four were first-team, all-state players in their classification during the 2020-21 high school season.
Scoblick is from Abington Heights and Romanowski is from Western Wayne.
MORE NEPA ELITE NEWS
Additional Texas coverage: More on the way later from Wednesday's action, plus look for coverage of the Thursday championship game. Return to https://nepasportsnation.com/nepa-elite/.
Boys in Atlantic City: Coverage of The Hoop Group Atlantic City Jam Fest. https://nepasportsnation.com/roundup-ac-jam-fest-underway/.
Girls at Spooky Nook: The program's other girls teams are playing closer to home. https://nepasportsnation.com/roundup-three-teams-reach-3-1/.