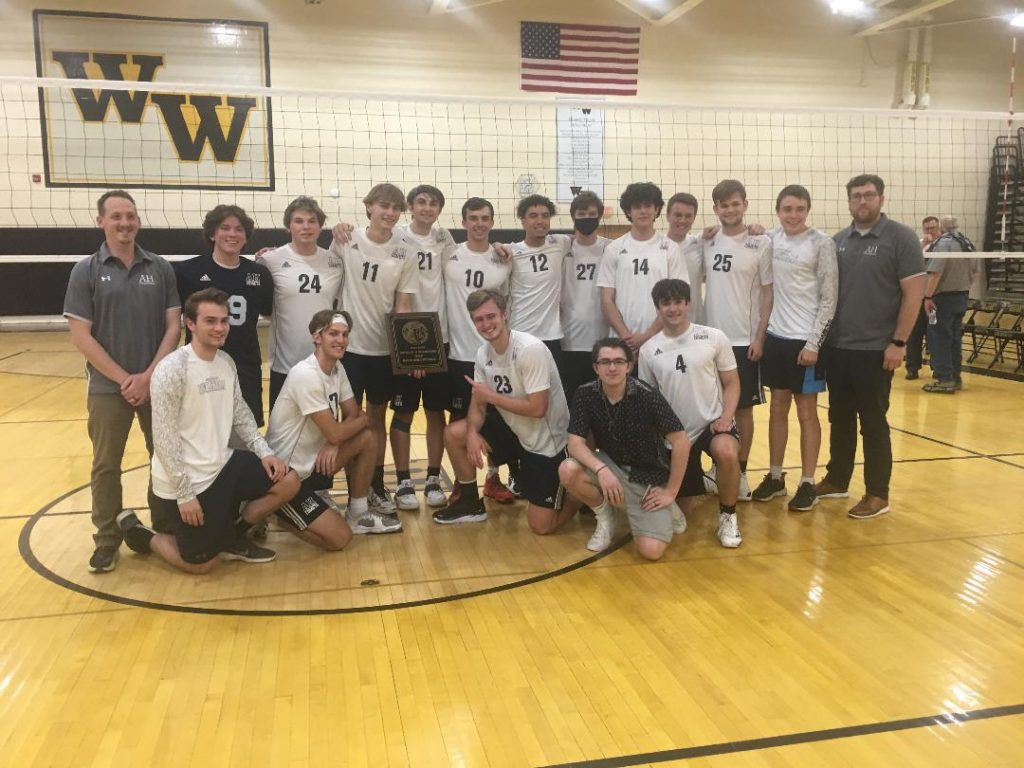 By Tom Robinson, NEPASportsNation.com
SOUTH CANAAN TOWNSHIP – Nico Bossi and the Abington Heights Comets were ready right from the start Wednesday night.
When it was time to finish the District 2 Class 3A boys volleyball tournament and Delaware Valley's streak of six straight titles, Bossi was there again.
Bossi served the final two points, including a title-clinching ace, as unbeaten Abington Heights swept Delaware Valley in the championship match at Western Wayne to remain unbeaten and secure its first District 2 title.
The Comets won by set scores of 25-12, 25-18, 25-16, avenging their last loss in last season's district final.
"We took a big loss last year to this team in the district championship," said Bossi, who finished with a team-high nine kills, along with two blocks. "We didn't really need to rebuild.
"We had the players coming back and we knew we were going to do something special."
With a Lackawanna League title already in hand, the next special accomplishment was Wednesday's district title and the Pennsylvania Interscholastic Athletic Association state tournament berth that goes with it.
Abington Heights never trailed in the first or third sets, getting tested by Delaware Valley only in the second set.
Bossi had the match's first kill and first block, in the first four points of the night, sparking the Comets to an 8-1 lead.
After scoring the next point, Delaware Valley never got any closer in the first set.
"We were hyped for this one," Bossi said. "This was the biggest one yet."
With Quentin Birch serving three straight points, Abington Heights jumped in front, 4-0, in the second set.
Samuel Yost then served four straight points to give Delaware Valley its first lead, 5-4.
The set was tied seven times and featured four lead changes. The last two changes came when Yost served three more points for a 14-12 lead, then Colin Jenkins served three as Abington Heights took a 16-14 lead when Birch used a light touch to place the ball and finish a point.
Jenkins, who ran off 6 points on his first serve of the match, finished with 15 service points.
Delaware Valley was still within 17-16 before Abington Heights ran off 8 of the last 10 points. Nate Steenback had two kills, Birch had one and Jamison Bessoir had a block during the closing flurry.
With Birch and Jenkins continuing their strong serves and Bossi providing a block, Abington Heights got off to another strong start in the third set. After leading 8-1 and 4-0 early in the first two sets, this time the Comets made it 7-1.
Delaware Valley closed within 14-11, before Birch went well beyond the right sideline for a kill, sending the shot across to the other side of the court, grazing the net as it went over.
That shot earned the serve back for the Comets and Birch, who showed why he serves first in each set, running off five more points on his last chance of the night. He finished with 12 service points, including 5 on aces.
Steenback had eight kills, a team-high nine digs and three aces.
Birch also had six kills and six digs. Bessoir had six kills and two blocks.
James Brust had 26 assists, along with 3 kills and 2 blocks.
Jenkins had five digs and three kills.
James Dadey provided six digs.
Yost had 11 points and Chris U'Glay had 5 kills for Delaware Valley.
Abington Heights (15-0) advances to the first round of the PIAA Tournament Tuesday at or close to home against the District 11 runner-up, either Parkland (15-4) or Northampton (19-1).
Delaware Valley finished 9-5.