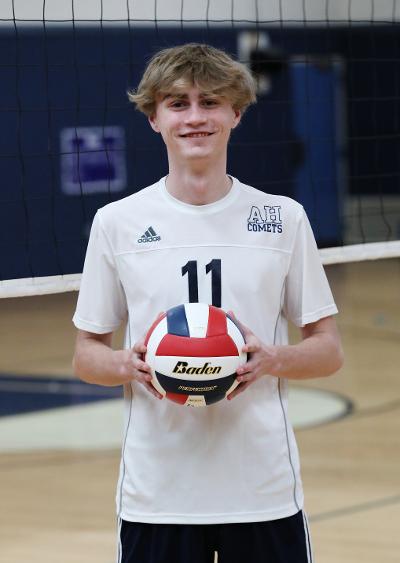 NEW MILFORD – Nico Bossi and Quentin Birch had 13 kills each while Nate Steenback had 9 Tuesday night when Abington Heights defeated host Blue Ridge in four sets to break a first-place tie at the top of Lackawanna League boys volleyball.
Bossi also had five blocks and Birch also had five service aces as the Comets won, 25-11, 20-25, 25-22, 25-19.
"Going in, we knew they had big swings," Steenback said. "We knew where we could win was serving and passing."
Jamison Bessoir had a team-high six blocks.
James Brust ran the offense, setting up five teammates at the net.
"All of our other hitters stepped up huge," Steenback said. "I did not have a great night. All of our hitters played extremely well; our middles carried us really."
Connor Cranage led Blue Ridge with 14 kills and 10 digs while Gerald Welsted had 8 kills and 8 digs. Carson Gallagher had 27 assists, Morgan Thomas 12 digs and Aiden Glasgow had 11 digs and 3 aces.
Abington Heights took control of the first set early, with Birch opening the match and serving for seven straight points. The Comets went on to leads of 15-4 and 21-7.
Blue Ridge reversed things quickly in the second set, turning a 5-3 deficit into a 13-9 lead. It did not trail in the set after 6-5.
Abington Heights recovered.
"What we focused on was working our offense better," Steenback said. "We tried to speed up the tempo in the middle."
After the Raiders led 6-2 in the third set, Abington Heights scored 11 of the next 15 points. A Blue Ridge timeout was unable to slow the momentum.
Bessoir led the way when the Comets closed out the match by scoring 8 of the last 12 points.
Both teams entered the match with 6-0 records.
EDITOR'S NOTE: This story was compiled from the reporting of Ben Magnotta.