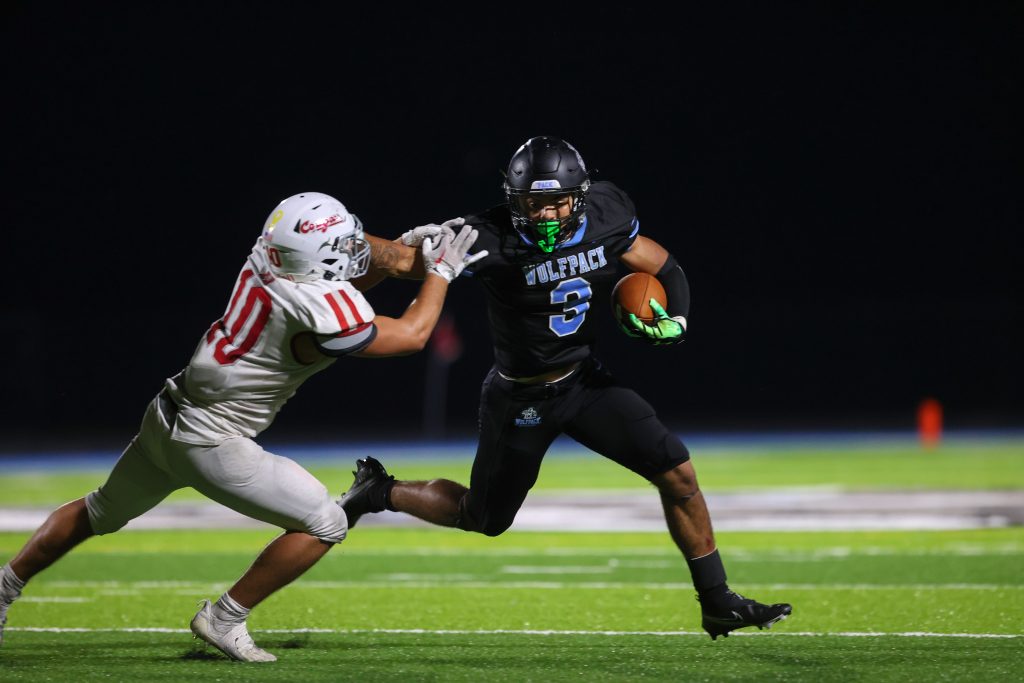 Hazleton Area entered Friday night as District 2's most prolific scoring team through three weeks.
Defense got the Cougars to 4-0.
Qay'von Minor was in on a team-high 11 tackles and intercepted a pass as Hazleton Area opened its Wyoming Valley Conference Division 1 schedule by winning at Wilkes-Barre Area, 20-7.
The Wolfpack put the Cougars behind for the first time this season and was threatening to tie the game or move back in front as the third quarter came to an end.
Hazleton Area opened the fourth quarter by stuffing Wilkes-Barre Area on fourth-and-one at the 15, then proceeded to put together an 85-yard scoring drive that took more than half the fourth quarter.
Zander Coleman pulled in a 6-yard touchdown pass from Tyler Wolfe for the game's final points with 5:41 remaining.
Hazleton Area's offense did not keep up its 48.7-points per game pace, but it did drive the ball.
Matthew Buchman carried 23 times for 105 yards and caught 2 passes for 52 more yards. Tyler Wolfe went 12-for-21 for 151 yards and 2 touchdown passes, one of them to Buchman.
The Cougars drove 73 yards on their first possession, which carried all the way until the first minute of the first quarter.
Matthew Cusatis extended the drive when he took a low punt snap and ran for a first down.
Wolfe's 9-yard pass to Buchman gave Hazleton Area a 6-0 lead.
The first of two missed extra points by the Cougars opened the door for Wilkes-Barre Area to take a 7-6 lead in the second quarter.
Wilkes-Barre Area put together its own extended scoring drive, covering 65 yards. Freshman quarterback Jake Howe scored from the 2 and Evan Corcoran added the kick.
Hazleton Area went back in front before halftime.
Buchman took a pass 43 yards to highlight the drive that resulted in Connor Kundrat's 4-yard touchdown and Wolfe's two-point pass to Ryan Matyas for a 14-7 lead.
Wolfe also carried 4 times for 42 yards and, as usual, spread his passes around.
Connor Shamany had 4 catches for 39 yards and Cusatis caught 3 for 54 yards.
Matyas was in on nine tackles, including one for a loss, and Buchman was in on eight.
Wilkes-Barre Area fell to 2-2 overall with the loss in what was also its division opener.
Hazleton Area has been the No. 1 Big School team in the Gaughan Auto Store Super Six Power Rankings, which are compiled by our partners at NEPAFootball.com, throughout the season.
MORE PHOTOSA Photo Gallery by Tim Drewes from the Cougars-Wolfpack game: Hazleton Area/Wilkes Barre Area football photo gallery – NEPA Sports Nation