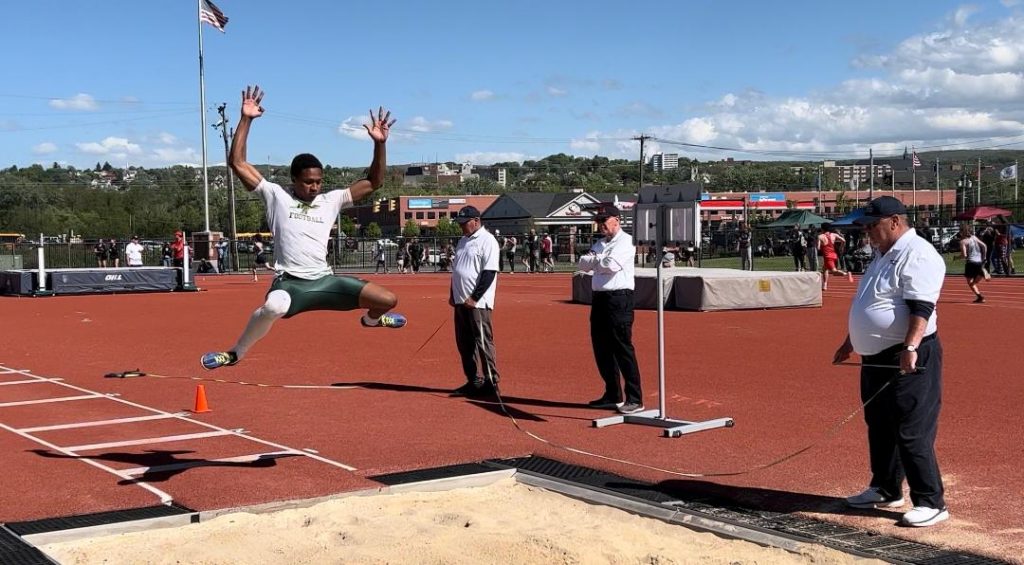 By Tom Robinson, NEPASportsNation.com
UPDATED: 11:58 p.m.
SCRANTON – Signing off for the night with one more news item and one link.
There were 26 titles decided Tuesday with 10 of them going to defending champions.
The most successful title defenses came in Class 2A boys.
Holy Redeemer's Justice Shoats (long jump), Wyoming Area's Nico Sciandra (300 hurdles) and Lakeland's Lacota Dippre (discus) repeated.
Mid Valley won its second straight 3200 relay with Zachary Popko and Gabe Pacyna back from last season's lineup.
North Pocono's Caleb Kenyon led the repeaters in Class 3A boys, winning the 3200 and taking part in a 3200 relay repeat along with Aiden Horne.
Hazleton Area's Matthew Cusaitis repeated in the triple jump.
Wyoming Area's Tony Minichello, in the javelin, and Riverside's Madelyn Perfilio, in the long jump, won again in Class 2A girls.
Crestwood's Molly DeMarzo was the lone repeat champ in Class 3A girls.
MORE: For full team scores and the top eight finishers in every decided event, see https://nepasportsnation.com/district-2-track-tuesday-results/.
UPDATED: 11:28 p.m.
SCRANTON – All District 2 champions automatically qualify for the Pennsylvania Interscholastic Athletic Association Championships May 27-28 at Shippensburg University.
There are 2 other ways to make it to the state meet and 16 District 2 athletes took advantage of that Tuesday when a relay team and 12 individuals joined the champions in moving forward.
The second-place finisher in only the Class 2A boys – where District 2 has the most teams and therefore gets the most representation – also is an automatic qualifier.
In addition, athletes who meet or exceed demanding state qualifying standards get to advance to Shippensburg.
Wyoming Area's Blaise Sokach-Minnick made it in two events by finishing second in the discus and shot put. Teammate Usamah Alansari advanced in the long jump.
Also qualifying: Dunmore's Joseph Cardillo in the 3200; Mid Valley's Nate Zarnowski in the 300 hurdles, Hanover Area's David Popson in the high jump and the Holy Redeemer 3200 relay team of Grant Smith, John Gillespie, Aiden McDonald and Tom Brady.
There were three events in which the top three all made it because the second- and third-place finishers made the qualifying standards.
Dallas advanced both Calli Ogurkis and Sophia Filali in the 300 hurdles in Class 3A girls.
Also moving on from Class 3A girls were Aria Messner from Pittston Area and Trinity Johnson from Wyoming Valley West in the triple jump.
State girls cross country medalists Kate Korty from Carbondale and Lacey Danilovitz made it in the Class 2A 3200 run, each making it by more than 20 seconds.
Also, Kalie Quaglia from Holy Redeemer advanced in the Class 2A girls long jump.
UPDATED: 8:20 p.m.
SCRANTON – For scoring purposes the meet is one-third complete in Class 3A and a little more than that (7 of 18 events) in Class 2A.
After one day, Wyoming Area leads both the boys and girls standings in 2A while Scranton boys and Crestwood girls lead extremely close races in Class 3A.
The Wyoming Area boys lead defending champion Mid Valley, 56-42, in Class 2A boys with Holy Redeemer in third at 36 points.
Wyoming Area has a 41-38 lead over Lake-Lehman in Class 2A girls with Montrose (36 2/3), Riverside (31) and Western Wayne (28 1/3) close behind.
Scranton has 33 points in Class 3A boys, one in front of the second-place tie between Crestwood and defending champion North Pocono at 32 points. Hazleton Area (28), Valley View (26) and Abington Heights (23 1/3) are close behind.
The closest two-team race is in Class 3A girls where Crestwood leads Wallenpaupack, 39-38½. Defending champion Dallas is third with 26 points, in front of Abington Heights (22½) and Scranton (21).
The rest of the top 10 teams in each scoring race:
Class 3A boys: Honesdale 12 2/3, Dallas 12, Wallenpaupack 11, Wilkes-Barre Area 10.
Class 3A girls: Wyoming Valley West 14, North Pocono 13, Hazleton Area 12, Delaware Valley 10, Pittston Area 9.
Class 2A boys: Lake-Lehman 21, Dallas 20, Lakeland 17, Riverside 14, Nanticoke 13, Montrose 9, Hanover Area 8, Lackawanna Trail 8, Holy Cross 8.
Class 2A girls: Lakeland 23, defending champion Holy Redeemer 17, Holy Cross 15, Carbondale 12, Mid Valley 9.
UPDATED: 8:02 p.m.
SCRANTON – Day One action is complete from Memorial Stadium.
Crestwood's Isaac Mertz won the day's last field event, the Class 3A boys pole vault, by clearing 12-6.
The first eight individual finals were completed on the track where most of the titles will be decided Wednesday.
Winners were:
Class 3A boys 3200-meter run: Caleb Kenyon, North Pocono, 9:56.12.
Class 3A girls 3200: Molly DeMarzo, Crestwood, 11:33.10.
Class 2A boys 3200: Nick Hockenbury, Lake-Lehman, 9:54.43.
Class 2A girls 3200: Madelyn Keating, Wyoming Area, 11:12.23.
Class 3A boys 300-meter hurdles: Antonio Hairston, Scranton, 41.17.
Class 3A girls 300 hurdles: Anastasia Ioppolo, Wallenpaupack, 45.62.
Class 2A boys 300 hurdles: Nico Sciandra, Wyoming Area, 41.08.
Class 2A girls 300 hurdles: Kalee Raczkowski, Lake-Lehman, 47.78.
UPDATED: 7:10 p.m.
SCRANTON – All but one of the day's field events is complete.
Wallenpaupack's Anastasia Ioppolo, who set a Spagna Meet long jump record last week, set the district triple jump record of 38-9 ¾.
Ioppolo broke the record set by Shelley Black from Coughlin at 37-11 in 2010.
While the Class 3A boys pole vault continues, here are the other field winners from the other late events:
Class 2A girls javelin: Toni Minichello, Wyoming Area, 120-10.
Class 2A boys discus: Licota Dippre, Lakeland, 147-9.
Class 3A boys shot put: Ethan Shudak, Crestwood, 50-3½.
Class 2A girls long jump: Madelyn Perfilio, Riverside, 17-6.
Class 2A boys high jump: Justice Shoats, Holy Redeemer, 6-6.
Three more athletes qualified for the state meet by meeting state qualifying standards.
Aria Messner from Pittston Area and Trinity Johnson from Wyoming Valley West made it in the triple jump with Ioppolo.
Kalie Quaglia from Holy Redeemer made it in the long jump with Perfilio.
UPDATED: 5:54 p.m.
SCRANTON – All of the 3 p.m. field events are done. With those seven events done, there are seven more field events that began at 5 p.m. and will be completed as part of today's competition.
There was another record set in the early events.
Matthew Cusatis from Hazleton Area won the Class 3A triple jump in 47-11½, breaking the record set in 1980 by Nanticoke's Harry Hamilton.
Hamilton went on to play defensive back at Penn State where he was part of a national championship and for eight seasons in the National Football League with the New York Jets and Tampa Bay Buccaneers.
Cusatis had the three longest jumps in meet history, going 47-3¾ to break Hamilton's 42-year-old record by a half inch. He broke it again on the second try with 47-7.
After passing on his third attempt, Cusatis took the lead into the finals where the top nine got three additional jumps.
Cusatis fouled, then rebroke the record with what turned into his winning jump. He exceeded 47 one last time with 47-1.
Other field event winners from the first set:
Alexis Hawley from Montrose won the Class 2A girls discus with 111-5.
Ella Dougher from Western Wayne won the Class 2A girls high jump with 4-10. The Lady 'Cats and Montrose each had two of the top four finishers.
Crestwood's Julia Lazo won the Class 3A girls pole vault with 11-6.
Scranton's Felicity Martin won the Class 3A girls shot put with 35-0½.
UPDATED: 5:18 p.m.
SCRANTON – The defending boys team champions each picked up wins in the 3200-meter relay.
Mid Valley won Class 2A in 8:31.53 with a team of Zachary Popko, Josh Florence, Vincenzo Iacavazzi and Gabe Pacyna.
North Pocono won Class 3A in 8:17.28 with a team of Mason Natalini, Aiden Horne, Stephen Tellez, Caleb Kenyon.
UPDATED: 4:36 p.m.
SCRANTON – Drew Mruk set a meet record and combined with Blaise Sokach-Minnick to give Wyoming Area a big early boost in the Class 2A boys team standings.
Mruk threw the javelin 210-6 breaking the mark of 202-9 set by Dunmore's Gavin Darcy in 2017.
Sokach-Minnick finished second, giving the early team leaders 18 points in that event.
The Warriors got eight more when Usamah Alansari finished second behind defending state champion Justice Shoats from Holy Redeemer.
UPDATED: 4:04 p.m.
SCRANTON – The first medals and points of the championships have been decided.
Madelyn Keating rallied Wyoming Area with 1:06.6 final lap to give the Lady Warriors the 3200-meter relay title in Class 2A.
Lake-Lehman was second.
Samara Campenni, Ella McKernan and Nina Angeli ran the first three legs for the team, which finished in 9:54.12.
Abington Heights won the Class 3A title with the team of Marygrace Sabatini, Emma Horsley, Reese Morgan and Gigi Sabatini finishing in 10:01.63.
Wallenpaupack edged Crestwood for second place.
Leading qualifiers for Wednesday's 100-meter dash finals were:
Tatum Norris, Susquehanna, Class 2A girls, 12.25.
Jessica Cervenak, Tunkhannock, 3A girls, 12.41.
Justice Shoats, Holy Redeemer, 2A boys, 10.87.
Colin Kravitz, North Pocono, 2A girls, 11.12.
UPDATED: 3:38 p.m.
SCRANTON – Based on an analysis of the projected points, using seeds going into the meet, here is what to expect from the team title races.
Defending Class 3A champion North Pocono is the most distinct favorite of the two-day meet.
Valley View and unbeaten Wyoming Valley Conference Division 1 champion Crestwood figure to be the top threats.
Hazleton Area and Scranton are next, followed by Abington Heights.
Wallenpaupack rates as the favorite in Class 3A girls, with Abington Heights and defending champion Dallas the most likely teams to challenge.
Crestwood and Pittston Area appear to be the best of the rest.
Wyoming Area is a slight favorite over defending champion Mid Valley in Class 2A boys where the two unbeaten division champions appear to be far above the rest of the pack.
Holy Redeemer is the only other team with the possibility of entering the title race.
Lakeland, Blue Ridge and Lake-Lehman are the best of the rest.
The closest team title race figures to be Montrose and Wyoming Area in Class 2A girls.
Riverside, coming off the Class 2A girls title in the Spagna Lackawanna Track Conference Championship Meet, is another potential threat.
Lakeland, defending champion Holy Redeemer and Lake-Lehman should all be in the top third of the field.
POSTED: 3:00 p.m.
SCRANTON – The District 2 Track and Field Championships are just getting started at Scranton Memorial Stadium in this season's new format.
Rather than splitting Class 2A and 3A, the district championships will be close to the Pennsylvania Interscholastic Athletic Association Championships format in Shippensburg.
Field events will be contested once with half the events completed Tuesday and the other half Wednesday.
Track will have qualifying Tuesday and finals Wednesday with three exceptions. The 3200-meter relay, 300 hurdles and 3200 run are contested today.