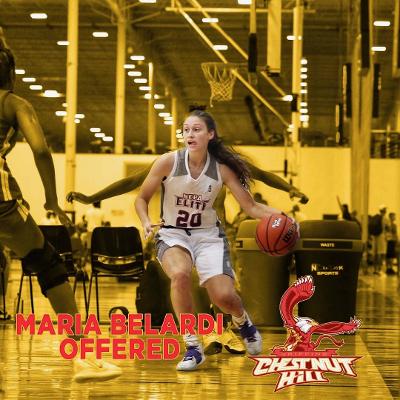 By Tom Robinson, NEPASportsNation.com
Maria Belardi made her first official recruiting visit Monday and came home with her first scholarship offer.
Chestnut Hill College, a National Collegiate Athletic Association Division II program, made the offer to Belardi, an NEPA Elite Clark 17U AAU player and rising Scranton Prep senior.
At the end of her visit to the Philadelphia school, Belardi received a scholarship offer that would cover full tuition costs.
"It feels amazing," Belardi said. "Honestly, it feels like my hard work finally paid off."
Belardi credited Scranton Prep coach Bob Beviglia and NEPA Elite founder/coach Kevin Clark with helping her arrive at this point.
"I'm just very happy," she said. "I couldn't have gotten there without all my coaches, Mr. Beviglia, Kevin Clark, and my teammates, too, on both travel and at Prep.
"I'm just really excited about it."
Belardi and her NEPA Elite teammates will be at Spooky Nook Sports in Manheim, Lancaster County Tuesday through Thursday. With an adjusted NCAA "Live Period" making July a time for major college coaches to observe prospects in person for the first time in more than a year, the team has expanded this month's schedule, adding this week's event.
NEPA Elite is playing five games in the Select Events Basketball Summer Championships, taking on teams from Virginia, Nebraska, Illinois, Canada and West Virginia. Three of the opponents are Under Armour-sponsored teams.
Belardi is one of five players who have been on both NEPA Elite Clark 17U teams that have won Hoop Group Showcase League titles in the program's first two seasons. She is second on the team in blocked shots this season.
At Scranton Prep, Belardi has already been a two-time, second-team Lackawanna League Division 1 all-star selection by NEPABasketball.com, helping the Classics go unbeaten within District 2 while winning division and District 2 Class 4A titles each season. Scranton Prep was a state quarterfinalist when the season ended early for the pandemic in 2020 and a semifinalist in 2021.
"Mainly, I've been working on my defense and my shooting," Belardi said. "Since I've been training with Kevin, my shooting has gotten much better."
Chestnut Hill did not compete during the 2020-21 season. It was 10-9 in the Central Atlantic Collegiate Conference and 11-18 overall during the 2019-20 season.