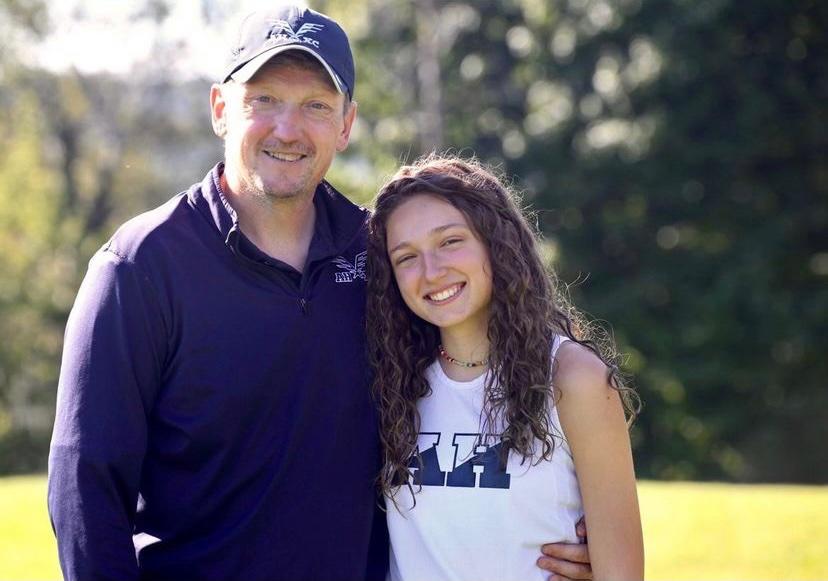 The sixth-runner tiebreaker was needed to separate two defending District 2 championship girls teams on Opening Day of the Lackawanna League cross country season.
Abington Heights and Montrose each had 29 points for their five runners when scored head-to-head in the cluster meet at Valley View.
The Comets got their sixth runner in first, deciding the meet.
Grace Bath, the sixth Abington Heights runner, was 19th overall out of 58 runners from six schools. She actually beat not only the Montrose sixth runner, but the fifth as well.
Abington Heights needed the depth to overcome Montrose having the top two runners and three of the top four between the two teams.
The Comets were the only team to go 3-0 at the meet, also defeating Elk Lake and Blue Ridge.
Montrose defeated North Pocono and Valley View, joining those two teams in leaving the meet with 2-1 records.
Elk Lake's Krista Jones completed the 3.1-mile course in 19:34.4, finishing more than a minute ahead of a strong field.
Montrose's Paige Brewer and Daegan Giannone were second and third, followed by North Pocono's Emily Franklin.
Gianna Sabatini was the first Abington Heights finisher in fifth place.
Montrose's Stephanie Summerville and Valley View's Kaitlyn Newberry were sixth and seventh before the Abington Heights pack of runners started coming through.
Maia Arcangelo and Emma Horsley were next for the Comets in eighth and ninth.
After Valley View's Gianna Godino came in 10th, Reese Morgan was 11th for Abington Heights, just in front of Blue Ridge's top runner, Emma Piechocki.
Abington Heights also had Casey Healey come in 18th.
Bath, the daughter of first-year coach Ed Bath, followed her five seconds later.
Abington Heights is the defending District 2 Class 3A champion. Montrose won the district Class A title in addition to the Division 2 title last season when the Lackawanna League was split into divisions as a concession to the pandemic.
The other Lackawanna League cluster meet to be held on Opening Day, when threatening weather led to postponements elsewhere, was at Western Wayne.
Scranton Prep went 3-0 at Western Wayne, beating Lakeland (22-40), Western Wayne (19-40) and Lackawanna Trail (15-50).
Freshman Jenna Hillebrand won for Scranton Prep in 21:01, 15 seconds in front of Western Wayne's Madison Kammer.
Kaitlyn Farrell from Holy Cross was third followed by Morgan Lutz from Lakeland, Carly Schofield and Riley Matasavage from Scranton Prep, Olivia James from Lakeland and Anna Kosierowski from Scranton Prep.
Lakeland defeated Holy Cross, 26-31, with both of those teams finishing the day 2-1.
One of Lakeland's wins was 15-50 over Carbondale.
Carbondale, which has junior high teams, begins the season without any varsity runners competing.
Lake-Lehman, Dallas and defending champion Crestwood each began the Wyoming Valley Conference season by going 2-0.
Before heading into larger meets next week, each WVC team ran strictly within its own cluster this week, making for a series of primarily three-way duals.
Lake-Lehman won easily at home, beating Wyoming Valley West, 17-46, and Tunkhannock, 15-50. Wyoming Valley West beat Tunkhannock, 25-30.
Dallas defeated Wyoming Seminary, 17-44, and host Wyoming Area, 15-50. Wyoming Seminary topped Wyoming Area, 6-15.
Crestwood, the top-ranked team in the Century Dental Associates Cross Country Power Rankings, swept at home with a 16-47 victory over MMI Prep and a 17-44 victory over Hazleton Area.
Holy Redeemer defeated host Hanover Area, 15-49, and Nanticoke, 15-50. Hanover Area defeated Nanticoke, 14-22.
Pittston Area won a straight dual with visiting Wilkes-Barre Area, 10-27.
Hannah Sayre won in 20:42 at Letterkenny Fields.
Teammates Alana Palmaioli and Kendall Borgers followed in second and third, quickly clinching the team victories.
Wyoming Valley West's Jade McKenna was fourth, followed by four more Lake-Lehman runners – Sophia Dabsheh, Gia O'Keefe, Sydney Slayo and Samantha Horan – in fifth through eighth.
Dallas had the top four finishers in its meet.
Madison Hedglin won in 20:55, followed by Sarah Williams, Trinity Basara and Julianna Sobocinski.
Crestwood had the top 3 and 7 of the top 10.
Molly DeMarzo won in 20:44, followed by teammates Ella Novelli and Maggie Kozich.
Hazleton Area's Jill Wolk was fourth and Crestwood's Ellie Kozich was fifth.
MMI's top runner was Mary Kate Kupsky in sixth.
Crestwood added Emily Leicht in seventh, Kaelyn Barker in ninth and Maggie Riccio in 10th.
Holy Redeemer had the top six finishers at Hanover Area.
Ali Butcher was first by two seconds over teammate Samantha Ruszin for Pittston Area. The Lady Patriots had four runners and Wilkes-Barre Area did not enter any.
MORE
Scoreboard: For complete scores of all the various duals scored in Wednesday's cluster meets, go to the District 2 scoreboard at https://nepasportsnation.com/wednesdays-district-2-scores/.