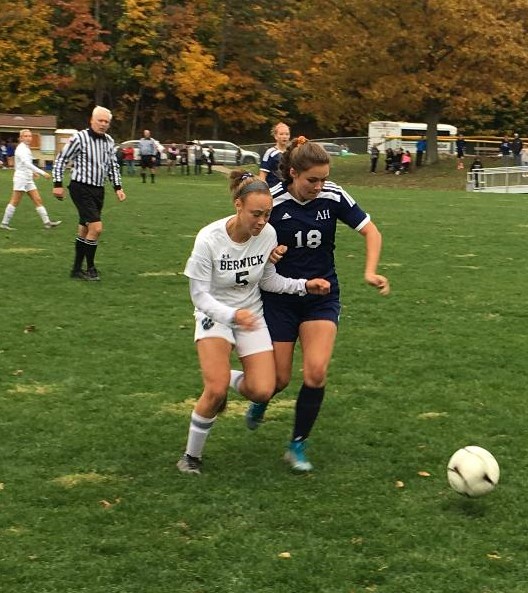 Kayla Fernandez scored her 100th career goal Monday.
Then, she kept going.
Fernandez added two more goals, completing her hat trick in Berwick's 5-1 non-league soccer victory in a non-league game between ranked Wyoming Valley Conference girls soccer teams.
The teams took a break from division races where they are each tied for second. Both teams came in with 5-2 records.
Berwick, ranked sixth among Big Schools girls teams in the Riverfront United Super Six Soccer Power Rankings of District 2 teams, also got goals from Libby Switzer and Rachel Whitenight.
Halle Kranson scored for Wyoming Area, which is ranked second among Small Schools.
Olivia Maniskas and Megan MacNeely scored to lead Dallas past Wilkes-Barre Area, 2-0, in a game between WVC Division 1 contenders.
Morgan Solano made 12 saves in the shutout.
In other WVC Division 1 games: Crestwood defeated Hazleton Area, 6-1, and Wyoming Valley West shut out Pittston Area, 4-0.
Lakeland shut out Western Wayne, 2-0, handing the Lady Wildcats their first loss in a Lackawanna League Division 2 teams that are ranked among Small Schools in the Super Six.
No. 5 Lakeland improved to 4-1 in the division and 6-1 overall. No. 4 Western Wayne fell to 3-1 and 3-1-1.
Abington Heights and North Pocono played to a scoreless tie in a Lackawanna Division 1 game.
Alexa Stevens made 12 saves to allow North Pocono to overcome Abington Heights advantages of 25-3 in shots and 8-1 in corner kicks.
All three Lackawanna Division 2-3 crossover games ended in shutout wins for the Division 2 teams.
Montrose routed Carbondale, 13-0; Dunmore downed Forest City, 9-0; and Holy Cross blanked Mid Valley, 2-0.