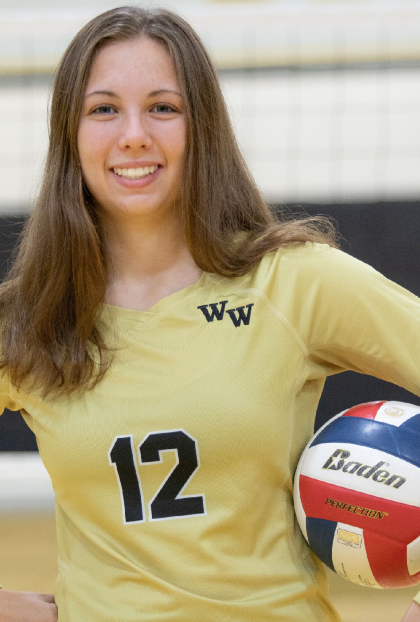 Three Lackawanna League teams began the season in the Electric City Volleyball Elite Eight Power Rankings of District 2 teams.
Western Wayne was one of them. It has now faced and beaten the other two in its first two matches.
Katherine Shepherd led the latest victory Wednesday with 16 kills and 6 digs in a four-set victory over visiting Blue Ridge.
Blue Ridge won the first set, 25-22, but Western Wayne answered by taking the next three in increasingly more decisive fashion, 25-19, 25-16, 25-12.
Kaeli Romanowski had 27 assists in the win, setting up a variety of finishers for the Lady Wildcats.
In addition to Shepherd's effort, Jaque Morris had six kills while Skylar Long and Emily Romanowski had five each.
They each also led the team in a different statistical category.
Morris had three blocks. Long had seven digs. Emily Romanowski had four aces.
Emily Romanowski also had five digs.
Foxlynn King had 10 kills, Leigha McCain 8 and Kaelynn Brant 7 for Blue Ridge.
Libby Zick had 27 assists and 11 digs.
Emma Burton had a team-high 15 digs. Kate Spencer had nine digs and three aces.
In other Lackawanna League matches: Susquehanna defeated Abington Heights, 3-2; Dunmore swept Montrose, 3-0; and North Pocono swept Elk Lake, 3-0.
Western Wayne is 2-0 to lead Division 1 where the other four teams have already lost.
Susquehanna used its win to move in front of Blue Ridge at 2-0.
The only other team without a loss is Forest City, which has not yet played.
Holy Redeemer became the first Wyoming Valley Conference team to reach 3-0 when it defeated Wyoming Valley West in three sets.
Olivia Bilbow had 10 kills as the Lady Royals won, 25-14, 25-23, 25-15.
Kaylee Gryboski added nine kills, six service points, six digs and two blocks. Jenna Skibitsky had eight points and two digs.
Pittston Area and Tunkhannock each got to 2-0 with 3-0 victories.
Pittston Area defeated Wyoming Area, 25-13, 25-20, 25-13. Tunkhannock downed Dallas, 25-21, 25-19, 25-19.
Jiana Moran led Pittston Area with 15 points, 18 assists and 8 aces.
Emma Rinaldi added 11 points, 5 kills and 4 blocks.
Tyra Winters got 4 of her 14 points on aces and also had seven kills. Ava Butcher got five of her seven points on aces and also had six kills.
Skylar Poelma had 11 kills when Lake-Lehman swept Hanover Area in three sets.