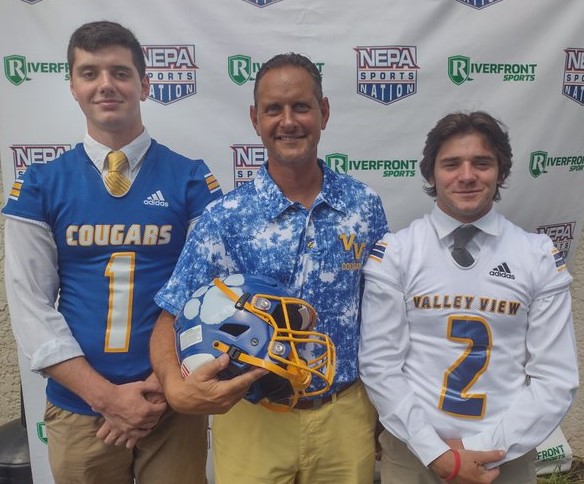 By Tom Robinson, NEPASportsNation.com
OLYPHANT – Connor Hilling was already a threat while Adam Howanitz was completing 76 percent of his passes in the first half of Valley View's 2021 season.
Hilling became a dominant force in Howanitz's absence, keeping the Cougars season on track, all the way until a competitive battle in the season-ending Pennsylvania Interscholastic Athletic Association state Class 4A quarterfinal.
Now, Howanitz and Hilling are back together and Valley View, despite having some key graduation losses to replace on defense, opens the season ranked among the state's top Class 4A teams.
"Any time you can bring back an all-state running back and a quarterback who was very good in the first six games of the year, it puts you in a really good position to start the year," said George Howanitz, Adam's father, who has announced that this, his 16th season, will be his final one as head coach of the Cougars.
Hilling went from averaging 7.2 yards per carry and 85.7 per game while playing alongside Howanitz to averaging 8.8 per carry and 127.3 per game in the final eight outings of the season. Hilling was at his best at the end of the season, turning 14 carries into 163 yards and 4 touchdowns in the District 2 championship game rout of North Pocono, then rushing for a season-high 176 yards in a 35-25, state playoff loss to Bishop Shanahan.
Adam Howanitz was putting up incredible numbers at the time of his season-ending injury. In his final game, a 38-7 romp over Crestwood, Howanitz hit all 9 of his passes for 96 yards a touchdown while running 9 times for 138 yards and a pair of scores.
Howanitz hit more than 80 percent of his passes in his last 5 games and never threw an interception while going 32-for-42 on the season for 397 yards and 6 touchdowns. He rushed for more than 100 yards 4 times and averaged more than 10 yards per carry, with 589 yards and 10 touchdowns on 58 attempts.
The threats do not end there.
With the top receivers graduated, Taheed Jewell, who has some experience as a starting receiver, could be a more frequent target.
"We have some really good skill kids that played a lot for us last year, Taheed Jewell being one of those who is going to give us a big boost offensively," coach Howanitz said.
Rafe Evans, a starter at tight end last season moves to left tackle while Jacob Casarin and James Casarin return at the two guard positions.
Inside linebacker Dylan Walsh is the top returning tackler from a defense that took over many games but graduated about half its starters.
That graduating class was on display one last time at John Henzes/Veterans Memorial Stadium this summer.
"Obviously we had great kids," coach Howanitz said. "You saw it in the Dream Game with our kids running around making plays, but we feel like our kids get a lot of games under their belt when they're younger and they'll be ready to go."
Tackle Robert Alteri, end Steven Halloran, safeties Howanitz and Jewell and outside linebacker A.J. Kucharski all started at times last season. Kucharski came on strong late in the season.
"We'll be alright," coach Howanitz said. "A.J. Kucharski will be a big part of that. Playing last year for us, he made some big plays.
"Half of our D-Line is back. Kids who played a lot during the year are back playing and our secondary is almost fully intact. Toward the end of last year, a lot of our skill kids played only one way."
On offense, Jeffrey Wasilchak will take over at center with either Tommy Fiorelli or Chaz Kaszuba at right tackle. The Cougars were looking at several options at the second wide receiver spot and tight end during the preseason.
Ends Robbie Nolan and Peyton Pazzalia and tackles Logan Smith and Jeff Kondash are the candidates to fill the two open spots in the defensive line.
Tight end/outside linebackers Zach Cwalinski and Gianni Marino, fullback/linebackers Preston Reed and Gino Barone, wide receiver/cornerback Chris Savkov and fullback/cornerback Cam Higgins were among those fighting for playing time, and possible starting spots, on both sides of the ball.
The Cougars enter the season having won at least 10 games in each of their last four full seasons. They only played half a season in 2020 because of COVID.