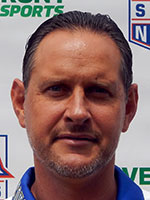 Adam Howanitz was having a perfect passing night and another big rushing game before it was cut short by an apparent leg injury.
The quarterback helped Valley View shake off an early score by visiting Crestwood on the way to a 38-7 romp in a non-league football game between District 2 Class 4A teams.
The win was the 100th of his coaching career for George Howanitz, Adam's father.
Crestwood, the defending champion, took a 7-0 lead over Valley View, the current district favorite, when Noah Schultz broke a 73-yard run just 1:01 into the game.
Schultz added another 73 yards for a 146-yard game, but the Comets (1-5) did not score again.
By the time Adam Howanitz left the game early in the third quarter, Valley View led 28-7 and was on the 1-yard line where his last run ended.
Howanitz hit all 9 of his passes for 96 yards and the go-ahead, 24-yard touchdown pass to Sean Mackinder in the second quarter. He also carried 9 times for 138 yards and a pair of first-half touchdowns.
A 58-yard run by Howanitz tied the game at 7-7 with less than two minutes played.
The score remained there until the Howanitz-to-Mackinder touchdown pass for a 14-7 lead with eight minutes left in the second quarter.
Valley View added two scores in the last 2:29 of the half for the 28-7 lead. Howanitz scored on a 2-yard run and Hilling on a 3-yarder.
Hilling, who finished with 68 yards on 13 carries, scored his second touchdown on a 1-yard run the play after Howanitz exited the game.
Matt Cole kicked a 36-yard field goal in the fourth quarter.
Mackinder finished with 5 catches for 63 yards and made his third interception of the season.
The Cougars, ranked fifth in the state among Class 4A teams by PennLive.com and first among District 2 Big Schools in the Gaughan Auto Store Super Six Power Rankings of Lackawanna Football Conference and Wyoming Valley Conference teams, are 6-0 overall.
MORE FRIDAY FOOTBALL COVERAGE
Old Forge-Hanover Area: https://nepasportsnation.com/blue-devils-rout-hawkeyes-54-0/.
Scoreboard: https://nepasportsnation.com/fridays-football-scoreboard-3/.