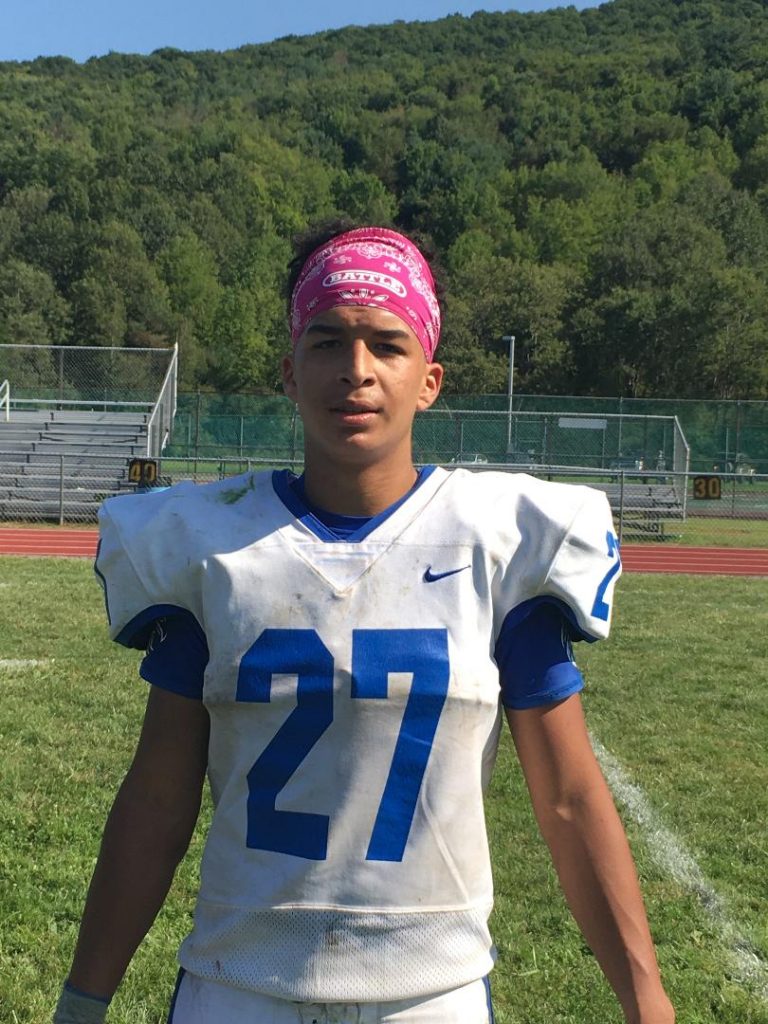 By Tom Robinson, NEPASportsNation.com
SUSQUEHANNA – Hanover Area produced more than half its rushing yards in a late game-winning drive that rallied the Hawkeyes past host Susquehanna, 24-21, in a Saturday afternoon non-league football game.
Jeremy Vega ran 3 yards for the game-winning score with 2:56 remaining, then followed it up with special teams and defensive plays that helped Hanover Area hold on to break a 10-game losing streak.
Vega's late heroics made sure a strong effort by Christian Torres did not go to waste. Torres passed for 149 yards and the first 3 Hanover Area touchdowns.
Then, after struggling to move the ball on the ground for 3½ quarters, the Hawkeyes offensively line began blowing holes in the Susquehanna front. Vega and Aiden Shamaski took advantage.
"We wore them out a little bit," Hanover Area coach Rickey Hummer said. "We told the linemen all week long that this game is going to be won because of them. We were really pushing them all week, talking about being in shape.
"Fourth quarter, last drive, those guys were opening some big holes so we could move. We're very proud of them and the effort they gave today."
That advantage up front did not materialize until late.
The Sabers outrushed the Hawkeyes, 131-16, in the first half.
"We thought we could control the line of scrimmage," Susquehanna coach Kyle Cook said. "Even though we lost a couple of guys, I think we were still doing a decent job, then we just got worn down."
Hanover Area (1-1) had been in the lead for just 2:54 and had just 56 yards rushing when it took over at its 32 with 5:01 left, facing a three-point deficit.
The Hawkeyes surpassed that total in the winning drive with Vega carrying three times for 37 yards, including a 32-yard run to move into Susquehanna territory, and Shamaski twice for 31.
The drive allowed Hanover Area to win for the first time in 23 months. The Hawkeyes beat Northwest, 24-14, Oct. 4, 2019, lost the last four games of that season and went 0-5 in the shortened 2020 season.
"We were just fighting," Torres said. "It was a dogfight the whole game. They're a good team. We were matched well with them.
"I just kept saying, 'come on man, we've got to keep pushing'. We're two minutes away from a win."
They got there without the late lead being threatened.
Hanover Area pinned Susquehanna at the 1 on the kickoff with the help of a fumble and penalty, then took over on downs at the 5.
The game ended with the Hawkeyes inside the 1.
Vega had the big hit that forced the fumble on the kickoff, then he and Torres assisted each other on the two stops that combined with two incompletions to keep the Sabers pinned. Vega finished with seven tackles and five assists while Torres was in on six tackles.
Susquehanna went 3-for-3 kicking extra points and Hanover Area went 0-for-4, missing conversions on a kick, a run, a pass and a bad snap that prevented a kick.
The extra points gave the Sabers a slight edge much of the game, but the Hawkeyes never trailed by more than eight.
Susquehanna scored in less than two minutes to start the game.
Jesse DeLousia went 30 yards on his first carry and 11 for the touchdown. DeLousia picked up 61 yards on 6 carries before leaving the game with an apparent shoulder injury in the second quarter, one of several pregame and in-game developments that left the Sabers plugging holes as the day progressed.
Torres hit Jake Zola for 27 yards on the first Hanover Area offensive play and for a 37-yard touchdown on third-and-18 to make it 7-6 after just 4:32.
Kaleb Shimer broke a 51-yard touchdown for Susquehanna on fourth-and-1 for a 14-6 lead after one quarter.
Again, Hanover Area had an immediate response.
The Hawkeyes converted two third downs and a fourth down and took advantage of two Susquehanna penalties to drive 80 yards. Torres lobbed a 7-yard touchdown pass to Zola to cut the deficit to 14-12 with 6:34 left in the half.
Susquehanna came up short on a 40-yard field goal attempt late in the half and Hanover Area scored in five plays after taking the second-half kickoff.
Torres stepped into a big hit from the pass rush to find Sean Dooner, who had broken free, deep down the right side, for a 51-yard touchdown.
Susquehanna regained the lead in less than three minutes.
The Sabers, who were 2-for-17 passing the rest of the day, hit three straight passes, including Colton Stone's 26-yard touchdown pass to Spencer Beamer.
Hanover Area stopped Susquehanna inside the 35 twice in the fourth quarter – once by forcing a punt, once by holding on downs – to stay close enough to come up with the game-winning drive.
"We had a lot of missed opportunities – dropped balls inside the 30 and penalties killed us again," Cook said. "Too many mistakes, too many big penalties in key situations."
Torres finished 7-for-16 passing. Zola had 3 catches for 71 yards and Vega led the ground game with 17 carries for 78 yards.
Shimer was the game's leading rusher with 88 yards on 11 carries.
Susquehanna has lost its first two games by a total of four points.
MORE
Game statistics: https://www.nepafootball.com/event/2021-hanover-area-at-susquehanna/.
Scoreboard: https://nepasportsnation.com/district-2-football-scoreboard-4/.