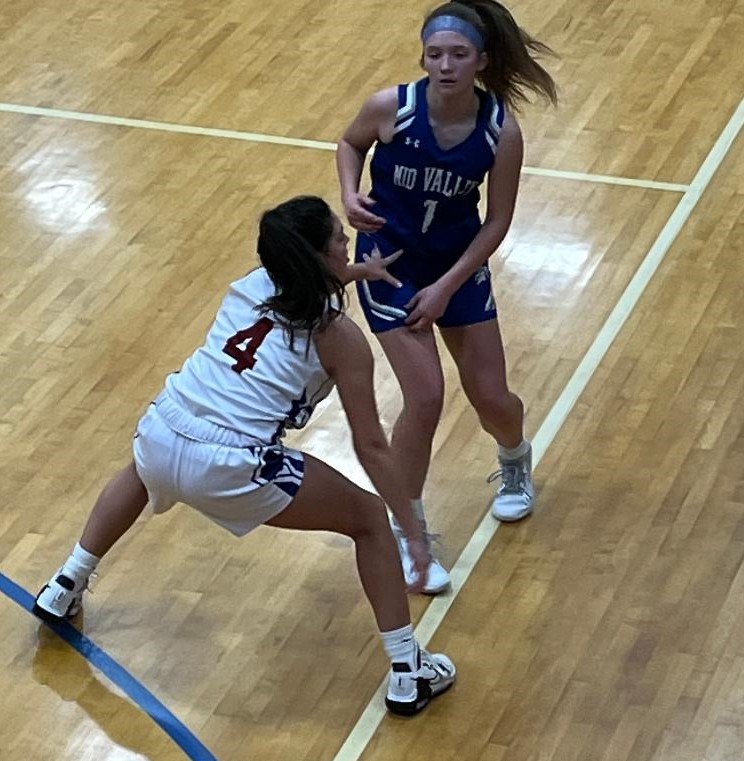 By Tom Robinson, NEPASportsNation.com
DUNMORE – Cadie Lewis and Jackie Brown took different approaches to providing nearly equal results while making sure Dunmore turned a visit by second-place Mid Valley into just another routine night on the road to the 10th straight Lackawanna League Division 3 girls basketball title that seems increasingly likely each time the Lady Bucks step on the court.
On a night when each grabbed 8 rebounds, Lewis and Brown were the game's top two scorers with 14 and 13 points as Dunmore cruised to Thursday's 44-23 victory.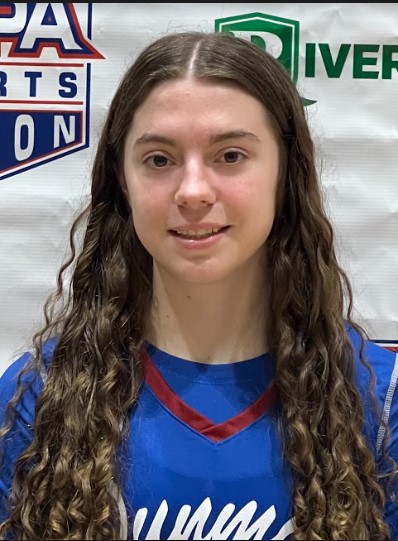 Lewis, the clever, senior point guard made sure the Dunmore offense continued to run smoothly as it awaits the return of leading scorer Sophia Talutto and the potential return of last season's leading scorer, Ciera Toomey, from injuries.
Brown, the freshman forward, provided a physical, inside, defensive presence well beyond what her age and size would suggest, while wiping away the early attempts of a streaking Mid Valley team to establish an inside game.
Lewis added to her scoring and defense with a team-high four assists. Brown's additional contributions came at the other end as the game's leader in blocked shots with four, all in the first half, and steals with four.
"It's great having Jackie out there," Lewis said. "She's very fast; very physical; can finish well around the basket. As she showed tonight, she can play post or she can come out and defend the ball.
"She's a very versatile player that was a great addition to our team this year."
They joined Tristan Canavan, who provided 11 points and 8 rebounds, in giving Dunmore a 39-25 advantage on the boards.
Mid Valley came in looking like a changed team, riding a seven-game winning streak since starting 2-6.
Dunmore, however, showed that no matter how much it has been forced to adjust plans this season, the Lady Bucks remain the unquestioned, premier team in Division 3.
The No. 1 Small School girls team in the Riverfront Sports Super Six Basketball Power Rankings of District 2 teams has won 54 straight in the division while opening its lead to two games over Mid Valley and Riverside with five games remaining. The Lady Bucks have won eight straight overall and are now 7-0 in the division and 13-2 overall going into Saturday's 1:15 p.m., non-league game at No. 2 Lake-Lehman.
"I used to go to all their games when I was younger, even the far ones," Brown said. "I just knew I wanted to be a part of this."
Brown has done just that, starting and making an impact since her varsity debut in the season opener. Her three blocked shots helped keep Mid Valley scoreless in the first quarter when she also provided five points. In addition to the blocks, one of her baskets came from taking a steal the length of the floor for a layup.
Lewis then scored eight points in the second quarter, which she opened with a 3-pointer eight seconds in to cap Dunmore's 14-0 start.
The 3-pointer that Abbie Larson answered Lewis with was the only field goal the Sparanettes managed in 17-plus minutes to begin the game.
By the time Mid Valley got another on the first of three 3-pointers by Krista Cortazar, Lewis, Canavan and Brown teamed for a 9-0 run to a 29-5 lead early in the second half.
Lewis started it with a 3-pointer from the corner. With the Lady Bucks struggling through a 3-for-16 night from long range, Lewis provided two of the 3-pointers.
Positioned at the high post in a patient, half-court set, Brown fed Canavan in the low post. Canavan then made a tough catch and finish in a crowd off a Lewis in-bounds pass in the last minute of the half.
Brown finished the run with the first score of the second half, trailing the fast break to cut to the middle, take a Lewis pass and drive the lane for a layup.
The basket was the start of a 4-for-4 quarter by Brown, who finished 6-for-8.
Dunmore built the lead to 43-12, pushing it into the Mercy Rule on a Lewis drive with four seconds left in the third quarter.
The Spartanettes outscored the Lady Bucks, 11-1, in the fourth quarter when Cortazar scored 9 of her game-high 12 points.
Elise Larson had 5 points, 10 rebounds and 4 assists for No. 5 Mid Valley (5-2, 9-7).
Dunmore's 7-0 league start is by an average of 30 points.
By giving Dunmore its second-closest league game so far this season, Mid Valley showed improvement from the league season opener earlier this month when it trailed 35-0 by the middle of the second quarter and 43-0 at home before scoring for the first time with 4:12 left in the third.
"They've definitely stepped up their game," Lewis said. "Before this, they were on a seven-game winning streak.
"I think they've just been working harder, playing better defense and getting it to the right shooter. They have been playing well as a team."