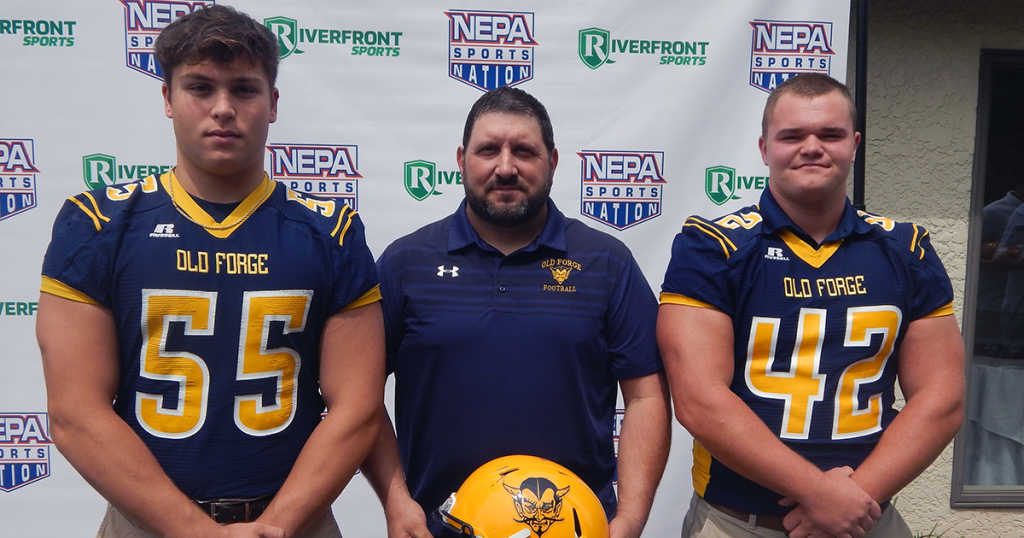 By Tom Robinson, NEPASportsNation.com
OLYPHANT – Old Forge and Lackawanna Trail have ruled the lowest competition levels of Lackawanna Football Conference and District 2 while helping push each other to the point of consistent state contender status in the smallest enrollment classification.
The 2021 season should not be any different.
Lackawanna Trail has been Old Forge's most frequent nemesis in the postseason, but Old Forge has dominated the regular-season competition with the Lions and their division rivals.
Old Forge has won the last three Lackawanna Football Conference Division 4 championships with Lackawanna Trail placing second each year. The Lions then won their two most recent playoff rematches, beating the Blue Devils for the 2018 and 2019 District 2 Class A championships.
In the division, there has been no match for the Blue Devils.
Old Forge won eight LFC division titles in the decade of 2011-2020. The Blue Devils won the three since the LFC switched to four divisions, plus five more from 2011 to 2015 when Division 3 in the old three-division setup closely resembled the current Division 4.
Lackawanna Trail was the sole second-place team to Old Forge each of the last four years in those setups and tied for second with Susquehanna back in 2014.
During the interim – 2016 and 2017 when an alternate three-division format placed 10 teams in Division 3 – Old Forge was second and Lackawanna Trail third to Dunmore in the 2017 season.
All indications are more of the same – from top to bottom.
Old Forge is the favorite for its fourth straight division title with Lackawanna Trail likely to be the only serious threat.
A fourth straight year of the same 1-2-3 is very possible with Susquehanna in its recent position firmly in the middle, well below Old Forge and Lackawanna Trail and well above Montrose and Holy Cross.
The Sabers lost to the top two, 47-6 and 41-7, last season and beat the bottom two, 51-0 and 50-0. That's consistent with the last three seasons as a whole when the Sabers lost six games to the top teams by a total of 228-48 and won five against the bottom teams by a 230-25 margin.
Just as Old Forge and Lackawanna Trail are linked year after year, Montrose and Holy Cross share many issues with each other.
The Meteors and Crusaders have battled low roster numbers and frequent coaching turnover. They once again enter the season desperate for some positive developments with each likely to have one of the best opportunities when they face each other.
Montrose broke a 26-game losing streak when it defeated Holy Cross, 46-6, in one of just two games ever coached by Kerry Patton, the second-year head coach who had his team's first year severely shortened by issues surrounding the coronavirus pandemic. The most recent previous win by Montrose had come in 2017, also against Holy Cross.
Holy Cross, which is being guided by first-year head coach Joe Giorgio, is 2-33 since 2016 with one of the wins coming against Montrose.
The Crusaders sat out the 2019 season because of a lack of available players. Montrose went through last week's opening of official practices with just 20 players on the roster.
A look at the returning all-stars, according to the LFC Division 4 team selected by NEPAFootball.com, points toward more of the same from the division this season, particularly in the top three.
The division has 14 players returning who claimed 17 positions on the all-star team. Old Forge is responsible for seven of those players and nine of those spots. Lackawanna Trail returns four players who filled five of those positions. Susquehanna returns three.
Old Forge's Nick Rasmus, Cyllel Rose and Lou Castaldi, all offensive linemen, and Lackawanna Trail's R.J. Schirg and Kody Cresswell are the division's most honored returning players.
Rasmus made NEPAFootball.com's all-District 2 team for all divisions and classifications as an offensive lineman. He was also selected Lineman of the Year for the division by the website.
Rose, who received all-state recognition in Class A from state sports writers last season as a sophomore, was a division all-star.
Castaldi, a two-way linemen, was a division all-star on offense and part of a short list of honorable mention players for his defensive work.
Schirg was an all-District 2 choice.
Cresswell was a division all-star running back and an honorable mention linebacker.
Old Forge also returns division all-stars in quarterback James Sobol and defensive back Casey Holzman as well as an honorable mention in fullback John Greenfield.
Tight end Miles Edwards and defensive back Evan Litwin are the other returning all-stars for Lackawanna Trail.
Susquehanna returns all-star defensive back Jesse DeLousia. Kicking specialist Layne Fisk and offensive lineman Collin Smith gained honorable mention.
A closer look at each team:
OLD FORGE
The Blue Devils went out in the state quarterfinals, so technically they were not even part of the final four. They did, however, end the season ranked third among Class A schools by PennLive.com, the same spot they occupy in this year's preseason state rankings.
Old Forge had the lead when the clock ran out against the eventual state champion, but Steelton-Highspire scored on an untimed down to pull out a 39-36 victory.
"We graduated a bunch of good leaders," said Mike Schuback, NEPAFootball.com's choice for division Coach of the Year, "but … all in all, we return a lot. We have seven starters back on both sides of the ball."
Seniors Rasmus, Castaldi and Greenfield join junior Holzman as the two-way starters, plus three others return on each side of the ball. Greenfield's other position is linebacker while Holzman is a wide receiver.
Ramsus made 13 tackles for losses in 6 games and was second on the team in overall tackles.
The two leaders of the linebacker corps could also be important to the team's continued success in the running game.
Josh Spindler was the third-leading tackler and is ready to join the running back rotation this season.
Hezekiah Deitz, another returning starter at linebacker, was close to starter playing time on offense last season when he was part of that rotation in the backfield.
Senior defensive back Mario Samony and junior offensive lineman Santino Krappa also return.
Sobol returns after helping run an offense that scored at least 34 points in all 6 games. Still, the Blue Devils came up short in their pursuit of a first state title, even though there were times they may have thought they had the state champions beat.
"We thought that game was over," Schuback said during the LFC Media Day. "That game should have been over. You're in that situation with nine minutes to go in the game. You're feeling pretty confident.
"It's over with. It's done with. There's nothing you can do with it, except learn from it."
Senior split end Ethan Tallo and junior cornerback Andrew Bartnikowski are ready to move into the starting lineup.
Juniors Cooper Mordan and Andrew Santarsiero are competing for the center spot while junior Angelo Fumanti and sophomore Joe Granko are working at the remaining linebacker spot.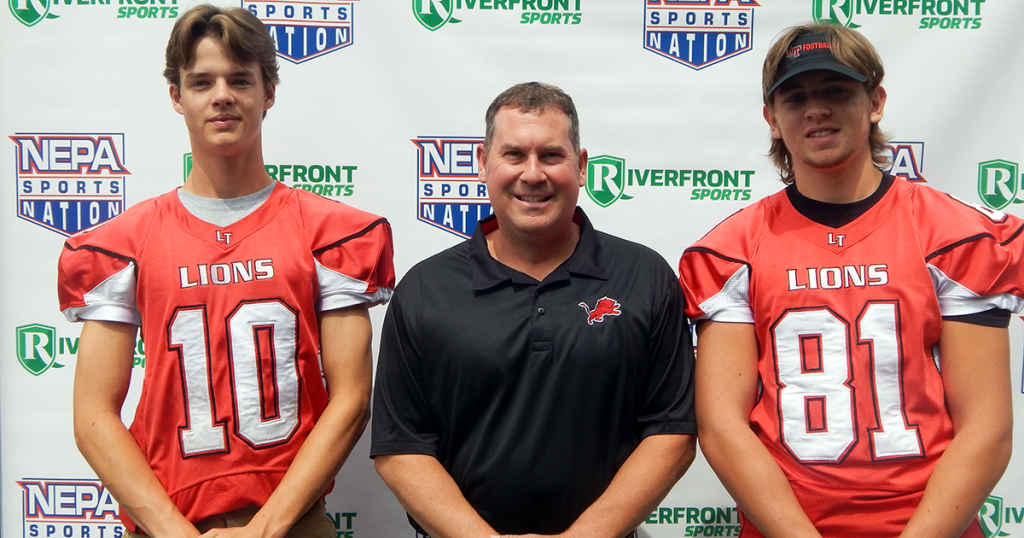 LACKAWANNA TRAIL
The Lions, who also won the district in 2016, reached the state final in 2018 and the semifinal in 2019.
They never got a shot at the playoffs in the abbreviated format of 2020.
"We kind of feel we're back to that 2019 vibe," Lions coach Steve Jervis said of a team that thrived with many contributions from its sophomore class.
Schirg, a 6-foot-2, 285-pounder, received all-state recognition for his role in the run to the state semifinals that year.
Cresswell, two-way end Edwards, two-way lineman Cole Choplosky, two-way back Tyler Rozanski, quarterback/defensive back Owen Lisk and junior wide receiver/defensive back Litwin also saw starts on at least one side of the ball for some or all of the 2019 season.
Other players gained significant experience last season.
Johnny Halter shared the split end spot with Litwin last season.
Tight end Tenzen Lewis and inside linebacker Hunter Patterson earned starts late last season as freshmen and should become two-way players this season.
Stephen Jervis, Kolbee Soltis, Alex Castellano and Cole Schirg are other sophomores who could be factors this season. Jervis got some experience off the bench and could take on some of the quarterback duties along with returnee Lisk.
"We have a really good sophomore class," coach Jervis said. "Those sophomores, how they mesh and get up to game speed – we brought up six of them last year to get them some game experience – I think that's going to be the key, how quickly the sophomores get up to where the seniors are at."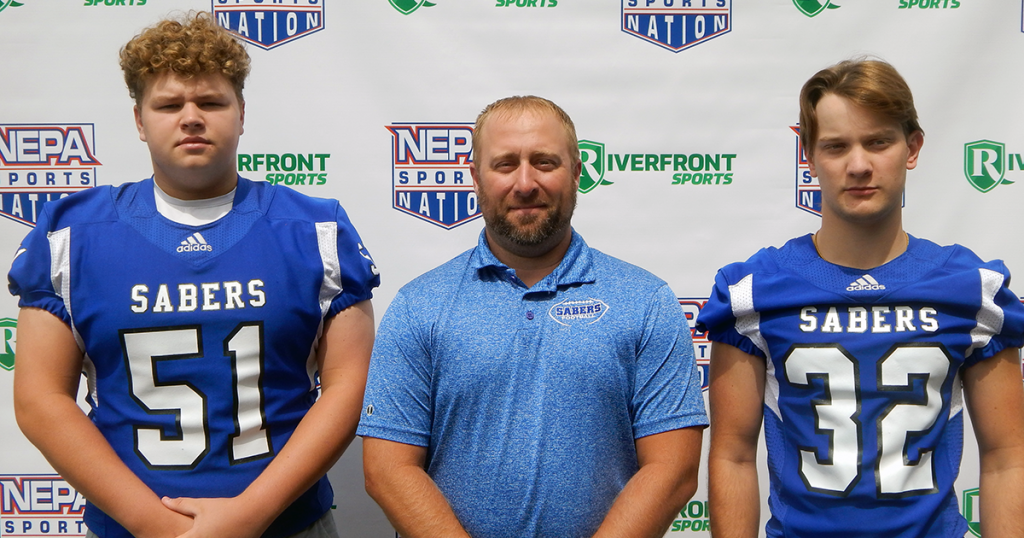 SUSQUEHANNA
After decades of an offense built around option football, the Sabers will have a new look.
"We're going to throw the ball this year," said Susquehanna coach Kyle Cook, who will turn the offense over to 6-foot-4 sophomore quarterback Colton Stone. "We're getting away from the veer. We don't have a quarterback that can really run it, that we're comfortable with, so we're transitioning."
Much of the preseason was spent adding new elements to the offense after the Sabers averaged fewer than six pass attempts and two completions per game in the two years since Stone's older brother Canyon graduated.
"We're going to be more spread with some option tossed in," Cook said.
DeLousia also has experience at running back, as an option quarterback and in the secondary, but is expected to open the season at outside linebacker and as a prime passing game weapon at wide receiver.
Smith returns at guard and defensive tackle where he was joined by fellow senior Isaiah Rosa when Rosa was healthy.
Seniors Carson Williams, at linebacker, and Brad Cottrell, at end, return to the defense. Cottrell will also be part of the offensive backfield.
Spencer Beamer returns after earning starting spots at wide receiver and cornerback as a junior in the 2020 preseason only to be limited to a single game because of a broken wrist.
Junior Layne Fisk returns at cornerback, kicker and punter. He could also become the main running threat at tailback.
Senior lineman Devlin Ace, senior defensive backs Jason Smith and Auston Harvey, junior wide receiver/defensive back J.J. Rosa, junior running back/linebacker Kaleb Shimer, sophomore running back Sam Callahan and freshman lineman Rykin Hobart are among the players with a chance to break into the starting lineup.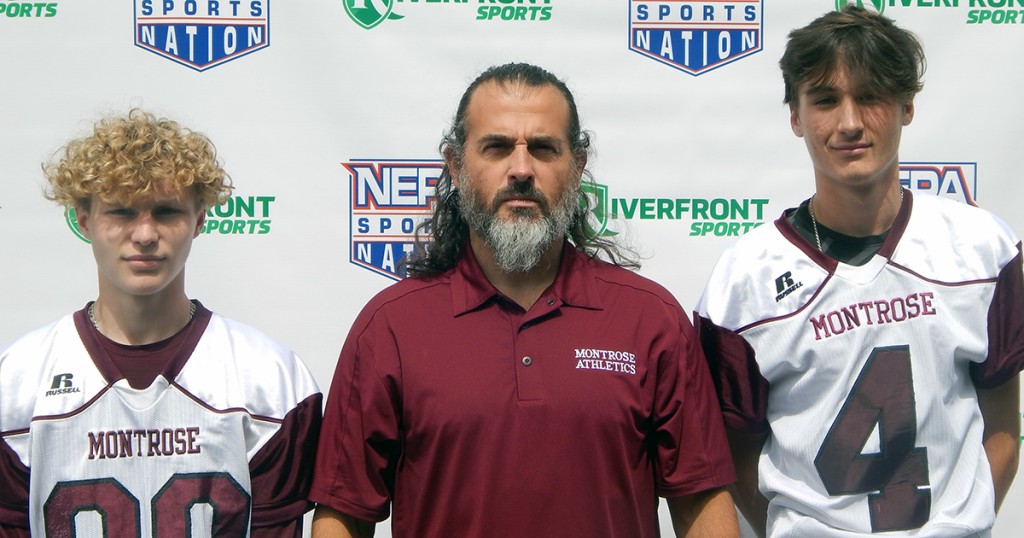 MONTROSE
The Meteors return most of their line and their starting quarterback, but little else from a team that split its two games a year ago.
Junior Gus Brown, who threw touchdown passes for four different receivers in the win over Holy Cross, is back at quarterback.
The returning two-way linemen are seniors Devon Ford and Yulonda Torres, juniors John Tyler and Derrick DeMann and sophomore Levi Osborne.
The other returnees are senior wide receiver/linebacker Cam Johnson and sophomore running back/defensive back Lance Rought.
Most of the key players will need to go both ways.
"We're an ironman football team," Patton said.
HOLY CROSS
The Crusaders return the entire starting backfield, which Giorgio hopes to use to build a sturdier run game.
Logan Tierney, the only consistent offensive weapon a year ago, is back after leading the team in rushing. Gavyn Grems and fullback Cameron Moczulski give Holy Cross its top three rushers back along with returning quarterback Sean Herbert.
Herbert is getting a look at wide receiver while Nate Cobley and Kyle Cortazar are other options at quarterback.
Nick Cabets, another veteran, is being considered at both guard and tight end, along with returning at defensive end.
Tierney and Grems are also back at outside linebacker to lead a defense that could put as many as 10 returning starters on the field. Herbert is at safety.
"Last year, we were very young and inexperienced," Giorgio said. "We hope to take the experience we gained last year and translate it into a more competitive team this year."
The Crusaders were outscored 261-20 in their five games last season.
Wide receiver/cornerbacks Connor Art and Zach Luciani, tackles Chris Petrucci and Andrew Naim, guard/defensive tackle Cody Schoonover, center/defensive tackle Pio Tanana and defensive end Bobby Staples all return.
Fred Strein, who is another possibility and fullback, and Zach Minnick may take over as the inside linebackers.