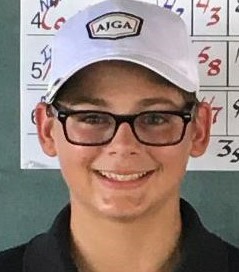 Lake-Lehman sophomore Michael Lugiano passed up a shot to contend for a state high school championship to play in a national event that he thought could get him more exposure to help his future in golf.
Then, Lugiano went out and turned in a performance worthy of notice.
Lugiano shot a 2-under-par, 70 Tuesday to finish 2-under-par for 36 holes and win the Boys 14-15 Division at the Grand Final of the Sir Nick Faldo/Hurricane Series at the Barefoot Resort and Golf Love Course in North Myrtle Beach, S.C.
One of only three players to shoot an under-par round on either day, Lugiano was also the only one to combine it with an even-par round.
Lugiano shot 72 Monday and went into the final round in second place, two strokes out of the lead in the 25-player field.
Playing from the same tees as the boys in the 16-18 Division, Lugiano also beat all of those players. He was four shots better than any player in either field.
Mark Yan from Newburgh, N.Y. was second with 75-71—146.
Lugiano made it to the event by getting through two steps of qualifying, then when the first round of the grand final coincided with the Pennsylvania Interscholastic Athletic Association Class 2A state championships, he had a decision to make.
Lugiano chose the national event.
Hanover Area senior Kyleen McCance made the same choice.
McCance finished tied for 18th out of 27 players with an 80-82—162 on the Dye Course at Barefoot.