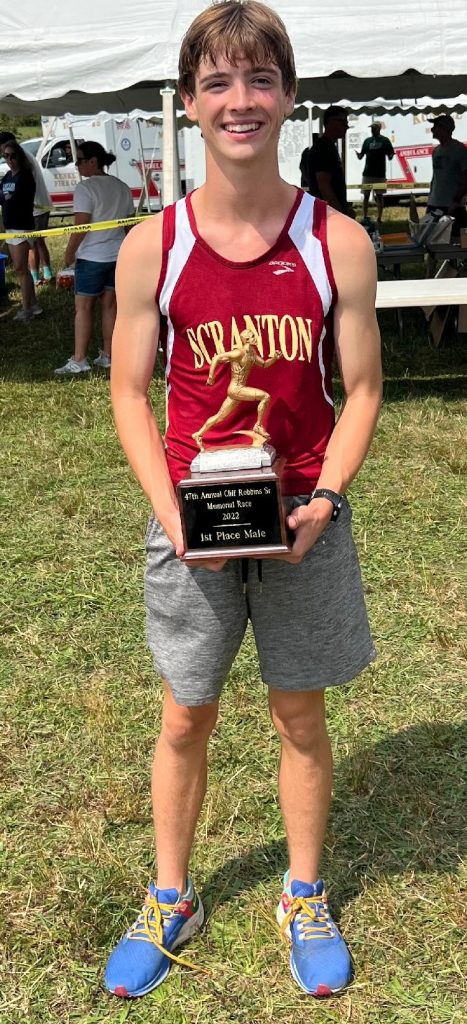 Scranton's Brian McCormack turned in a repeat performance in the boys race after the girls race took on a new look at the 47th annual Cliff Robbins Sr. Memorial Cross Country Races Saturday morning at Misericordia University's Letterkenny Field in Dallas.
McCormack, a junior, won his second straight title.
"When it's shortened down, some people are not as good at shorter distances," McCormack said. "So, I think it was definitely better to win it at the normal distance that everyone is used to."
Riverside's Lacey Danilovitz claimed the girls title as one of five seniors in the top eight a year after a freshman won and underclassmen finished in 12 of the top 13 positions.
McCormack completed the 3.1-miles course in 16:35, 28 seconds in front of Lake-Lehman's Nick Hockenbury, who moved up from fourth a year ago.
"It's really nice because running this race and winning it gives me real good confidence going into the season," McCormack said. "I feel good about where I am, how my summer training went and how I'm going to do later in the season."
This time around, it was the boys race that had a youthful feel to it.
Hockenbury and Crestwood's Weston Medzetz, who took sixth, were the only seniors in the top eight.
Northwest sophomore Oliver Heintzelman was fourth and Crestwood freshman Mason Staude, last year's junior high winner, debuted on the varsity level in eighth.
Wyoming Seminary's Jack Novelli and Montrose's Nathaniel Sinkovich placed fourth and fifth.
Following his sister's victory, Riverside's Daniel Danilovitz added a seventh-place finish to his runner-up placement a year ago.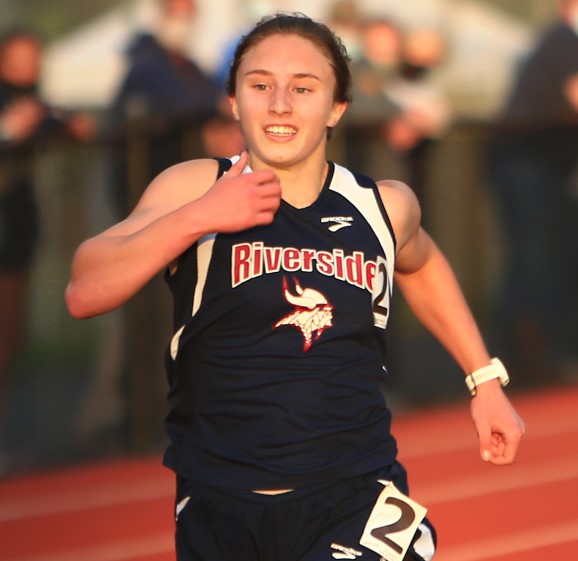 Lacey Danilovitz finished in 19:30 to post a 15-second victory over Wyoming Area's Madelyn Keating.
Keating was two seconds ahead of third-place finisher Madison Hedglin from Dallas.
Scranton's Bella Noreika joined Danilovitz and Keating to make it three seniors in the top four. Lake-Lehman's Hannah Sayre and Montrose's Paige Brewer, who placed seventh and eighth, were the other seniors in the top 10.
Crestwood's Ella Novelli and Forest City's Kate Korty were fifth and sixth.
Korty won the title and Novelli was fifth last season as freshmen.
The Robbins Races, organized by the Wyoming Valley Striders, are intended to test and prepare runners for the season ahead and, therefore, meet officials do not track team scoring.
The top finishers were spread among many schools.
In each varsity race, the top seven were from seven different schools. The first 12 runners in each race came from 11 different schools.
In both cases, Crestwood was the only team with two runners in the top 12.
The Montrose girls placed 3 in the top 15 while joining Crestwood with 4 in the top 20.
Pittston Area had the only boys team with 3 finishers in the top 22. Scranton and Crestwood's third boys runners came in 23rd and 24th.
"I was really excited with how the team did," McCormack said. "We all worked really hard this summer to get where we are.
"It's going to be exciting to run races with our team, which could be really good this year."
There were 158 entries in the varsity boys race and 124 in girls.
Lakeland eighth-grader Henry Decker and Mid Valley seventh-grader Gwennyth Mazur won the junior high titles.
CLIFF ROBBINS SR. MEMORIAL RACES
(3.1-mile Letterkenny Field course)
Boys
| | | | |
| --- | --- | --- | --- |
| Place | Runner | School | Time |
| 1 | Brian McCormack | Scranton | 16:35 |
| 2 | Nick Hockenbury | Lake-Lehman | 17:03 |
| 3 | Oliver Heintzelman | Northwest | 17:08 |
| 4 | Jack Novelli | Wyoming Seminary | 17:14 |
| 5 | Nathaniel Sinkovich | Montrose | 17:16 |
| 6 | Weston Medvetz | Crestwood | 17:18 |
| 7 | Daniel Danilovitz | Riverside | 17:21 |
| 8 | Mason Staude | Crestwood | 17:26 |
| 9 | Gabe Pacyna | Mid Valley | 17:29 |
| 10 | Bryce Phillips | Dallas | 17:40 |
| 11 | Preston Klem | Pittston Area | 17:46 |
| 12 | Thomas Rohan | Lakeland | 17:55 |
| 13 | Luke Pikulski | Scranton | 17:58 |
| 14 | Ahmad Dabsheh | Lake-Lehman | 18:06 |
| 15 | Aiden Cotter | Dallas | 18:09 |
| 16 | Michael Fritz | Northwest | 18:19 |
| 17 | Dylan Kopa | Lakeland | 18:24 |
| 18 | Franklin Ritz | Hazleton Area | 18:28 |
| 19 | Jakob Mead | Pittston Area | 18:29 |
| 20 | John Gillespie | Holy Redeemer | 18:35 |
| 21 | Mattock Shultz | Berwick | 18:36 |
| 22 | Samuel Capitano | Pittston Area | 18:36 |
| 23 | Aidan Graff | Scranton | 18:42 |
| 24 | James Modrovsky | Crestwood | 18:48 |
| 25 | Andrew Chidester | Montrose | 18:50 |
Girls
| | | | |
| --- | --- | --- | --- |
| Place | Runner | School | Time |
| 1 | Lacey Danilovitz | Riverside | 19:30 |
| 2 | Madelyn Keating | Wyoming Area | 19:45 |
| 3 | Madison Hedglin | Dallas | 19:47 |
| 4 | Bella Noreika | Scranton | 19:56 |
| 5 | Ella Novelli | Crestwood | 20:25 |
| 6 | Kate Korty | Forest City | 20:41 |
| 7 | Hannah Sayre | Lake-Lehman | 20:45 |
| 8 | Paige Brewer | Montrose | 20:49 |
| 9 | Maggie Kozich | Crestwood | 20:52 |
| 10 | Annika Vonahnen | Mid Valley | 20:54 |
| 11 | Carissa Flynn | Mountain View | 20:59 |
| 12 | Milana Daiuye | Hazleton Area | 21:16 |
| 13 | Avery Kerr | Montrose | 21:19 |
| 14 | Sarah Williams | Dallas | 21:20 |
| 15 | Mary Pichette | Montrose | 21:21 |
| 16 | Alana Palmaioli | Lake-Lehman | 21:25 |
| 17 | Jillian Wolk | Hazleton Area | 21:29 |
| 18 | Ellie Kozich | Crestwood | 21:41 |
| 19 | Stephanie Summerville | Montrose | 21:42 |
| 20 | Kaelyn Barker | Crestwood | 21:42 |
| 21 | Corinne Flynn | Mountain View | 21:43 |
| 22 | Emily Lehman | Holy Redeemer | 21:46 |
| 23 | Olivia Scalese | Pittston Area | 21:54 |
| 24 | Hannah Stoss | Wyoming Area | 22:08 |
| 25 | Mary Kupsky | MMI Prep | 22:16 |