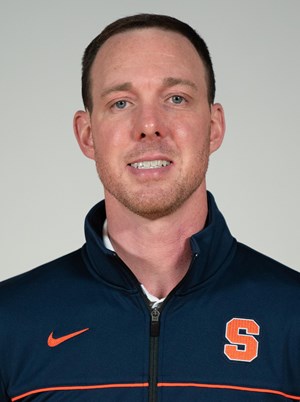 By Tom Robinson, NEPASportsNation.com
CLARKS GREEN – Gerry McNamara was drawn by two forces close to his heart to spend Monday on the road – and on the golf course.
Fundraising for Coaches vs. Cancer and reconnecting with northeastern Pennsylvania – its basketball community in particular – brought McNamara to Glen Oak Country Club.
"It's a combination of both," McNamara said, during an interview between his round of golf and his role as main speaker at the second annual Coaches vs. Cancer NEPA Golf Classic. "I've been very involved with the national Coaches vs. Cancer golf event. I've played in that seven or eight years running."
McNamara serves as an assistant under his college coach, Jim Boeheim, at Syracuse University. Boeheim, in 1997, became the second coach honored with the Champion Award for efforts related to Coaches vs. Cancer, a collaborative effort of the American Cancer Society and National Association of Basketball Coaches. Scranton Prep head coach Andrew Kettel, who heads up the local Coaches vs. Cancer efforts, was the first high school coach honored nationally, in 2018, when Coaches vs. Cancer made the Champion Award a dual honor with a college and high school recipient.
"I know Andrew (Kettel) has done great work down here," McNamara said. "When coach Boeheim spoke at the gala down in Wilkes-Barre, I was able to attend that. He's done terrific work."
McNamara did his part in the effort. His status as main speaker helped draw a field of 30 four-man teams for the event. The golf tournament was preceded by a lunch and followed by a cocktail honor and dinner. Fundraising efforts were bolstered by the staples of charity golf tournaments – hole sponsorships, entry fees, prize raffles and auctions, and a chance for non-golfers to purchase tickets to the dinner that drew a crowd of nearly 200 – and many of those items had basketball themes.
Attendees were also offered the chance to purchase one of 15 basketballs autographed by McNamara, who in turn added his own donation to that of the purchaser. Those sales were earmarked specifically for the July resumption of the local Road to Recovery program assisting cancer patients with travel to treatment.
"When Andrew asked me to come home and speak, I jumped at the opportunity," McNamara said. "This is obviously a cause that I'm pretty passionate about and I have, unfortunately, a great deal of experience with."
McNamara shared basketball stories and thanked participants for their support of a shared cause.
"They're donating their time and their money and it's going to the right cause – a cause that's impacting every one of us in some way, shape or form," he said. "I wanted to come down, tell a few stories about what our family has been through and in that process raise quite a bit of dollars."
McNamara was a major force in winning the largest title available to his teams in consecutive seasons, winning a Pennsylvania Interscholastic Athletic Association Class 2A state title for Scranton's Bishop Hannan High School in 2002, then a National Collegiate Athletic Association Division I title for Syracuse in 2003.
Living up to his well-earned reputation as not only a highly productive scorer, but also a clutch performer, McNamara had 13 of Bishop Hannan's 15 points over the final 4:21 of a 70-68 victory over Sto-Rox in the state final at Hersheypark Arena. He assisted on the basket for the two points he didn't score and finished the game with 32 points.
McNamara then opened the 2003 national championship game at the Louisiana Superdome in New Orleans by hitting six first-half 3-pointers to help Syracuse build a double-figures lead before holding off Kansas, 80-78.
"There's a lot of memories here, but the fact that we had lost freshman and sophomore years in the state championship, then came up short in the state semifinals our junior year, to finally break through in the senior year with that group, a lot of which had attended Holy Rosary together," McNamara said when asked what he remembers most. "We had won a state CYO championship together in eighth grade. Four years later, to be able to do that again; we had obviously added a few pieces, but to get over the hurdle as a group together, I put everything I had into winning a state championship at Bishop Hannan.
"That to me was kind of the culmination to all the work that we had put in."
A year later, McNamara and the Scranton area as a whole were drawing national attention for the number of people who consistently made the trip north on Interstate 81 or to other northeastern cities to follow McNamara's college career.
That bond has never been broken.
And, it made Monday a day that McNamara could not miss.
"To me, it's the best of both worlds," he said. "I get to come home and be with my family, my friends, and people who are passionate about this cause."
MORE ON G-MAC
For more about Gerry McNamara's time as a player at Syracuse, see last year's Alumni Report on our partner website. ALUMNI REPORT: G-Mac coaching in Sweet 16 (nepabasketball.com).