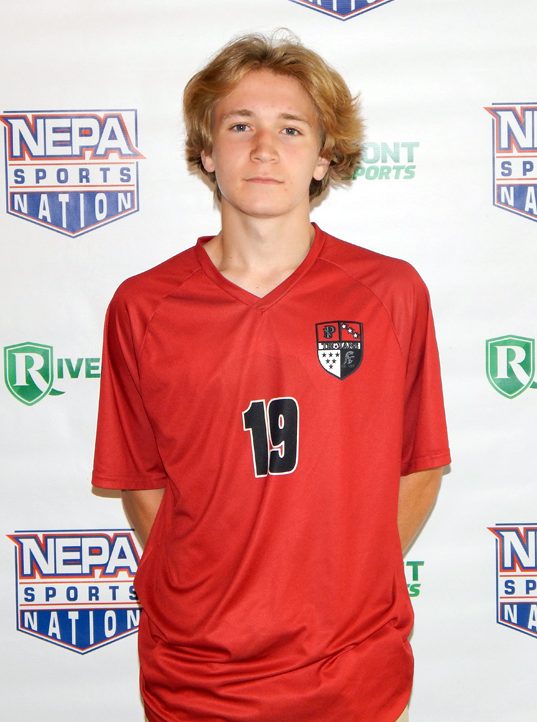 Jonah Yurkanin and Cayden Lougee had hat tricks as a promising season of North Pocono boys soccer got off to an impressive start with a 10-1 rout of visiting Old Forge in a Labor Day non-league game.
North Pocono begins the season as the top-ranked Big School in the Riverfront United Super Six Power Rankings of District 2 teams. Old Forge, the defending Lackawanna League Division 3 champion and the No. 5 Small School, had already won its opener.
Yurkanin got started early, scoring the first two goals 2:27 and 4:00 into the game, then completing the hat trick on a penalty kick for a 5-1 lead 2:44 into the second half.
Lougee also scored twice in the first 17:17, then added the final goal.
Following Lougee's first goal, Tyler Pepsin connected on a penalty kick for Old Forge to cut the deficit to 3-1.
North Pocono dominated from there, finishing with advantages of 33-4 in shots and 7-1 in corner kicks.
Corbin Lankford finished with a goal and three assists.
Alex Pagotto, Eliot Bowen and Casey Jones all scored one goal and assisted on another. Peter Sica also had an assist.
GIRLS SOCCER
Anna Wisnewski scored two goals and Olivia Allen posted a five-save shutout as Wyoming Area blanked visiting North Pocono, 5-0.
Halle Kranson opened the scoring with 14:18 left in the half.
Wisnewski scored the next two, unassisted with 2:53 left in the half, then off a Kayla Kleinfelder assist 6:36 into the second half.
Hannah Fairchild made it 4-0, then Amelia Golden closed the scoring by converting an Emily Kostik assist.
Wyoming Area finished with 18 shots and 8 corner kicks while holding North Pocono to five shots and a single corner.
In other non-league games, Nanticoke shut out Holy Cross, 10-0, and Bloomsburg edged Hazleton Area, 2-1.
Nanticoke improved to 2-0 with the win.
Hazleton Area battled the defending Pennsylvania Interscholastic Athletic Association Class 2A state champion.
FIELD HOCKEY
Delaware Valley shut out Pittston Area, 1-0, in a non-league game.
GOLF
Honesdale topped Carbondale, 8-1, in a non-league match.