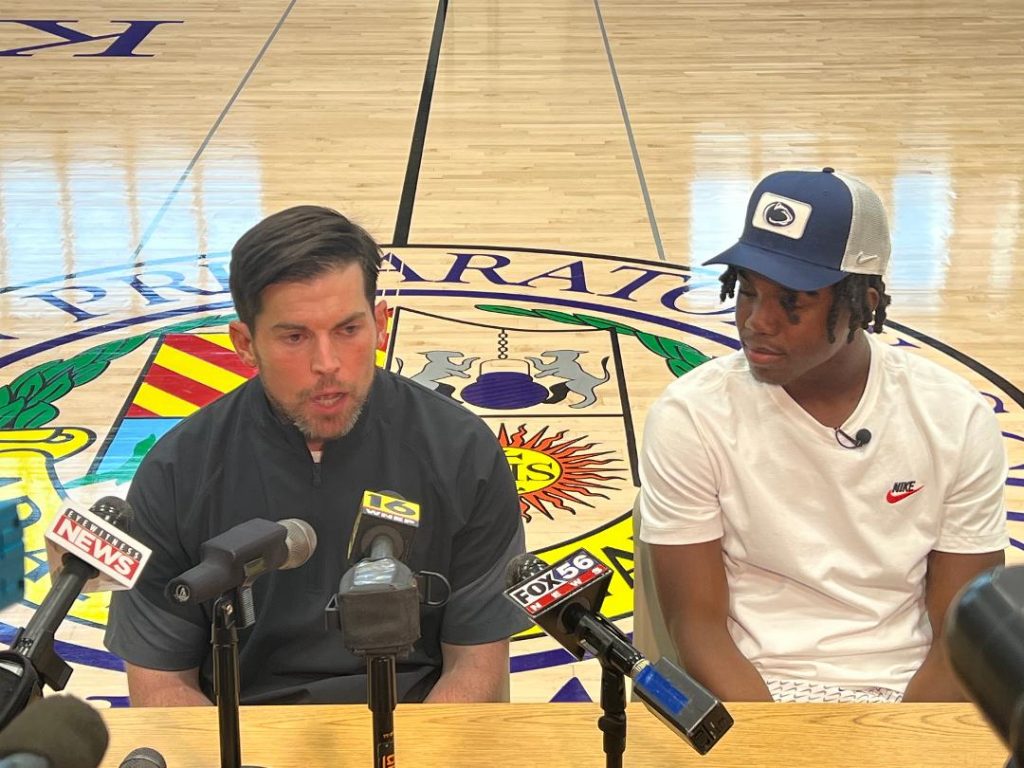 Scranton Prep rising senior running back London Montgomery revealed his future plans Monday, announcing his verbal commitment to continue his academic and athletic careers in state while playing football at Penn State.
Montgomery, who rushed for more than 2,000 yards last season, also plays defensive back for the Cavaliers, is a three-time state medalist in track and field as a sprinter and part of the basketball program. After announcing on social media Friday that he had narrowed his list of options to Penn State, Boston College and Virginia Tech, Montgomery made the decision public during a press conference at the Xavier Center, Scranton Prep's gymnasium.
"All the schools were great," Montgomery said. " … I just had that feeling when I went to Penn State."
Montgomery is anxious to get started with his senior season.
"I'm definitely relieved," he said. "I'll just focus on football and this school year coming up.
"I'm just going to keep my head on straight and we'll see what happens with this next football season."
Montgomery and more than a dozen other scholarship offers from major National Collegiate Athletic Association Division I programs.
"I'm grateful," Montgomery said. "A lot of kids would die to be in my position. I'm always grateful for it. I'm staying humble and it's a dream come true."
Montgomery led Scranton Prep to a District 2 Class 3A title and state tournament appearance last season.
"Obviously, you can see the talent," coach Terry Gallagher said. "In terms of on the football field, he's probably the hardest-working kid here. He's the most competitive kid I've ever met and everybody knew that from Day One here when he was a freshman and he came on here at about 135 pounds."