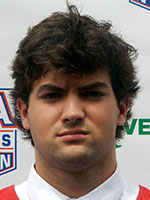 William Soma accounted for three touchdowns during a 27-point second quarter and the North Pocono defense shut out visiting Pittston Area with the help of six turnovers Friday night as the Trojans won the non-league football season opener, 37-0.
North Pocono intercepted five passes while holding Pittston Area to 98 yards total offense.
Mike Blaine carried 19 times for 112 yards and a touchdown in the win.
Jordan Carr kicked a field goal with 2:34 left in the first quarter to open the scoring.
Soma's first touchdown pass, with 10:12 remaining in the half, found Korry Eisley for 12 yards and a 10-0 lead.
The Trojans broke the game open with three more touchdowns in the final 4:07 of the half.
Blaine ran 44 yards for the first of those scores. Soma then passed 22 yards to Danny Smith for one score and ran 4 yards for another to make it 30-0 at halftime.
The score stayed there until Kevin Wickizer ran 46 yards for a touchdown with 2:14 remaining.
Soma finished 6-for-11 for 67 yards passing and added 21 rushing yards on 7 carries.