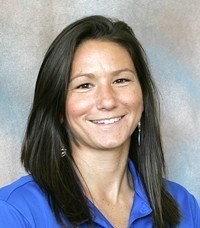 Amber Jacobs landed the Minnesota Lynx starting point guard spot for every game of the 2006 Women's National Basketball Association season.
The Abington Heights graduate was in the middle of her five-year WNBA career after earning honorable mention All-American status at Boston College and being selected in the third round, 33rd overall, in the 2004 WNBA Draft.
Jacobs ranked 10th in the league in 3-point percentage that season at 39.2 while averaging 8.2 points and 3.4 assists. The Lynx struggled to a 10-24 record and had their season end Aug. 13 when they failed to make the playoffs.
During her five-year career, Jacobs came off the bench for all but three other games of the 139 she played, always averaging more than 10 minutes per game.
Jacobs spent four seasons with the Lynx, then played for both the Washington Mystics and Los Angeles Sparks in her final season before her WNBA career came to an end when she was waived by the Sparks July 29, 2008. She ended her career with averages of 4.4 points and 2.1 assists while shooting 34.2 percent from 3-point range and 79.2 percent from the foul line.
In addition to the WNBA, Jacobs also spent a season playing professionally in Italy.
Because the WNBA played in the summer, Jacobs was able to launch a coaching career while playing, serving as an assistant at the University of Toledo. She has also done other coaching, training and instructing in basketball, including time as assistant coach at the University of Rhode Island and locally as head coach at Clarks Summit University.