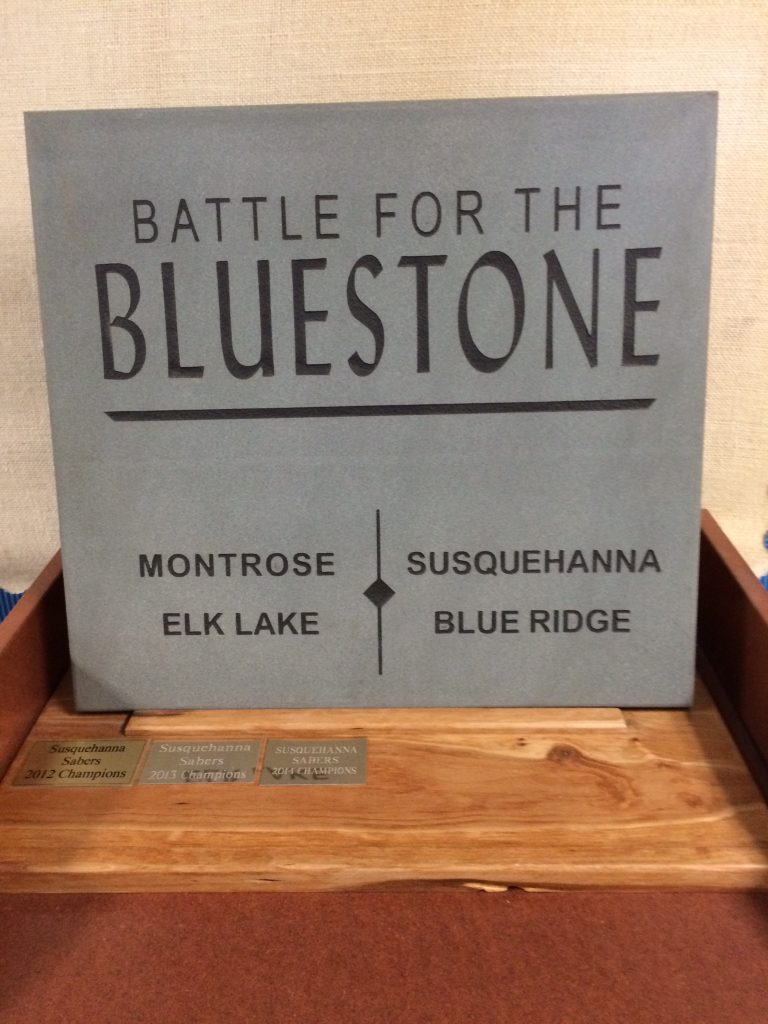 When Montrose plays at Susquehanna Saturday at 1 p.m., Susquehanna County's only two high school football teams will have two trophies at stake.
The Meteors and Sabers again will play for the Bluestone Trophy that goes to the game's winner for the 10th time.
In addition, the Thomas E. Robinson Memorial Award will be presented for the seventh time to a player for outstanding performance in the game while showing respect for officials and his opponents.
The following is a reprint of the tribute written by his son and NEPASportsNation.com editor, Tom, in the Susquehanna County Transcript following his April, 2015 death.
EDITOR'S NOTE: Thomas J. Robinson has written a weekly sports column for the Susquehanna County Transcript for more than a decade since replacing his father, Thomas E. Robinson. The Susquehanna native is an author of 37 books, most of them about sports issues, for young readers. The freelance writer and editor was recently honored by the Pennsylvania NewsMedia Association in its Keystone Press Awards for the first- and second-place Sports Event Coverage of 2014 for his work with another publication. This is his tribute to his father, who died last week and will be remembered during a Celebration of Life ceremony Saturday at the Loyal Order of Moose Lodge in Susquehanna, beginning at 11 a.m.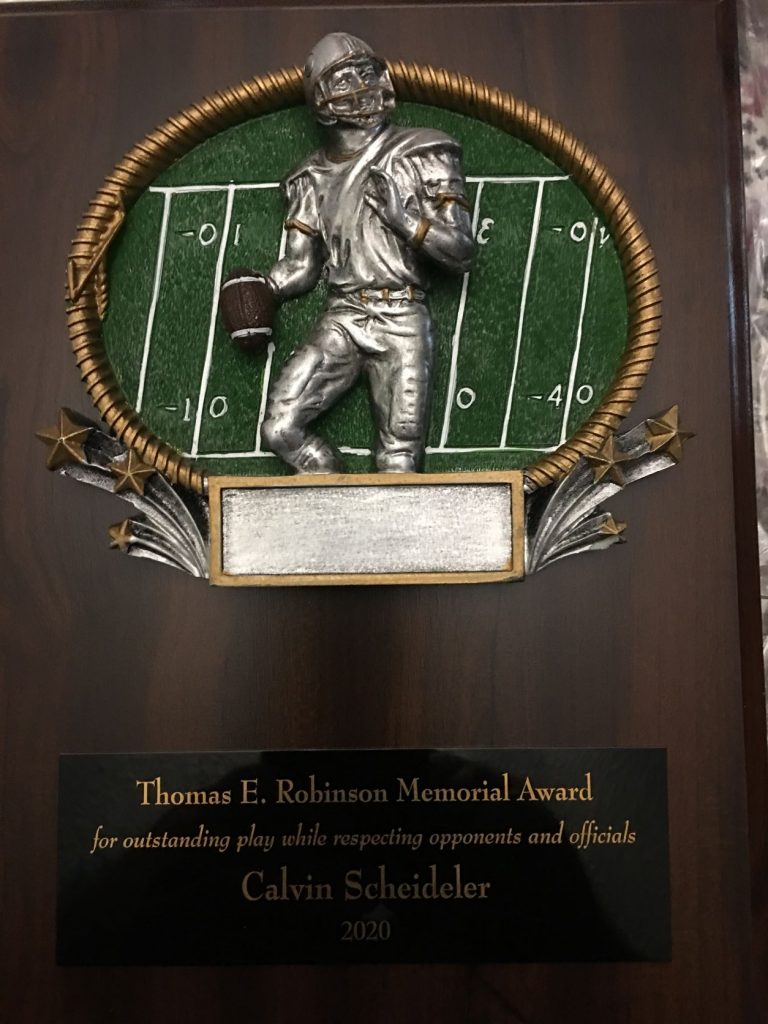 BY TOM ROBINSON
By the time I graduated high school, I had golfed, run track, wrestled, bowled and played football, basketball and baseball competitively.
My father helped make sure of that.
That did not make me or my father special or different.
Many parents have kept their children active by sharing their love of sports.
What made my father different was that he loved making sure everybody got to play.
In a better world, we would all have more respect and appreciation for – and do less second-guessing and complaining about — the people who volunteer their time to coach, administer to and officiate youth sports.
My father did all of the above.
And more.
If you played pee wee football in Susquehanna in the late 1960s, you did so because he was determined to make sure you could. If you played high school football or wrestled for the Susquehanna Sabers in the 1970s and beyond, you did so because of a select group of men, including him, who made it possible.
One of the men who joined in that crusade told me recently, "if it wasn't for your Dad, we wouldn't have football in Susquehanna today."
I appreciate that thought but am not certain it is completely accurate. Somebody else would have taken on the role eventually. Or some other group would have eventually materialized to make sure football – or, maybe, soccer (a thought that would have made him cringe) – was added to the list of activities in the town in which he grew up or the school from which he graduated.
Dad just made sure it happened then. And, he wouldn't accept "no" for an answer when others thought the pursuit was, at worst, silly or, at best, unimportant.
That was one of the things he was fiercely proud of if his later years, when he knew his life was closer to the end than the beginning and he still had the ability to reflect. He created the Susquehanna Eagles football team, which eventually evolved into the Junior Sabers. He joined others, including his late brother Donnie, the early Sabers Booster Club president, in making sure the first high school teams had everything they needed to quickly become a viable, then championship program.
Alzheimer's eventually robbed Dad of the ability to reflect. It took away his understanding of why his wife of 52 years was no longer by his side. It stole the chance to comprehend the developments of the lives of his five children, 21 grandchildren and 14 great grandchildren. And, it took away his most treasured recreation – following Susquehanna Sabers football.
The fall day I knew we had a serious problem on our hands came when I walked into his apartment at Turnpike Terrace and found the poster board that he used to track the schedule and developments of Sabers football season. It was still within reach, there on the table, right next to his crossword puzzles, but had not been updated to include the last two scores. If his mind was still operating at full capacity, he NEVER would have let that happen. The time he spent thinking about his team and what might happen in the next game would have required him to fill in the score of the previous games.
Thomas E. Robinson passed away April 30 at the age of 80. By then, there was nothing else left for Alzheimer's to take away from him. In the final years, the nurses and staff at Barnes-Kasson Hospital's Skilled Nursing Facility did all they could to try to help him cope with no longer being able to remember or understand the things he once enjoyed most.
The memories he eventually lost were shared by many who have played in or enjoyed following the Susquehanna football programs. While the sport likely would have eventually arrived here, the special times shared in those early years of Sabers football probably would not have ever existed without the Eagles coming first and the extra efforts of those who joined him in carrying the pursuit to the high school level.
If the programs were created today, Dad may have started a Twitter account to spread the word about the latest developments. He may have tried to become Facebook friends with the new high school coach who he had not yet met.
But in 1969, the approach was different. When Mike Hemak was selected to lead the Sabers, Dad found an address in the phonebook, jumped in the car, took a 45-minute drive, knocked on the door of a then stranger and asked what the new coach needed to make his job easier.
Never officially part of the staff, he would join Hemak and, later, Dick Bagnall, who guided the team to its greatest successes, on scouting trips and offer other forms of support.
Many players wore the Sabers uniform in the years ahead. I'm happy for Dad that he got to watch his oldest son, Mark, start on the first winning team and his oldest grandson, Jim Reynolds, start on the state semifinalist team that was the school's most successful.
I got to be on the sideline for both – keeping the statistics for the first and reporting on the second, using some of what he taught me about how to be part of a game even when you are not an active participant.
A son doesn't, however, grasp all of a father's lessons.
Anyone who has ever seen me attempt to bait a hook or drive a nail has two clear examples of that.
But when we shared our interest of sports, I listened.
It is because of Dad, I learned:
… How to block a pitch in the dirt and to always make a fist with my throwing hand to protect the fingers from foul tips.
… Every stroke counts and no hole is complete until a putt is actually made. (That's the only way he thought golf should ever be played).
… To always approach the line of scrimmage as a quarterback by looking over the defense in the exact same way so as not to tip off a play.
… To take as much pride in assisting a teammate's basket as scoring my own.
The words on the sports page of this newspaper were his for decades – first when reporting just about Susquehanna and later when covering the entire county.
That was just another of his interests that related to sports. And, just as he made sure I had a chance to play, when he saw an interest developing, he made sure I had a chance to write.
My introduction into this business came when he arranged for me to replace him in reporting statistics and game details to the Sunday newspapers when they did not make it to Susquehanna for games. My first "stringer" check was used to purchase the newest electric football game. My words were first published when he secretly had me write the football game stories that appeared under the name "Tom Robinson" in this newspaper as a ninth grader.
Dad spent about 20 years as a bowling alley mechanic, first traveling with crews that set up houses for AMF during the industry's boom and later serving as head mechanic at the 50-lane Midway Lanes operation in Vestal, N.Y. In other times, his occupation was in other areas, but he still always found time for sports to be a big part of his life.
When he was not coaching, organizing, promoting or reporting about sports, he was working as an official. He served as a Pennsylvania Interscholastic Athletic Association official for at least seven years each in basketball, football, wrestling and track and field as well as working as an Amateur Softball Association umpire.
The challenges of finding officials available and willing to work contests in Susquehanna in the 1970s led to odd situations where Dad became one of the few options for a non-league varsity wrestling match or a freshman football game even though it involved one of his sons.
That led to unique circumstances that would probably never occur today. It was Dad slapping the mat one night when Mark recorded the pin for the only six points by the Sabers in a high school match – a scenario an opposing coach would tease me about years later.
Dad was the only referee to ever flag me for intentional grounding. He was also on the field for a late-season game the day I scored the only touchdown of a freshman football game and followed it up by throwing for the two-point conversion. That night, he hung up his whistle and never worked another football game, deciding he had found an ending to that assignment.
Now, it's time for me to find mine.
I never consciously decided to follow in any of my father's footsteps.
But as I look back on his life, I realize how many of his paths I followed.
At one time or another, I have coached kids, started a team from scratch, officiated and written about sports.
I was fortunate to have him to show me the way.