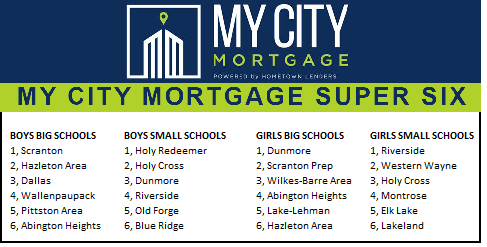 Riverside reclaimed the top Small School girls spot in this week's My City Mortgage Super Six Power Rankings of District 2 teams, which were released Sunday morning on our partner website, NEPABasketball.com.
The change sets up a pair of games that send the No. 1 Small School into the No. 1 Big School's gym on successive nights this week.
Riverside plays at Dunmore in a Lackawanna League Division 3 girls game Tuesday night. Holy Redeemer is at Scranton in a non-league boys game Wednesday.
While there is a major change – only the second this season in a No. 1 position – movement is otherwise minimal this week.
The 24 teams that made up last week's rankings – boys and girls, Big Schools and Small Schools – protected their status by going a combined 41-5, not counting the seven games where they went againt each other and one had to lose while the other won.
The Dallas boys and Wilkes-Barre Area girls were the only other teams to move up from within the rankings this week, while the Abington Heights boys and Lakeland girls also gained ground, rejoining the rankings.
The Scranton boys, Holy Redeemer boys and Dunmore girls all held on to No. 1 positions as they have each of the eight weeks of this season.
Riverside is back on top of Small School girls after Western Wayne held that spot for three weeks.
The Lady Vikes routed Old Forge, 49-19, and defeated Lakeland, 71-52.
Western Wayne dropped to second. The Lady 'Cats lost to Scranton Prep, 46-32, then came back to win 61-36 over North Pocono and 57-14 over Delaware Valley.
Holy Cross, Montrose and Elk Lake remained in third, fourth and fifth.
The only loss in the group came in a head-to-head meeting.
No. 3 Holy Cross needed an overtime comeback at home to get past No. 4 Montrose, 53-51, Saturday night.
Lakeland took over sixth after a 2-1 week in which the loss came to No. 1 Riverside.
The Lady Chiefs defeated Mid Valley, 39-29, and Carbondale, 45-7.
Lackawanna Trail dropped out of the rankings after losing two out of three games.
Big School boys is the other set that has two changes.
Scranton and Hazleton Area are 1-2.
The Knights remained undefeated with two wins while the Cougars ran their winning streak to 11 with three victories.
Dallas moved up from fourth to third by running its winning streak to six by winning twice.
Wallenpaupack slipped a spot to fourth after suffering its first District 2 loss, 48-40, to Abington Heights Thursday.
Pittston Area won two of three games, falling to Dallas, and held fifth.
Abington Heights replaced North Pocono in the sixth spot after winning three times in four days to complete a 3-1 week.
The Trojans lost two of their three games, including one against No. 1 Scranton.
There is just one change in Big School girls.
Dunmore, which ran its winning streak to seven, and Scranton Prep each won three times to hold first and second.
The rankings were done before Scranton Prep won again Sunday afternoon to stretch its winning streak to six. That win is reflected in the rankings listed below.
Wilkes-Barre Area extended its winning streak to 10 with three victories and moved up one spot to third.
Abington Heights went 2-1, losing only to No. 2 Scranton Prep, and fell just one spot into fourth.
Lake-Lehman and Hazleton Area held fifth and sixth.
Lake-Lehman won its two games. Hazleton Area recovered from a loss to Crestwood to win twice.
The Small School boys rankings from a week ago are intact.
No. 1 Holy Redeemer won 3 times and has now won 6 straight by an average of 34 points.
Holy Cross, Dunmore, Riverside, Old Forge and Blue Ridge remained in second through sixth. The only losses during the week came in close games within the rankings when Old Forge fell to higher-ranked Riverside, 33-29, and Blue Ridge took higher-ranked Dunmore into overtime before losing, 84-82.
MY CITY MORTGAGE SUPER SIX POWER RANKINGS
(With Record, Previous Rankings)
| | |
| --- | --- |
| BOYS BIG SCHOOL | GIRLS BIG SCHOOL |
| 1. Scranton (11-0, 1) | 1. Dunmore (14-1, 1) |
| 2. Hazleton Area (14-2, 2) | 2. Scranton Prep (12-2, 2) |
| 3. Dallas (11-3, 4) | 3. Wilkes-Barre Area (14-1, 4) |
| 4. Wallenpaupack (12-3, 3) | 4. Abington Heights (11-4, 3) |
| 5. Pittston Area (12-4, 5) | 5. Lake-Lehman (11-3, 5) |
| 6. Abington Heights (10-5, NR) | 6. Hazleton Area (12-5, 6) |
| BOYS SMALL SCHOOL | GIRLS SMALL SCHOOL |
| 1. Holy Redeemer (13-1, 1) | 1. Riverside (13-3, 2) |
| 2. Holy Cross (10-5, 2) | 2. Western Wayne (12-3, 1) |
| 3. Dunmore (10-6, 3) | 3. Holy Cross (9-6, 3) |
| 4. Riverside (11-4, 4) | 4. Montrose (8-5, 4) |
| 5. Old Forge (6-7, 5) | 5. Elk Lake (10-4, 5) |
| 6. Blue Ridge (10-5, 6) | 6. Lakeland (6-9, NR) |