By Tom Robinson, NEPASportsNation.com
SHIPPENSBURG – Periodic updates from Friday's action in the Pennsylvania Interscholastic Athletic Association Class 2A Track and Field Championships at Shippensburg University.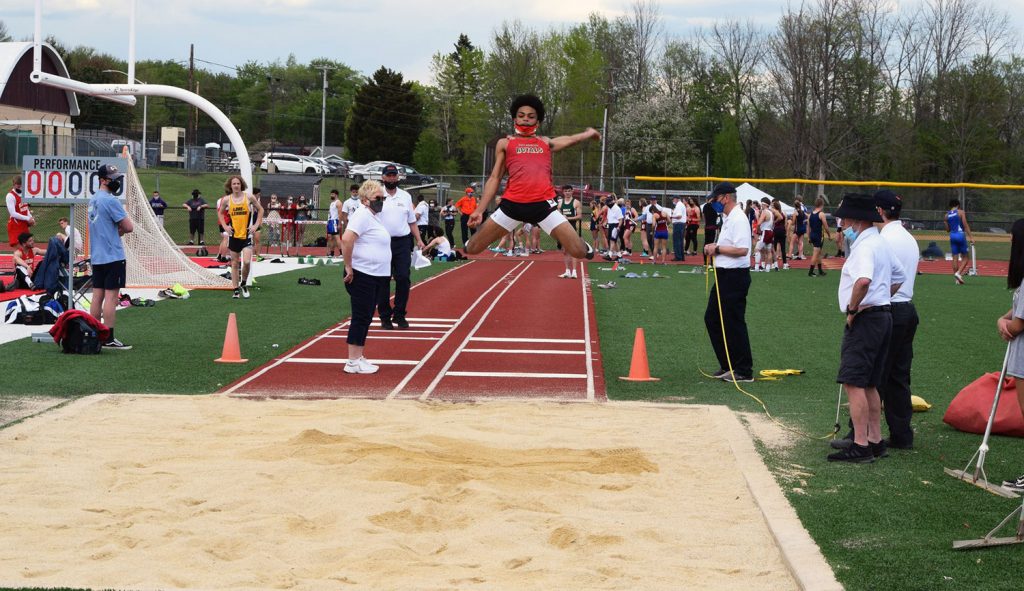 10TH UPDATE
Scranton Prep finishes second in the state in the boys team standings with the Class 2A portion of the PIAA Track and Field Championships now complete.
Jack Lynett took third in the pole vault, losing out on a second-place tiebreaker after clearing 14 feet.
Lynett made it four finishes in the top three for the Cavaliers. London Montgomery was third in both the 100- and 200-meter dashes while Thomas Dickinson was second in the javelin.
Southern Columbia ran away with the team title with 62 points. Scranton Prep was second with 26 and Holy Redeemer, the early leader, finished tied for ninth with 18.
The final girls team standings were a different story.
Only three District 2 teams scored and none finished in the top 43.
Holy Redeemer wound up tied for 44th, Montrose tied for 57th and Lake-Lehman tied for 61st.
Schuylkill Valley and North Schuylkill tied for the team title with 39 points.
Holy Redeemer's fourth-place finish in the 3200 relay was good for its five points. The same combination that produced those points came in 10th out of 23 teams in the 1600 relay.
Madelynn Perfilio from Riverside placed 12th of 24 in the girls long jump at 16-4½.
Northwest's Hunter Gmiter and Bailey Grizzanti from Carbondale were part of an eight-way tie for 15th out of 25 high jumpers with a height of 5-8.
Montrose was 15th in 3:34.69 and Mid Valley 17th in 3:36.05 in the boys 1600 relay, which had 23 entries.
Wyoming Area's Toni Menichello had a javelin throw of 112-0 to finish 18th of 24 girls.
Lakeland's Gabby Chase was last among 25 shot putters with 30-5½.
Nick Barillo from Western Wayne did not clear a height in the pole vault.
In a result that was missing from earlier, Susquehanna's Tatum Norris did, in fact, narrowly miss the finals and a state medal. She finished qualifying in the 100-meter dash in 12.56 seconds, one-hundredth behind both the seventh and eighth qualifiers for the eight-runner final.
MORE TO COME: Return to the website throughout the weekend. More state track and field coverage is on the way.
NINTH UPDATE
Sophomore London Montgomery is one of the big reasons Scranton Prep will finish in the top five in the boys teams standings.
Montgomery picked up his second third-place medal of the day, adding the 200-meter dash to the 100. He finished in 22.21 seconds.
The distance for Nanticoke's Sincere Shiloh on his eighth-place triple jump was 42-4 ¼. Ryan Mills from Blue Ridge was 12th out of 24 with 41-7 ¾.
In the discus, Lacota Dippre from Lakeland was 13th with 144-3 and Pete Sabia from Dunmore was 22nd with 133-1. There were 25 entries in the event.
Thomas Lee from Holy Cross was 17th of 23 in the 800 in 2:05.23. Elk Lake's Dylan Way was 19th in 2:08.07.
With one event remaining, it is now absolutely pouring in Shippensburg.
EIGHTH UPDATE
Two more medals for District 2 – both of them boys with eighth-place finishes.
Sincere Shiloh from Nanticoke was eighth in the triple jump. Full afternoon field event results are not yet available.
Nico Sciandra from Wyoming Area was eighth in the 300-meter hurdles in 41.26 seconds. Tyler Rozanski, Lackawanna Trail's only entry at the meet, was 12th of 23 in 41.86.
Mid Valley's Kyle Marcinkevich and Lakeland's Skylar Arendt narrowly missed a medal, each placing ninth out of 24 entries.
Marcinkevich missed by .13 seconds with a time of 51.17 in the 400.
Arendt fell 27-hundredths of a second short in the 800 with a time of 2:19.29.
Riverside's Avery Meredick was 14th of 25 when she put up a time of 48.70 in the 300 hurdles.
Brandon Reed from Riverside, who earned a second-place long jump medal earlier in the day, was 19th in the 400 in 53.02.
Carbondale's Rachel Korty placed 19th of 26 girls in the 400 in 1:02.00.
In the boys 400 relay, Dunmore was 20th and Scranton Prep 22nd out of 24 teams.
SEVENTH UPDATE
The first rain drops have begun to fall, but so far they have been very light and the meet is nearly three-quarters complete.
The latest medal-winning effort was also another school record performance by the Lake-Lehman 400-meter relay team of Autumn Palka, Gabby Shonis, Keera Naugle and Tasha Mihalko.
Lake-Lehman ran 50.80 to place sixth. That team beat last week's 50.85 in winning the District 2 title and was the third time this season the foursome lowered the school record.
The boys 1600 is also complete.
Michael Brantley from Wyoming Area was 21st in 4:36.63 and Christian Snee from Mid Valley was 25th of 26 in 4:56.76.
SIXTH UPDATE
Five more girls events were completed without an additional medal from District 2, despite a valiant effort by Elk Lake's Krista Jones.
Jones was trying to put up a time in the "slow" heat good enough to displace enough of the 12 runners in the "fast" heat to grab one of eight medals.
Jones nearly pulled it off, placing 9th out of 24 runners.
After leading for most of her heat, Jones was passed late by eventual sixth-place finisher Olivia Roberts from Punxsutawney. Roberts finished in 5:10.58, 1.52 seconds ahead of Jones.
Jones missed eighth place by less than a second with a time of 5:12.10.
Western Wayne's Ella Dougher finished tied for 10th out of 19 pole vaulters with a height of 10-0.
Mid Valley's Avery Rebar was 14th of 24 in the discus with a throw of 105-11.
Tasha Mihalko from Lake-Lehman showed great consistency. Her state triple jump distance was a quarter-inch better than her District 2 winning jump. She was 15th of 24 with 34-7¼.
Molly White from Holy Cross was part of a four-way tie for 20th out of 23 with a 4-8 high jump.
FIFTH UPDATE
With the first wave of field events finishing up and action continuing on the track, there are several updates to provide.
Holy Redeemer was the early leader in the boys team standings on the strength of the Justice Shoats gold in the long jump and Chris Hine silver in the 3200.
Thomas Dickinson and London Mongomery have now moved Scranton Prep into the race.
Through 7 of 18 events, District 2 has two of the top three teams.
Southern Columbia leads with 20 points, followed by Holy Redeemer with 18. Scranton Prep is third with 14 and guaranteed of more points from Montgomery.
Dickinson, who went in as the top seed, finished second in the javelin with a throw of 190-1.
Bedford's Elijah Cook won with 192-5.
District 2 had two of the top five finishers with Wyoming Area's Drew Mruk fifth at 178-2.
Montgomery placed third in the 100-meter dash in 11.00, three-hundredths of a second and three places in front of Dunmore's Cristian Buckley in an extremely close race, even by 100 standards. The third through seventh places were each separated by one-hundredth of a second.
Montgomery also qualified second in the 200 where he has the final coming up.
Gerald Welsted, who will play for Blue Ridge in the state volleyball tournament, finished 19th out of 25.
Montrose's Tangi Smith finished sixth in the 100-meter dash. Full qualifying results continue to be unavailable, but Susquehanna's Tatum Norris fell short of the eight-runner final.
Riverside's Nathan Oliphant was seventh in the 110 high hurdles in 15.62.
Mid Valley placed seventh in the 3200 boys relay with Christian Snee, Michael Bennici, Zachary Popko and Collin Pacyna finishing in 8:15.80. Holy Cross was 19th of 23 in 9:00.82.
Josh Angelo from Mid Valley was 14th with 45-10 and Mruk from Wyoming Area was 19th out of 24 with 44-9 ¾ in the shot put.
FOURTH UPDATE
Justice Shoats from Holy Redeemer and Brandon Reed from Riverside finished first and second in the state Class 2A boys long jump.
Shoats, a basketball all-star who took up track and field for the first time this season as a junior, won with a jump of 22-9½.
Reed, already an all-stater in soccer and basketball earlier in this, his senior year, finished second in 21-9 ¼.
Much more to come on this, along with coverage of the rest of the Class 2A state championships.
Before this could be sent, London Montgomery from Scranton Prep just won his 200-meter qualifying heat, continuing a big day for District 2 athletes.
THIRD UPDATE
District 2 athletes are off to a good start.
The Holy Redeemer girls 3200-meter team claimed a fourth-place medal and two boys sprinters have joined others who have made it through qualifying.
Lauren Kane, Lexie Marcinkowski, Madison Dewees and Anna Capaci finished the relay in 9:47.16.
Scranton Prep's London Montgomery (11.01) and Dunmore's Cristian Buckley (11.11) qualified third and fourth, making the final of the 100.
The girls 100 finalists still not available. No explanation at this point.
SECOND UPDATE
The second medal event is starting up on the track.
The Holy Redeemer girls will run in the faster of the two heats with the 12 contenders for the 8 medals in the 3200-meter relay.
Qualifying is complete in the girls 100 hurdles, boys 110 high hurdles and both 100-meter dashes.
Nathan Oliphant from Riverside made the final and clinched a medal by qualifying sixth of 24 in the 110 high hurdles in 15.50. Dunmore's Dylan Aquino placed 13th in 15.93.
Riverside's Avery Meredick was 15th of 23 in the 100 hurdles in 16.92.
The 100 dash qualifying has not been sorted out yet, but, unofficially, Montrose's Tangi Smith appeared to win her heat, which would put her automatically into the final. Susquehanna's Tatum Norris ran alongside her and was not far behind, so likely will be in a close call for one of the eight spots in the finals.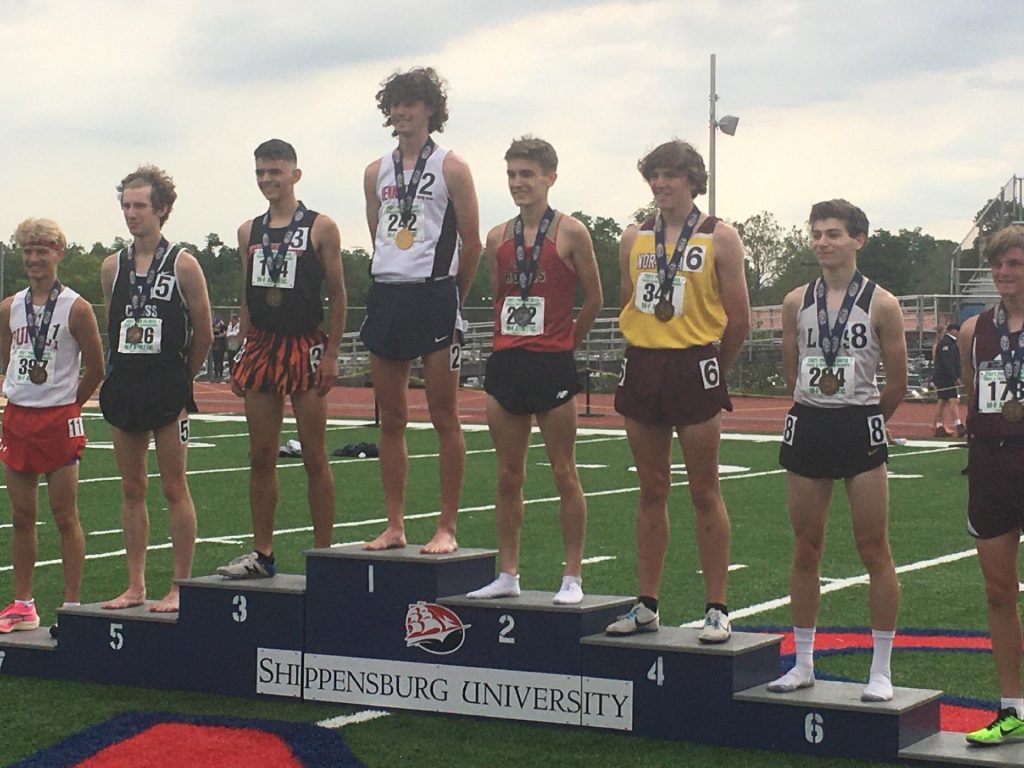 FIRST UPDATE
District 2 did not have to wait long for its first medalists.
The second completed event of the day – and the first for the boys – saw Holy Redeemer's Chris Hine finish strong to take second place in 9:21.05.
Kevin Jumper from Holy Cross gave District 2 a second medalist in the event by placing fifth in 9:31.44.
Hine went in as the first seed, which is based on times from district meets, but said he was well aware of the credentials of champion Luke Miller from Jenkintown, who took command early and held on to win in 9:18.91.
"I knew he was a very talented runner," Hine said.
Hine did not move into second until the last of eight laps. His final 400 meters was the fastest in the 24-runner field and by far his fastest lap.
"I felt strong," said Hine, who ran the first lap in 1:07.19, the next six all between 1:11.17 and 1:13.15, then the last in 1:00.50. " … It was just a patience game. I made my move when I had to."
Jumper led the pack chasing Miller for much of the middle portion of the race.
INITIAL REPORT
Action is underway at Shippensburg University where a change in formats for this season will have all competition for Class 2A today and all Class 3A action Saturday.
It is cool and windy with rain expected at some point during today's events. Saturday's forecast is even more ominous with many of the events likely to be contested in rain.
The first half of the field events all began within minutes of the scheduled 9 a.m. start.
The first track event is over with Lacey Danilovitz from Riverside finishing 14th in the girls 3200-meter run.
The top eight in each event will receive state medals and score points for their teams.
The boys 3200 meter run is past the halfway point. Chris Hine from Holy Redeemer went in as the top seed, but Kevin Jumper from Holy Cross leads him and is running second well behind the race leader.
MORE: Check back often for updates throughout today's competition.