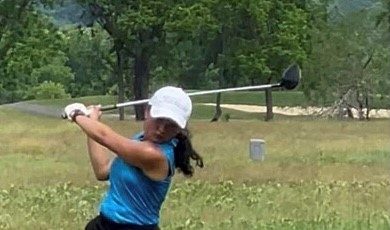 By Tom Robinson, NEPASportsNation.com
GREENFIELD TWP. – Defending District 2 Class 3A champion Gwen Powell and returning state medalist Ciera Toomey led Lackawanna League qualifying Tuesday at Elkview Country Club for entry into the District 2 Girls Individual Golf Championships.
Powell's 6-over-par, 78 was the best score of the day and led a group of 11 Class 3A players who shot 100 or better to earn their spots in the Oct. 5 tournament at Fox Hill Country Club. For those Class 3A girls entered in the tournament, they actually will be playing in a District 2-4 Class 3A Subregional.
The Class 2A tournament will be for District 2 players only.
Toomey shot an 84 to lead the 7 qualifiers in Class 2A. She finished one stroke in front of defending district champion Chloe Sipe from Elk Lake.
Powell was medalist in Class 3A by five strokes over Scranton Prep's Miranda Karoscik, who actually had the second-best score of any player, regardless of classification, with an 83.
Scranton Prep was the only team to advance more than two players to the district tournament, sending five players to Fox Hill.
Honesdale's Kayla Benson was third in Class 3A with an 85, one shot ahead of Scranton Prep's Caroline Stampien.
Toomey and Sipe were the only two Class 2A players to break 90.
The remainder of the district field will be determined through Wyoming Valley Conference qualifying Monday at Fox Hill.
MORE
Scores for all qualifiers: https://nepasportsnation.com/lackawanna-league-golf-scores/.