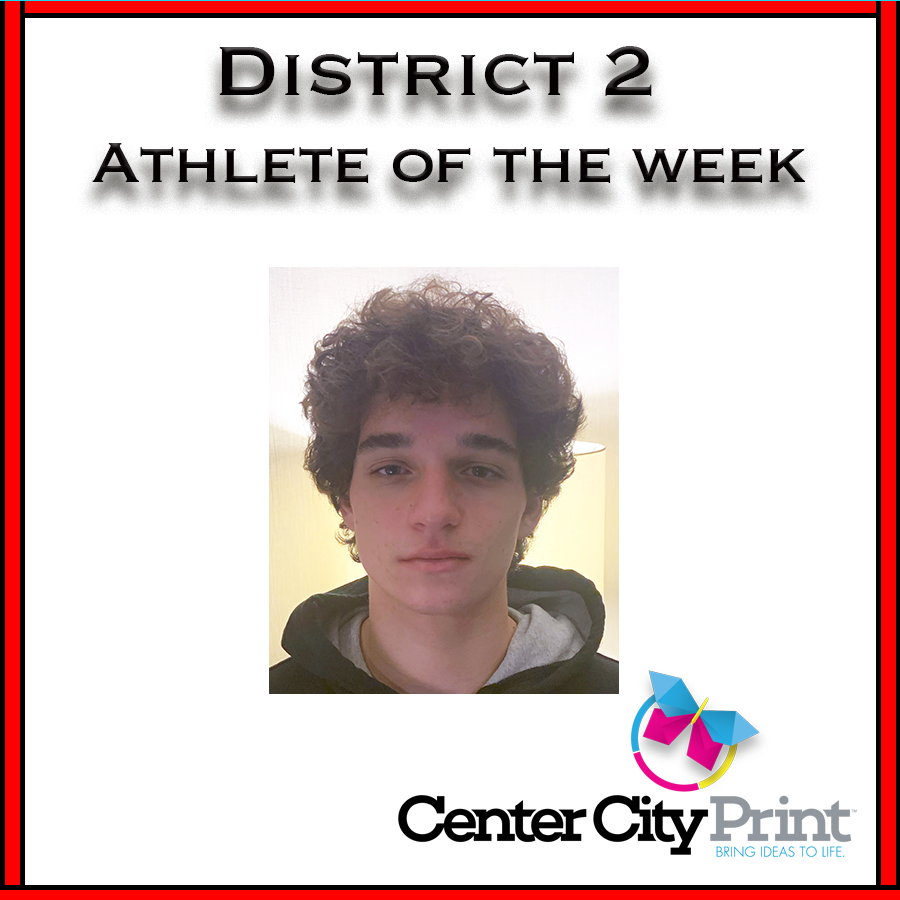 By Tom Robinson, NEPASportsNation.com
Lackawanna Trail wrestlers continue to mix team and individual pursuits effectively.
"A lot of our team individually wants to make it to states," said Deegan Ross of District 2's strongest team in the first month of the season. "That's our goal and, as a team, we want to make it to (dual meet) states and see how far we can go."
Ross provided the maximum number of available team points in minimal time while winning the 152-pound championship and helping the Lions win the team title at the Lackawanna League Wrestling Tournament.
For that effort, Ross has been selected as the Center City Print District 2 Athlete of the Week for the time period of Dec. 13-19.
Ross ripped through the 152-pound bracket with three straight pins in 1:11 or less.
After winning his first two bouts in 56 and 34 seconds, Ross won the title with a pin in 1:11 against Western Wayne's Nicolas Arcadipane.
"I avenged a pin from last year's regionals and it was great to get him back," Ross said.
Arcadipane had pinned Ross in the second period of their regional match, handing the two-time District 2 champion only his second loss of the season and preventing a return trip to the state tournament. The other loss had also come at Northeast Regionals in an overtime bout.
Ross, who went 39-12 as a freshman in 2019-20, was sharp throughout the league tournament, completing a 4-0 week that included a technical fall by shutout in a win over Elk Lake to open Lackawanna Trail's Lackawanna League Division 2 title defense. He had time to use the same move in each victory.
"The whole tournament, I used the bar," Ross said.
While Deegan Ross was winning his title, his twin brother, Seth, was taking the 189-pound championship and they were helping the Lions outscore Division 1 teams Delaware Valley and Abington Heights for an uncommon team title by a Division 2 representative.
The Lions finished with 220 points to beat out Delaware Valley at 201 and Abington Heights at 197½. They more than doubled the point total of the remaining 11 teams in the field.
"We were really focused on the team," Deegan Ross said. "We were trying to get every point that we could and we're really proud of the team."
Deegan, from Dalton, is the son of Chaz Ross, a two-time state qualifier during his time wrestling at Mountain View, and Corinne Bell.
OTHER WEEKLY HONOREES
Honor Roll: https://nepasportsnation.com/district-2-honor-roll-16/.
Key Contributors: https://nepasportsnation.com/key-contributors-16/.
PREVIOUS WINTER ATHLETE
Dec. 10-12, Austin Finarelli, Dallas boys basketball: https://nepasportsnation.com/finarellis-career-best-effort-cited/.