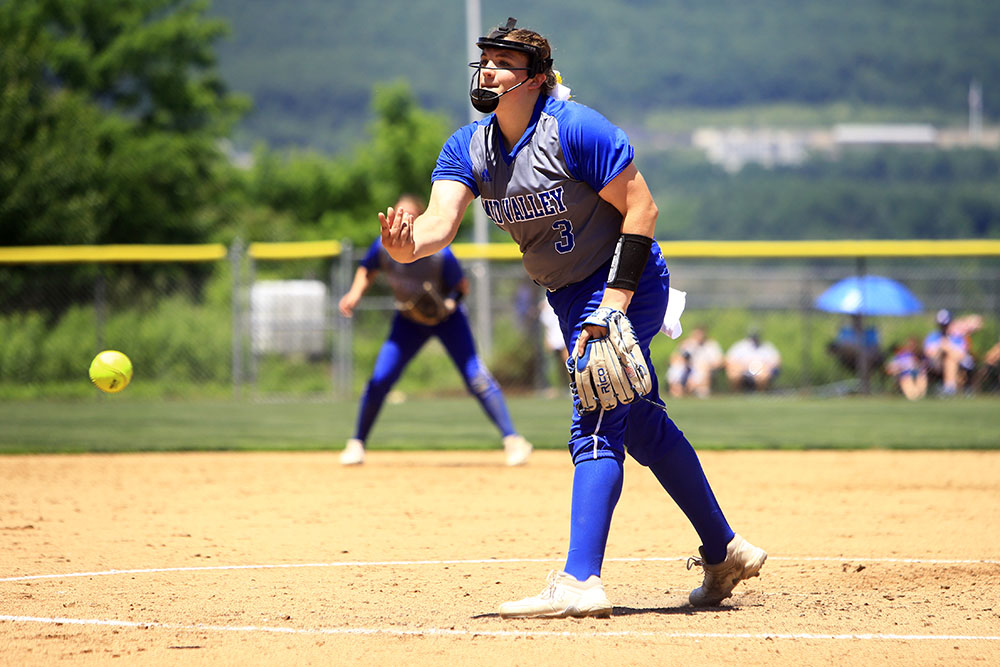 EDITOR'S NOTE: While NEPA Sports Nation puts together more-detailed reports on each game, here is a quick recap of Monday's action in the semifinals of the PIAA baseball and softball tournaments.
DUNMORE – Mid Valley and Tunkhannock swept a softball doubleheader at Marywood University, then the Wyoming Area baseball team put together a lengthy rally with two out in the bottom of the seventh inning at DeSales University in Center Valley in the last game of the night.
All three earned the right to represent District 2 in the Pennsylvania Interscholastic Athletic Association championship games at Penn State later this week with semifinal victories.
Three other District 2 teams lost in state semifinals.
Maranda Runco retired the last nine batters she faced in a four-hit shutout and Mid Valley scored in the bottom of the fifth inning to defeat Central Columbia, 1-0, in a Class 3A game to open the softball doubleheader at Marywood.
After being delayed more than two hours at the start because of a thunderstorm, Tunkhannock went ahead in the top of the first and stayed there in a 5-1 Class 4A victory over Bethlehem Catholic.
Wyoming Area scored four runs with two out in its last at-bat to rally past Monsignor Bonner-Archbishop Prendergast, 5-4, in Class 4A baseball.
Three teams had their seasons end.
Lake-Lehman scored in the top of the seventh, but then lost, 2-1, in the bottom of the inning against Oley Valley in the Class 3A opener to the baseball doubleheader at DeSales.
Lampeter-Strasburg made its third straight state Class 5A softball final by scoring two runs in the top of the first and then turning back threats from West Scranton for a 3-0 victory at Patriots Park in Allentown.
Riverside's bid for an unbeaten state baseball championship season ended in an 8-7 loss to Schuylkill Haven at the Mountain Post American Legion Field in a Class 2A game that was also delayed at the start.
All three District 2 finalists will take on champions from District 7, suburban Pittsburgh.
Mid Valley (20-2) will play Mount Pleasant (20-3) Friday at 1:30 at Penn State's Beard Field, Nittany Lions Softball Park. Mount Pleasant is unscored upon in the state tournament.
Tunkhannock (23-2) will play unbeaten Beaver (20-0) Thursday at 1:30 at Penn State's Beard Field, Nittany Lion Softball Park.
Wyoming Area (14-6) will face New Castle (18-9) Friday at 1:30 at Medlar Field @ Lubrano Park, also at Penn State.
The first five Mid Valley batters reached base in the fifth inning, but with one runner thrown out at the plate, they managed just one run.
Kaylee Terranella led off with a single and scored on a Zoe Zelinski single.
Kaya Hannon carried a no-hitter into the sixth inning and finished with a two-hitter with 10 strikeouts for Tunkhannock.
Emily Schultz doubled in two runs in the first inning and finished with three hits. Paige Marabell homered for the final run.
Wyoming Area was down to its last strike with nobody on base when pinch hitter Nathan Nowakowski batted back from an 0-2 count to draw the first of five straight walks. An error followed, allowing the tying and winning runs to score.
Hunter Lawall struck out five in two innings of scoreless relief to get the win.