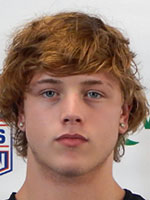 Colby Roberts rushed for touchdowns in each of first three quarters and four other Lake-Lehman players ran for scores Saturday night to lead the Black Knights to a 47-13, Wyoming Valley Conference Class 3A Division football romp.
Roberts carried 8 times for 138 yards. His 1-yard touchdown gave the Black Knights a 14-0 lead after one quarter, his 17-yarder on the first play of the second quarter made it 20-0 and his 65-yard score 23 seconds into the second half made it 41-0.
After the Black Knights missed the kick on their third touchdown, Roberts ran for a two-point conversion following the fourth score, helping Lake-Lehman put the entire second half into the Mercy Rule with a 35-0 lead at the break.
Lake-Lehman averaged nearly nine yards per carry for the game while improving to 3-2.
The other Black Knights touchdown runs were 9 yards by Cole Morio in the first quarter; 13 yards by Santino Diana and 1 yard by Dustin Heinrich in the second quarter; and 13 yards by Jeremy Scouton in the fourth quarter.
Jacob Hunter passed for more than 200 yards for Holy Redeemer (1-5).
Zach Perta had 7 receptions for more than half those yards. Justice Shoats pulled in a pair of third-quarter touchdown passes.
MORE SATURDAY FOOTBALL COVERAGE
Scranton Prep-West Scranton: https://nepasportsnation.com/scranton-prep-pounds-west-55-7/.
Scoreboard: https://nepasportsnation.com/saturdays-district-2-scoreboard-5/.