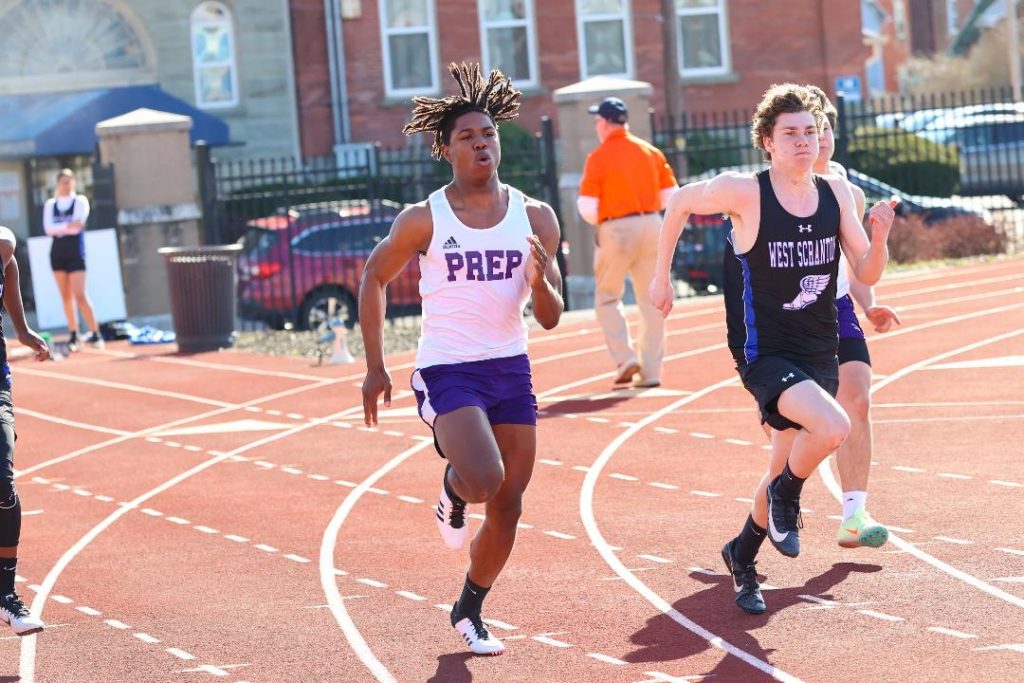 Lake-Lehman and Wyoming Area both improved to 3-0 in Wyoming Valley Conference Division 2 girls track and field with victories at home Tuesday.
The Lady Knights and Lady Warriors are the last two unbeatens in the division.
Hannah Sayre won the 3200-meter run and crossed the finish line together with teammates in two other races when Lake-Lehman downed Tunkhannock, 95-55.
Sayre shared first place with Alana Palmaioli in the 1600 and both Palmaioli and Grace O'Donnell in the 800.
Amanda McGurk continued to raise her school record in the pole vault, clearing 9-9.
Wyoming Area defeated Northwest, 99-51, with Rosalind Tart winning the long jump, triple jump and shot put.
Madelyn Keating won the 800 and 1600 runs and anchored the 3200 and 1600 relay victories.
Lackawanna Trail defeated Elk Lake, 78-61, in a meet between Lackawanna Track Conference Division 4 teams that had won their openers.
In other highlights from Tuesday sports around District 2:
BOYS TRACK AND FIELD
Valley View and Lackawanna Trail became the first two LTC teams to get to 2-0 in their divisions with victories.
Valley View edged Scranton, 77½-72½, in one of two Division 1 meets.
Scranton Prep defeated West Scranton, 88-45, in the other.
Lackawanna Trail defeated Elk Lake, 78-61, in Division 2.
Defending champion Wyoming Area moved a half-meet in front of idle Holy Redeemer in WVC Division 2 with a 92-53 victory over Northwest.
Rocco Pizano won the 100 and 200 and anchored the 400 relay for the Warriors.
Brady Newman won both hurdles and the triple jump when Lake-Lehman downed Tunkhannock, 102-47.
BOYS TENNIS
Wyoming Seminary swept Holy Redeemer, 5-0, in the WVC.
Ryan Chun-Will Snowdon won, 6-0, 6-0, at second doubles and the other matches were all straight set wins, including, 6-0, 6-2 by Ben Ziegler at first singles and Jeremy Han at third singles.
The other wins were by Vaughn Kutish and the doubles team of Yicheng Li-Marco Magnotta.
The win improved Wyoming Seminary to 8-0 in the league.
Dallas is also unbeaten at 5-0 after beating Berwick, 5-0.
GIRLS LACROSSE
Julia Glowacki, who picked up her 100th career point, and Isabella Caporuscio each had a hand in eight goals as Crestwood routed Pittston Area, 16-1, in a WVC game.
Caporuscio had four goals and four assists while Glowacki had three goals and five assists. In lacrosse, points are combined goals and assists.
Grace Pasternick added four goals and one assist in the win.
Both teams entered the game unbeaten.
Crestwood remains alone in first place at 6-0. Pittston Area falls to 3-1.
Wyoming Seminary moved into second at 3-0 with a 12-8 victory over Delaware Valley.
BOYS LACROSSE
Delaware Valley used a balanced attack to rout Abington Heights, 16-2, in a WVC game.
The Warriors led 5-1 after one quarter, 11-1 at halftime and 15-1 through three quarters.
Peyton LaRocco scored four goals and assisted on one. Justin Kalitsnik had three goals and two assists; Xander Kelly had three goals and an assist; Brady Quinn had two goals and two assists; Paulie Weinrich had a goal and three assists; and six more Delaware Valley players figured in the scoring.
BOYS VOLLEYBALL
Don Marinelli had 12 kills while Lucas Dwyer had nine as Holy Redeemer defeated Lake-Lehman in four sets.
Marinelli also had 10 service points, 3 aces and 2 blocks. Dwyer had nine points, with the help of three aces.
Charlie Floryan set up the offense with 35 assists, along with producing 15 points and 2 aces.
Joe Shiskowski led Lake-Lehman with seven kills and seven blocks. Michael Battin had 12 assists and Jake Eury had 6 digs.
Holy Redeemer used the win to match Tunkhannock at 5-0 to share the WVC lead.
Abington Heights moved into a first-place tie with Blue Ridge in the Lackawanna League with a three-set sweep of Mountain View.
Both teams are 4-0 going into Thursday's match at Blue Ridge.
SOFTBALL
Dallas had nine extra-base hits while outslugging Berwick, 14-10, in a WVC Division 1 game.
Morgan Sakulich, who had three hits, and Victoria Spaciano drove in three runs each.
Spaciano had a home run and scored three runs. Sakulich had a double and triple. Nina Barrouk doubled twice.
MORE TUESDAY COVERAGE
Baseball roundup: https://nepasportsnation.com/baseball-lawall-tosses-no-hitter/.
Full scoreboard: https://nepasportsnation.com/tuesdays-district-2-scoreboard-23/.