By Tom Robinson, NEPA Elite News
ATLANTIC CITY, N.J. – Coming in as the eighth seed in an 18-team field did not discourage Dave Scoblick, coach of NEPA Elite's Hoop Group Showcase League entry on the 15-and-under level.
The team spent the AAU basketball season hovering around the .500 mark, but remaining competitive with almost all of its opponents while facing the top teams on its age level at each stop.
The NEPA Elite 15U Scoblick team guaranteed itself of a spot in the top four of the Hoop Group Showcase League Season Championships when it roared into the 15U Platinum Division semifinals by pouring in 35 points in a span of 8:05 in a second-quarter quarterfinal comeback Sunday at the Atlantic City Convention Center.
NEPA Elite will continue its HGSL title pursuit Monday morning at 10:20 against the Staten Island Bulldogs 2024.
"Most of our losses were under seven points," Scoblick said. "We were in our games late with an opportunity to win. I told our girls that there is no team in this tournament that is that much better than us and if we play the was we know how, we could easily be sitting there holding that trophy in the end.
"We're giving ourselves an opportunity to do that."
NEPA Elite recovered from a rough outing in a Saturday loss in a showcase game that served as a preliminary to the tournament and was not part of the bracket.
After beating New Jersey Shoreshots 15U HGSL, 52-38, in the first round, NEPA Elite overcame a 10-point, second-half deficit in a 71-59 win over Team Miller 2024 HGSL, a team that had pulled off an overtime upset in the opening round.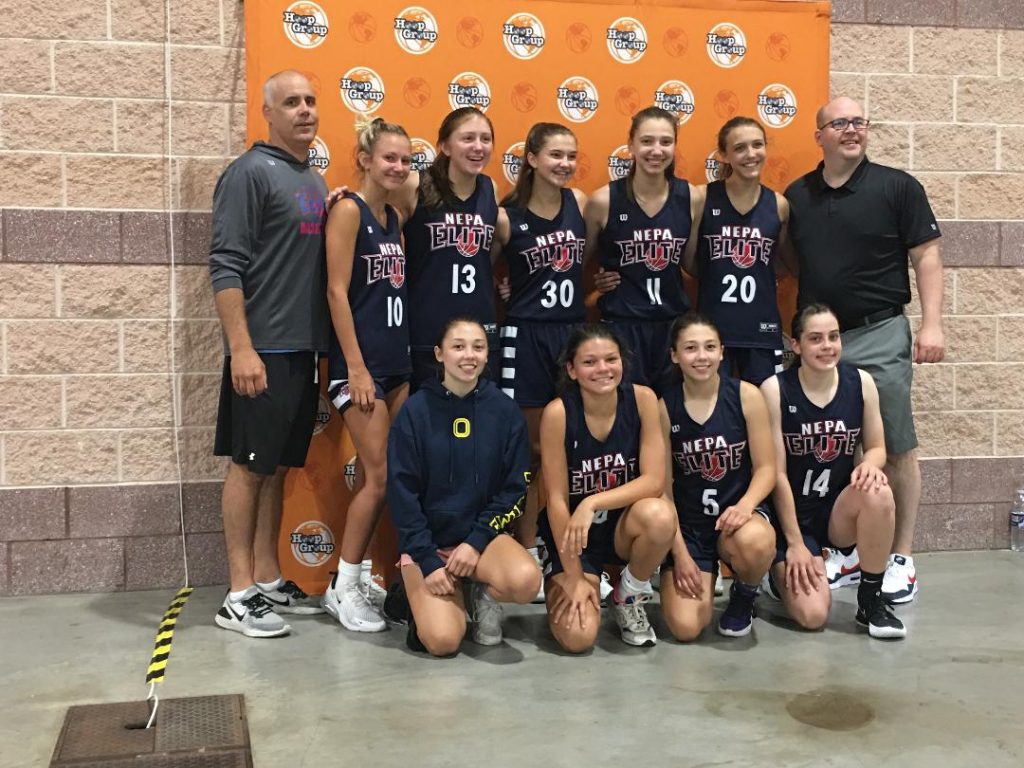 NEPA Elite picked up the pace while trailing 41-31, but did not get immediate results, failing to score from close range on multiple possessions, including one that produced six shots because of a series of offensive rebounds.
It was hard to tell at that moment what was about to happen next.
NEPA Elite went on a 35-9 run to a 66-50 lead with 3:10 left.
"We were down 10 and then it seemed to happen in a blink that we were up 15," Scoblick said. "To the girls' credit, despite not shooting the ball very well and missing a ton of layups, they kept their intensity up, they took care of the basketball when they had to and they did a better job of boxing out toward the end of the game."
Those factors combined with an increase in defensive pressure to turn the game around.
"Their press had started to bother us and when we did go down by 10, our answer was to do the same," Scoblick said. "I told them to pick up 94 feet and pressure the basketball. That really seemed to turn the game in our favor. We started to speed them up a little bit and sort of flipped the script on them, which is great to do."
Sophia Talutto scored 13 points and Finley Bittenbender had 9 during the run.
NEPA Elite forced nine turnovers, including six in the Team Miller backcourt during the run. Emily Romanowski had two steals during that time, including one that set up Talutto for the layup that started the run.
Talutto scored 15 of her 21 points in the second half while Bittenbender had 10 of her 16 and Ella Ella Wilson had 6 of her 11.
Wilson scored the go-ahead basket from underneath with 8:30 left.
Elyse Montgomery chipped in with eight points.
Romanowski led a balanced attack in the opening win with 11 points.
Talutto and Bittenbender each added 9 while Mackenzie Perluke had 8.
Talutto is from Dunmore, Bittenbender from Scranton, Romanowski from Western Wayne, Wilson from Lake-Lehman, Montgomery from Honesdale and Perluke from Wyoming Valley West.