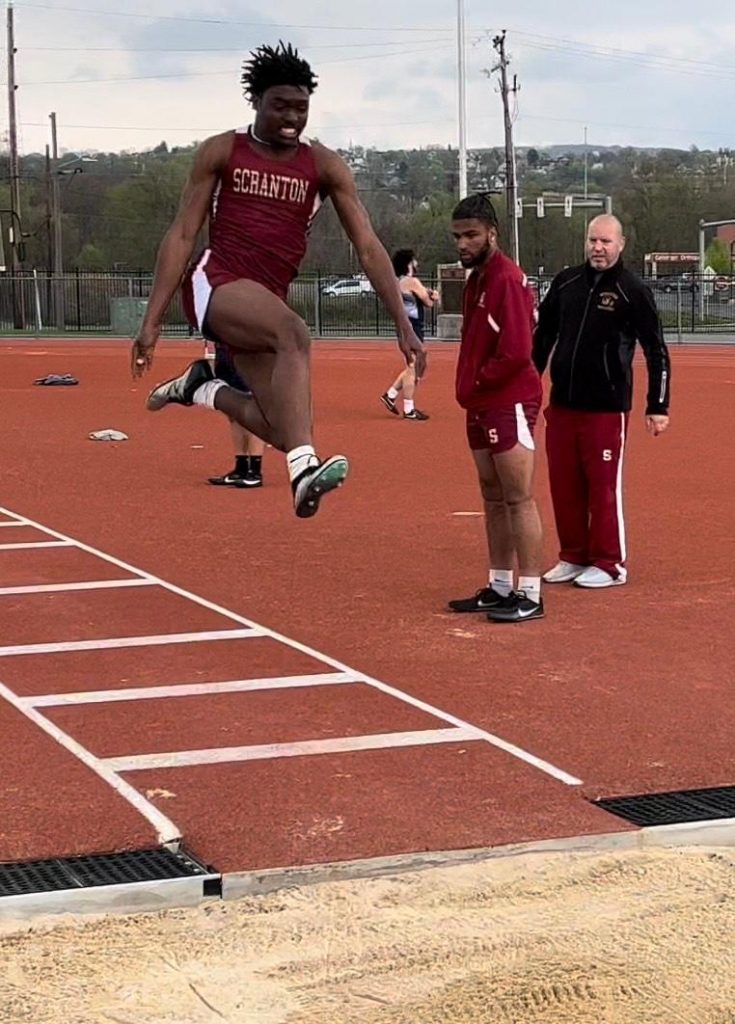 SCRANTON – Antonio Hairston swept the jumps and added a victory in the 300-meter hurdles for the maximum four event victories Monday, leading the way as host Scranton knocked off previous division leader Abington Heights, 82-68, to create a three-way tie in the final Lackawanna Track Conference Division 1 boys standings.
Scranton, Abington Heights and Valley View, which handled West Scranton, 116-30, all finished 3-1 to share first place. Valley View had beaten Scranton early in the season and Abington Heights beat Valley View with a relay win in the final event last week.
Hairston ran away with the 300 hurdles victory in 41.2 seconds and pulled out narrow victories in the jumps. He went 20-2 to win the long jump by 3½ inches, 40-8 to take the triple jump by seven inches and 5-8 to go two inches above his competition in the high jumper.
Lamaire Saldano also had a big day for the Knights, winning the 100- and 200-meter dashes and running a leg on the winning 400 relay.
Izzy Williams won the 110 high hurdles and was part of the relay win.
Brian McCormack finished strong to take the 3200 by a half-second and Luke Pikulski won the 800.
Kareem Jefferson won the shot put, helping the Knights remain within 16-11 of Abington Heights in the throws where Nikolai Williams won both the discus and javelin for the Comets.
The Knights got a big boost from their sprinting stretch with Saldano helping build a 26-6 advantage in the 100, 200, 400 and 400 relay.
Connor Hilling won four times for Valley View. He took the 100 and 200 dashes and anchored the 400 and 1600 relay teams.