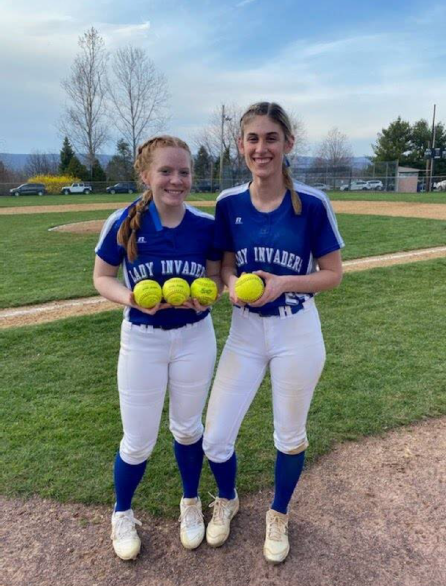 Isabella Summa's slugging and Maranda Runco's pitching led the West Scranton and Mid Valley softball teams to comfortable Lackawanna League softball victories Wednesday.
Summa slammed three home runs and drove in seven runs as West Scranton shut out Scranton Prep, 12-0, in a Lackawanna Division 1 game.
Runco tossed a five-inning, no-hitter as Mid Valley shut out Lakeland, 10-0, in five innings in Lackawanna Division 3.
Summa hit three-run homers with two out in the third inning for a 6-0 lead and with none out in the top of the seventh to close the scoring. She also had a solo homer in the fifth inning after Gianna Russo had also hit one.
Russo went 3-for-3 with two doubles, the home run and four runs scored.
Mia Butka threw a one-hit shutout with 12 strikeouts and did not walk a batter.
Runco struck out 10 and walked 3. She also was 1-for-1 with two walks at the plate to drive in two runs and score one.
Mid Valley scored three runs in the first, one in the second and six in the third.
Kat Davis went 2-for-2 with a walk and three runs scored from the lead-off spot. Chiara Zavislak followed and was 2-for-2 with a double, two runs and an RBI.
Riley Cunningham went 3-for-3 with six RBI and three runs scored as Valley View routed Delaware Valley, 12-1, in a Lackawanna Division 1-2 crossover.
West Scranton, Mid Valley and Valley View were not the only softball teams to post decisive victories.
Elk Lake routed Blue Ridge, 15-0, in Lackawanna Division 4 and Nanticoke blanked MMI Prep, 10-0, in Wyoming Valley Conference Division 2.