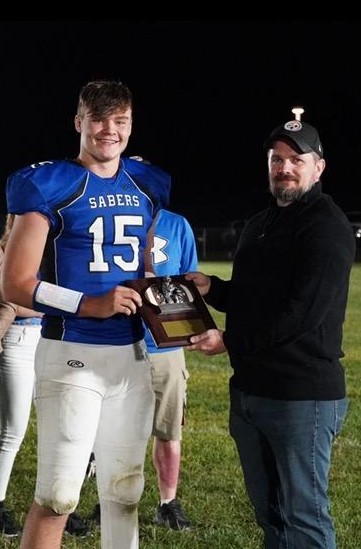 By Tom Robinson, NEPASportsNation.com
SUSQUEHANNA – Colton Stone claimed an award for himself while helping make sure his Susquehanna Sabers kept hold of a team trophy.
Stone received a plaque as the recipient of the eighth annual Thomas E. Robinson Memorial Award for outstanding play while showing respect for opponents and officials after his four touchdown passes helped the Sabers defeat Montrose, 35-14, in the 11th annual Battle for the Bluestone under the temporary lights at William Emminger Memorial Field Friday night.
The win was the seventh straight by Susquehanna in the series and 10th in 11 meetings since the Bluestone trophy was created for the winner of the game between Susquehanna County's only two high school football programs.
Stone was 11-for-20 passing for 197 yards. He threw two touchdowns each to Cooper Payne, who also had an interception, and J.J. Rosa.
"He's becoming more comfortable with Cooper, obviously," Sabers coach Kyle Cook said. "If we can tie a few more guys in, it will help us as the season goes on."
Three of Stone's touchdown passes created a 21-0 halftime lead.
Montrose closed to within 21-14 before Susquehanna broke away from good. The Sabers rebuilt the lead to three touchdowns, then had another touchdown called back and ended the game at the Meteors 12.
Kaleb Shimer led a Susquehanna defense that threw Montrose for 11 losses totaling 79 yards.
Shimer made 4 tackles for 33 yards in losses, recovered a fumble in the end zone for a touchdown and shared the team tackle lead of 7. He assisted on three other tackles.
Susquehanna opened the scoring with 1:18 left in the first quarter
Rosa returned a punt 24 yards to the Montrose 30.
On the first play, Payne ran and out-and-up pattern along the right sideline and Stone hit the open receiver in stride for a 30-yard touchdown.
After missing a field goal on the next possession, the Sabers added to their lead the next two times they got the ball.
The Sabers covered 61 yards in 6 plays with 60 coming on third-down passes from Stone to Payne.
Payne went deep down the middle for 41 yards on third-and-seven, then caught the 19-yard touchdown on third-and-12 after a Stone pump fake helped him break free on the right side.
"Cooper came up big," Stone said of the 145-pound junior, who is in his first year as a starter. "He's definitely quick and his route-running is getting way, way better.
" … Our wide receiver talent this year is outstanding and we're definitely putting it to use and we're going to continue to get better and continue passing."
The next offensive play turned into a 59-yard touchdown when Rosa caught a quick pass to the left, sidestepped a tackle attempt in the backfield and won the race down the sideline for the score.
"He's making plays," Cook said. "You get him into space and he can make a kid miss."
The lead held up until midway through the third quarter when Montrose followed up its most successful drive with its biggest defensive play.
Montrose moved 61 yards after forcing Susquehanna to punt on the first possession of the second half.
Landon Baker got deep for a 32-yard pass from Wyatt Nabywaniec on third-and-six.
Then, on third-and-seven, Nabywaniec hit Bus Brown in the right flat. Brown bounced off a hit and went in for a 22-yard touchdown.
Kaden Bomboy added the two-point conversion.
Derrick DeMann's sack forced a fumble that Levi Osborn recovered at the Susquehanna 22.
Nabywaniec scrambled for the touchdown on the next play, cutting the deficit to 21-14 with 1:30 left in the third quarter.
Susquehanna quickly re-established control, scoring two touchdowns in the next 2:29.
William Marcy's 38-yard kickoff return helped set up a Stone-to-Rosa, 16-yard touchdown pass.
The Sabers drove the Meteors back to fourth-and-24 from their 13. A fumbled punt snap in the end zone was recovered by Shimer for the touchdown.
Susquehanna (2-0) got 100 yards on 4 catches from Payne and 91 yards on 5 catches from Rosa.
The Sabers had statistical advantages of 14-8 in first downs, 94-34 in rushing yards, 197-94 in passing yards and 291-128 in total offense.
Shimer got plenty of help defensively.
Layne Fisk matched Shimer's seven tackles and three assists while also breaking up three passes.
Zachary Norton, Nate Garrehy, Marcy and Steven Loby also made significant contributions.
Norton had a sack for a 16-yard loss and two other tackles for losses. He had five tackles and four assists total.
Garrehy had five tackles, including a 13-yard sack, and five assists.
Marcy had three tackles, four assists and two broken-up passes.
Loby had a sack, another tackle for a loss and a third tackle. He also rushed the passer into two incompletions.
Stone played defensive end and also contributed two tackles, one of them for a loss, and three assists as part of his award-winning performance.
Hudson Aukema, Jason Dunn, Osborn and Lance Rought led Montrose defensively.
Aukema had seven tackles, including two for losses, and three assists. Dunn had seven tackles and an assist. Osborn had had five tackles, a fumble recovery and a pass rush. Rought had five tackles and two assists.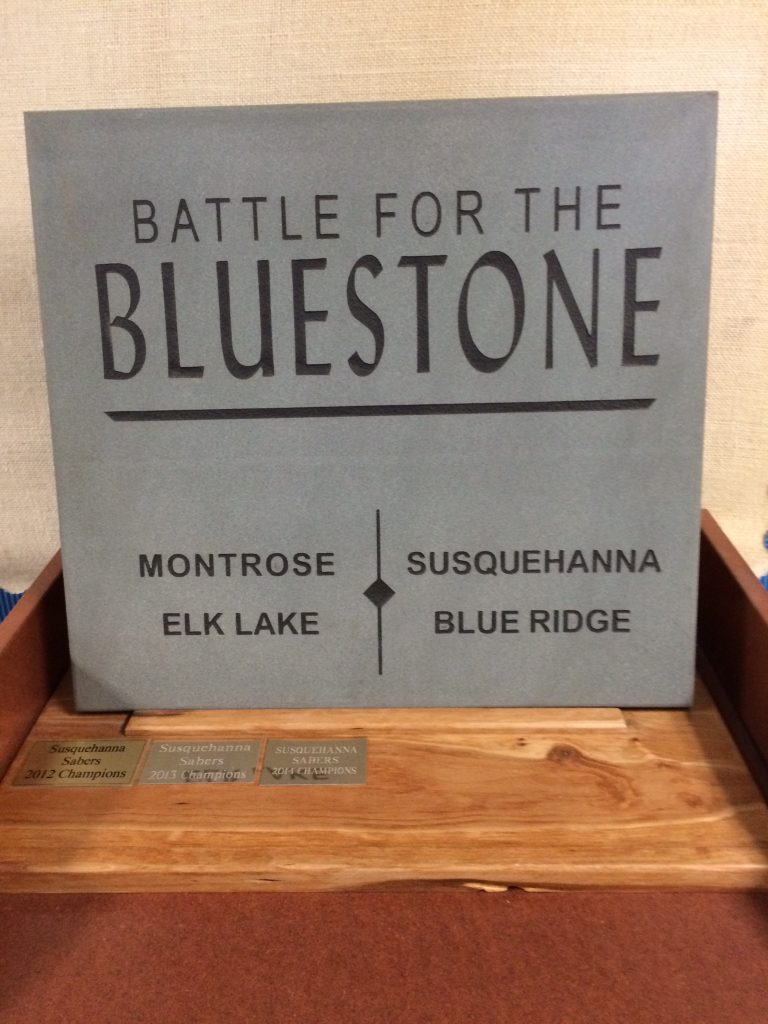 The game was the season opener for Montrose, which is playing an independent schedule this season while trying to rebuild its program.
The Meteors cut into the margins of 37-0 last year, 51-0 in 2020, 44-13 in 2019 and 33-6 in 2018. They had been outscored 113-0 in the first halves of the last three meetings.
"They've made a lot of progress," Cook said. "Their offense is much more sound and they're much more physical."