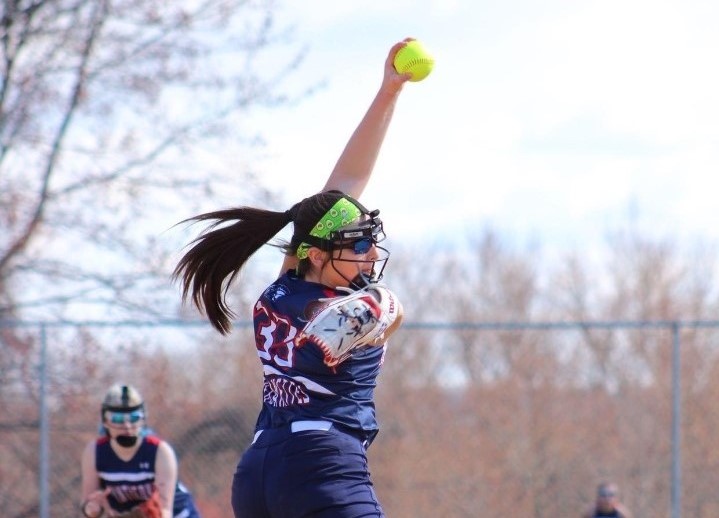 Nanticoke pitcher Lilli Nice. (Courtesy of Gianna Donahue of the GNA Insider student newspaper)
A veteran's clutch hit and a newcomer's dominant pitching performance highlighted Thursday's action in Wyoming Valley Conference softball.
Tori Para's two-out, two-run double in the bottom of the seventh inning lifted Pittston Area to a 4-3 victory and sent visiting Tunkhannock to its first conference loss, tightening the WVC Division 1 race.
Nanticoke freshman Lilli Nice threw a five-inning, no-hitter in an 11-1, five-inning, WVC Division 2 victory over MMI Prep.
Para, the only full-time starter remaining from Pittston Area's 2019 District 2 Class 5A championship team, also tripled in a run to tie the game in the sixth inning prior to delivering her game-winning hit.
Nice has shared Nanticoke's pitching duties so far in her first high school season.
The left-hander struck out nine.
Tunkhannock was in position to expand its WVC Division 1 lead to 3½ games with four to play when second-place Pittston Area, coming off a COVID-19 interruption followed by its first WVC loss, put together a last-chance comeback.
The Lady Tigers had two outs and the Lady Patriots had none on, trailing 3-2, when Kallie Booth and Sage Weidlich singled to extend the game and put runners on the corners.
This time, instead of driving in the tying run, Para drove in the tying and game-winning runs with a deep shot to right field.
Pittston Area's Gianna Adams struck out 12 in the game and Tunkhannock's Kaya Hannon fanned 10, but when they were not going down on strikes, both teams also hit the ball.
The Lady Patriots finished with a 10-9 advantage in hits when Para wrapped up her 3-for-4, three-RBI effort. She scored the only run that she did not drive in.
Booth, Weidlich and Ava Callahan each had two hits. Booth scored twice and Callahan drove in Para.
Nicole Howell went 3-for-4 and scored for Tunkhannock, which took one-run leads in the fourth, fifth and seventh.
Emily Schultz had two hits and drove in a run. Hannah James tripled and scored. Elle McNeff had a run, hit and RBI.
Pittston Area stayed within striking distance in the sixth inning when, trailing 2-1, its infield twice threw runners out at the plate.
The loss was the first for Tunkhannock within District 2. The Lady Tigers had won 11 straight since falling to District 4 Class 6A Williamsport, currently a 13-1 team, in the season opener.
Tunkhannock is the top-ranked Big School team in the Riverfront Sports Super Six Softball Power Rankings of District 2 teams while Pittston Area is fifth.
Nice walked three and allowed a fifth-inning unearned run in her gem for Nanticoke, but the Trojanettes provided plenty of offense to end the game early.
Nanticoke scored six times in the second inning, then scored its last two runs in the bottom of the fifth to end the game on the 10-run rule with two out.
Nice also got involved in the offense, which was led by Riley Baird from the top of the order.
Baird went 3-for-4 with a double, triple, two runs and an RBI.
Nice was 2-for-3 with a triple while also scoring two runs and driving one in.
Emily Brown and Gianna Donahue joined Lilli Nice with two hits while Olivia Nice and Haylee Shotwell each drove in two runs.
Olivia Nice and Donahue scored twice.
Shotwell had a double.
Abington Heights defeated Honesdale, 5-4, in a Lackawanna League Division 1-2 crossover that also matched two Big School Super Six teams against each other.
Abington Heights led 4-2 after one inning, then held on from there.
Ava Leach struck out 10 while getting the win and was the only Lady Comet with two hits.
Riley Dempsey homered and Bailey White drove in two runs for second-ranked Abington Heights, which maintained a half-game lead in Division 1 by improving to 7-1 in the Lackawanna and 11-1 overall.
Honesdale had a four-game winning streak snapped. The second-place team in Division 2 is 3-3 and 7-3.
Amaya Yarrish was 3-for-3 with a double, a homer, two RBI and two runs scored in the loss. Marissa Gregory added two hits and two RBI for the Lady Hornets.
Mia Butka did not walk a batter in a five-hitter while going 3-for-4 as West Scranton remained within a half-game of Abington Heights with an 11-1 victory over Valley View in six innings in the Lackawanna Division 1 game.
Bella Summa drove in three runs with two hits.
Julia Mrochko homered and drove in four runs to lead Hazleton Area to a 9-3 victory over Wyoming Valley West in a WVC Division 1 game.
BASEBALL
Cole Vida and Michael Show combined on a one-hitter as Abington Heights remained unbeaten in Lackawanna League baseball with a 6-1, Division 1-2 crossover victory over Honesdale.
Vida gave up an unearned run on one hit while striking out seven and walking one in five innings.
Show struck out five of the six batters he faced, including the last four of the game.
The Comets took a three-run lead in the bottom of the first and added to it with one run each in the fourth, fifth and sixth innings.
Valley View defeated West Scranton, 9-3, in a game between the two teams chasing Abington Heights in Division 1.
Logan McConnell and Adam Grundt each had two hits and three RBI for the Cougars. Zack Kovalchik's two hits included a home run.
The Cougars improved to 6-2 in the division.
The Invaders played for the first time in 17 days and fell to 2-2.
Blue Ridge knocked Lackawanna Trail out of the Lackawanna Division 4 lead with a 12-8 victory, ending a seven-game winning streak by the Lions.
Mountain View regained the division lead.
Matt Stone's inside-the-park home run in the bottom of the seventh inning completed a comeback that lifted Western Wayne to a 15-14, Lackawanna Division 3 victory over Dunmore.
Ty Federici threw a two-hit shutout as Lake-Lehman maintained its WVC Division 2 lead with a 5-0 shutout of host Wyoming Area.
Federici walked one and struck out eight.
Connor Morgan and Nick Finarelli each had two hits for the Black Knights.
Evan Melberger and Casey Noone had the Wyoming Area hits.
Chris Killian struck out 10 in 5 innings to earn the win on the mound while also delivering 2 doubles when Dallas defeated Wilkes-Barre Area, 6-3, in WVC Division 1.
Winning pitcher Gavin Flanley drove in four runs in Wyoming Seminary's 10-3 victory over Hanover Area in a WVC Division 2 game.
GIRLS LACROSSE
Maddie Raspen and Madison Lasinski scored four goals each to lead Lake-Lehman to a 12-6, WVC victory over Scranton Prep.
Rapsen also had an assist. Lilian Raczkowski had a goal and four assists while Rachel Shook contributed two goals and two assists.
Kortney Harry made 12 saves in the win.
Annie Johnson scored three goals while Christina DeNaples had two goals and an assist for Scranton Prep.
BOYS LACROSSE
Will Pickarski scored twice to lead North Pocono past Abington Heights, 4-2, in a WVC game.
BOYS VOLLEYBALL
Tunkhannock defeated Hazleton Area, 25-18, 25-17, 25-18, in the WVC for its ninth straight victory.
Abington Heights remained unbeaten in the Lackawanna League with a sweep of Mountain View.