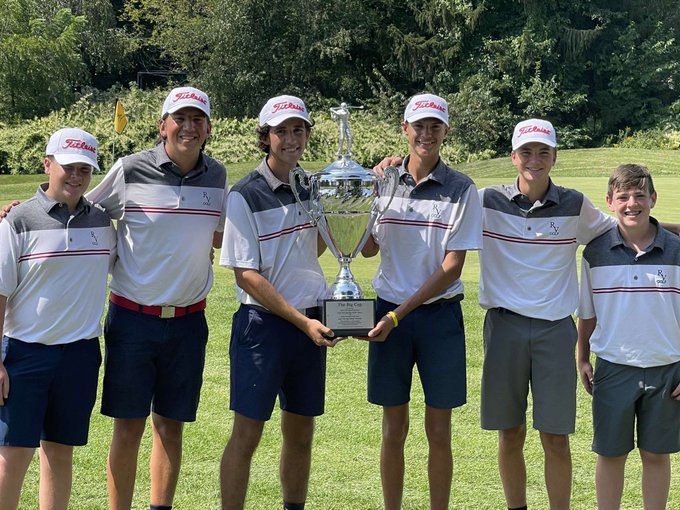 Michael Maslanka had an eagle and two birdies while Carl Walsh had four birdies Friday when Riverside defeated Old Forge, 9-0, in a non-league golf rivalry match on the back nine at Pine Hills Country Club.
With the win, Riverside captured The Big Cup, played in honor of the two long-time former coaches at the schools, Jack Helcoski at Riverside and the late Rich Notari at Old Forge.
Maslanka won his singles match and better-ball point in the least possible time, taking the first five holes on the way to a 2-under-par, 33.
Walsh had three birdies in succession on 13 through 15 to close out a 5 and 3 singles victory.
Connor Monahan matched Maslanka by winning 5 and 4 in both singles and better-ball with partner Joe Kulikowski.
Mason Rickert and Robbie Castaldi were the other Riverside players that were part of winning both individually and with a partner as the defending Lackawanna League Division 2 champions won the match with their Division 3 opponents.
The interdivisional matches are not part of the league standings.
Montrose opened defense of its Lackawanna Division 4 title with a 7-2 victory over Forest City.
The Foresters were playing their first league match since 2019 after sitting out last season for COVID-19 precautions.
Lakeland defeated Western Wayne, 7-2, in Lackawanna Division 3.
Pittston Area won for the second straight day in Wyoming Valley Conference Division 1, beating Wilkes-Barre Area, 164-181, at Wilkes-Barre Golf Club to improve to 2-1.
Zack Valeski shot 2-under-par, 34 to lead the Patriots.
Tayler Wassel shook off a triple bogey on the first hole to go 1-under the rest of the way and finish with a 38.
Karl Pecha's 43 matched the best Wilkes-Barre Area score, turned in by Sawyer Koretz.
Hanover Area posted two wins in a WVC Division 3 tri-match, shooting 158 to beat Holy Redeemer (166) and Nanticoke (211). Holy Redeemer won over Nanticoke.
Nick Schiel led the way for the Hawkeyes with a 37 while Kyleen McCance added a 38 and Zach Murphy a 39.
In other non-league matches: Abington Heights shut out Dunmore, 9-0, and Wallenpaupack defeated Delaware Valley, 6½-2½.
James Flickinger had two birdies and seven pars in a 2-under-par, 34 on the front nine of Glen Oak Country Club to lead Abington Heights. Michael Marion finished at even par. Each had one point wrapped up in the minimum five holes and another in six holes.
GIRLS GOLF
Gianna Cafarella shot a 40 to lead Scranton Prep past Dunmore, 126-142.
Miranda Karoscik and Caroline Stampien each added 43s at Elmhurst Country Club.
Ciera Toomey was medalist, shooting a 38 for Dunmore.
GIRLS TENNIS
West Scranton and Riverside, the 2020 District 2 runners-up in team play, both opened their seasons with Lackawanna League victories.
West Scranton won all but one game while beating Dunmore, 5-0.
Madison Maloney and Mia Butka at second and third singles plus the doubles teams of Camilla Sphabmixay-Gianna Tallo and Molly Donovan-Isabella Gigliotti won, 6-0, 6-0.
Gabrielle Chantiloupe won, 6-0, 6-1, at first singles.
Riverside won all three singles matches, 6-0, 6-0, while beating Western Wayne, 4-0, with the last point undecided when the match was halted for lightning.
Karissa Ghigiarelli, Madeline DeFaber-Schumacher and Bella Aniska had the singles wins. Paige Olanovich-Madlynn Perfilio won at second doubles.
In other Lackawanna League matches: Holy Cross defeated Honesdale, 4-1, and North Pocono shut out Montrose, 5-0.
Crestwood lost just 6 games in 10 sets while sweeping Wyoming Valley West, 5-0, in a match that left both teams with 1-1 Wyoming Valley Conference records.
The second doubles team of Madison Van Gorden-Samantha Olszyk won, 6-0, 6-0.
Hannah Ziegler, Shannon Griffths and Meghan McLaughlin lost just one game each in singles. The other win came from the doubles team of Olivia Richards-Sydney Bruno.