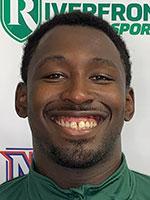 By Tom Robinson, NEPASportsNation.com
Western Wayne has chosen Lamont Tillery for the task of trying to turn around its struggling boys basketball program.
The Western Wayne School Board approved the hiring of the 29-year-old Tillery, who has spent the last four years training and coaching players at Riverfront Sports in Scranton, at its Wednesday night meeting.
Tillery, a former East Stroudsburg University player who has remained active in the semi-pro American Basketball Association, has served as an assistant for two seasons at Western Wayne and previously for two seasons at his alma mater, Pocono Mountain East.
Western Wayne is 41-200 over the past decade, a stretch that included a 60-game Lackawanna League losing streak. The Wildcats have endured two straight winless seasons and are on a 37-game losing streak overall after going 0-21 and being held to 30 or fewer points 13 times in the 2021-22 season.
Tillery plans to try to build individual offensive skills and emphasize defensive discipline as he begins the challenge.
That individual process can start now, in the summer, according to Tillery.
"We'll be getting kids acclimated to playing the right way and working on their individual skills," Tillery said. "Because, they were never really worked on growing up, some of our kids don't understand footwork, what's a great shot and how to finish in traffic offensively."
Tillery also explained his defensive emphasis.
"Communication and not trying to reach or go for blocks," he said.
Although he prefers a "run-and-gun" style, Tillery acknowledged that approach may have to wait.
"This year, I'll probably change that just because of personnel," he said.
Tillery trains players and coaches the seventh-grade NEPA NXT boys team at Riverfront. The youth, and now, high school coaching roles fulfill goals that Tillery developed during his own high school playing days as an all-star basketball player and record-setting football wide receiver at Pocono Mountain East.
"Even in high school, I knew, if I didn't play pro or go overseas, I wanted to help kids who just wanted to be athletes," Tillery said. "A lot of the times, kids get around the wrong people and they give them the wrong information.
"So, I wanted to be around kids, tell them the truth, but give them the confidence. I believe that coaching is a way to do that."
Tillery said he will make a determination on his playing career once he sees the Western Wayne schedule and how it fits with the Wyoming Valley Clutch ABA schedule.
After two seasons with the Scranton Shamrocks, Riverfront's former ABA team, Tillery has played two seasons with the Clutch, which has won 90 percent of its games in his time with the Wilkes-Barre-based team. Last season, he was the team's second-leading scorer and rebounder.
"I want to play, but the kids are much more important than me playing," he said.