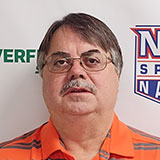 By Tom Robinson, NEPASportsNation.com
The playoffs are about to start and, as has been the case each week, I'll have predictions on what to expect.
First, however, the completion of the regular season last week allows for a good chance to check back to the first predictions of the season.
That column included predictions not only the results of Opening Weekend games, but also for the season as a whole.
We are now armed with the information to see how the regular-season predictions did and to have an idea how likely the postseason predictions are to come to fruition.
There are seven division races in the Lackawanna Football Conference and Wyoming Valley Conference.
I'd like to tell you about all those I had right from the beginning, but in fairness, one must give credit to those who did better than I expected.
Hazleton Area won the Wyoming Valley Conference Class 6A/5A Division after I did not have the Cougars listed among the top two teams.
Lakeland and Dallas each provided a mild surprise here. Before the season started, I predicted them to be second best in LFC Division 3 and WVC Class 4A Division.
On four of the seven divisions, the prediction of champion was correct, as was the team to finish second. Those were: Delaware Valley-North Pocono as 1-2 in LFC Division 1; Scranton Prep-Valley View in LFC Division 2; Old Forge-Lackawanna Trail in LFC Division 4; and Wyoming Area/Lake-Lehman in WVC Class 3A Division.
Williamsport, the predicted champion in WVC Class 6A/5A, finished second to Hazleton Area.
Dunmore, in LFC Division 3, and Crestwood, in WVC Class 4A Division, did not fare as well.
Beyond the first two in each division, I also predicted a darkhorse in each. One worked out. One did not. Mid Valley emerged as an 8-2 team and helped knock Dunmore down to third in LFC Division 3. Tunkhannock had a frustrating 3-7 season, include 3 consecutives mid-season losses by a total of 15 points, and missed the postseason.
As for the 6 District 2 or subregional playoffs that are about to start, 10 weeks later, I like all 6 championship predictions and 5 of the 6 choices to join them in the finals.
One has already been decided, Old Forge is the District 2 Class A champion over Holy Cross because the Crusaders chose not to play in a title game after losing to the Blue Devils, 55-6, in the regular season.
Although I'm looking forward to the possibility of close championship games next weekend and the week after, I still like Delaware Valley over Hazleton Area in District 2 Class 6A and Scranton Prep over Wyoming Area in Class 3A. The same goes for Lackawanna Trail over Dunmore in Class 2A and even the District 2-11 Class 5A Subregional of East Stroudsburg South over Southern Lehigh, which would require Southern Lehigh to first win on the road this weekend at Whitehall.
Valley View holds up as the choice in District 2 Class 4A, but we know the final won't be the one predicted 10 weeks ago. Crestwood's struggles mean the Comets won't play the Cougars in the championship game. Instead, as the eighth seed, Crestwood makes the trip to Valley View for Friday's quarterfinals.
Enough of the big picture, on to predicting the first weekend of the playoffs.
The first prediction is that this weekend's set of games will not come anywhere close to matching the quality we had, even under difficult weather conditions, in Week 10 of the regular season or in what is ahead for the next two weeks of playoffs.
The predictions, with home teams in bold italics:
THE UPSET
Here's an upsetting thought. Don't be surprised if there are zero or just one game in District 2 this weekend where the lower-seeded team wins on the road. I'm predicting one, but to do so essentially requires ignoring history.
Wallenpaupack 16, Berwick 13
THE REST OF THE BRACKET
The other three games in District 2 Class 4A are all rematches of regular-season meetings. The higher seeds won those three games by a total of 112-34 and two of the three did so away from the home fields they will enjoy Friday. Expect them to exceed that combined victory margin, if not the points scored total.
Valley View 41, Crestwood 7
North Pocono 40, Honesdale 6
Dallas 30, Pittston Area 9
BEST GAME, PART 2
If it's not Wallenpaupack at Berwick, the best game likely will be Western Wayne at Mid Valley. Western Wayne had its season torn apart by major injury issues, but the Wildcats played in a division with larger schools and had the highest Opposing Winning Percentage of any Small School in District 2, which makes them the type of team that sometimes pulls off a playoff surprise.
Mid Valley 24, Western Wayne 14
THE REST OF THE BRACKET, PART 2
There is also a rematch in District 2 Class 3A where Lake-Lehman travels to Lakeland and faces the Chiefs for the third time in less than a year. Although Lakeland was the higher seed, Lake-Lehman's loss there in last year's district championship game was still a surprise to some. After falling to the Chiefs at home, 41-12, in this year's opener, there's little doubt the Black Knights know exactly what they are getting into. An encouraging sign, however, is how tough Lake-Lehman played unbeaten Scranton Prep for a half late in the season.
Lakeland 34, Lake-Lehman 12
Wyoming Area 39, Carbondale 17
THE BIG GUYS
The District 2 Class 6A field features two teams with 7-3 records and strong finishes and two teams with 4-6 records and late-season struggles. Delaware Valley has won seven straight. Hazleton Area has won seven of eight with only a 14-9 loss to Delaware Valley. Wilkes-Barre Area has lost three straight. Scranton had lost three straight before needing a late rally to get past 2-8 Abington Heights in the regular-season finale. The only District 2 team active in Class 5A is Wyoming Valley West, which takes a five-game losing streak to East Stroudsburg South to face the subregional's top seed, which has won its last three.
Delaware Valley 34, Scranton 0
Hazleton Area 34, Wilkes-Barre Area 12
East Stroudsburg South 43, Wyoming Valley West 13
THE LITTLE GUYS
Lackawanna Trail has the only winning record in District 2 Class 2A where all four teams knew they were headed to the playoffs before the season started. Even the Lions, 6-1 as they headed for the stretch, are struggling with losses in their last two games. The other home team, Dunmore, enters the playoffs on a four-game losing streak, although it was in a grueling stretch of the schedule and three of the games were close. They each have a chance to get turned in the right direction before an anticipated championship game meeting.
Lackawanna Trail 39, Riverside 0
Dunmore 28, Susquehanna 7
THE OTHER GUYS
Nanticoke and Holy Cross each chose to pass on the District 2 playoffs, understandably, considering the likelihood of being overmatched. Each will participate in the Eastern Conference "playoffs" where Nanticoke will play for the Class 3A title and Holy Cross the Class 2A/A title in the event that does not advance teams toward state play.
Nanticoke 26, Schuylkill Valley 18
Executive Education 29, Holy Cross 19
COMPLETING THE BRACKETS
Just when I thought I was done assessing games, I saw that that my competition (more on that below) also predicted the outcome on games completing the subregional brackets of District 2 teams – Districts 2-11 in Class 5A and Districts 1-2-12 in Class A. For those Wyoming Valley West and Old Forge fans looking ahead …
Southern Lehigh 17, Whitehall 16
Belmont Charter 20, Bristol 14
KEEPING SCORE
The season ended on a high note, with a correct prediction of the exact score of the final game of the regular season, Susquehanna's 39-26, Saturday night victory over Holy Redeemer.
Don't even ask where 39 and 26 came from when doing the prediction.
By then, it had also already been a good week in the friendly competition with The Rick's Picks from our partner website, NEPAFootball.com. The Susquehanna game made it a 16-1 week – in picking winners, not nailing precise scores – while Rick was going a respectable 14-3.
That opens a touchdown lead, six more wins on the season.
My record finally moved over .500. The record stands at 139-32 (81.3 percent). Getting there required hitting 88.1 percent (74-10) during an improvement in the second half of the season.
Rick finished the regular season at 133-39 (77.3 percent).
With the help of the expanded list of games, Rick and I disagree twice this week – less than in recent weeks – so my lead is safe for now.
To see where Rick disagrees – or to see what else he addresses in this week's predictions column – check out The Rick's Picks at: https://www.nepafootball.com/2021-the-ricks-picks-week-11/.