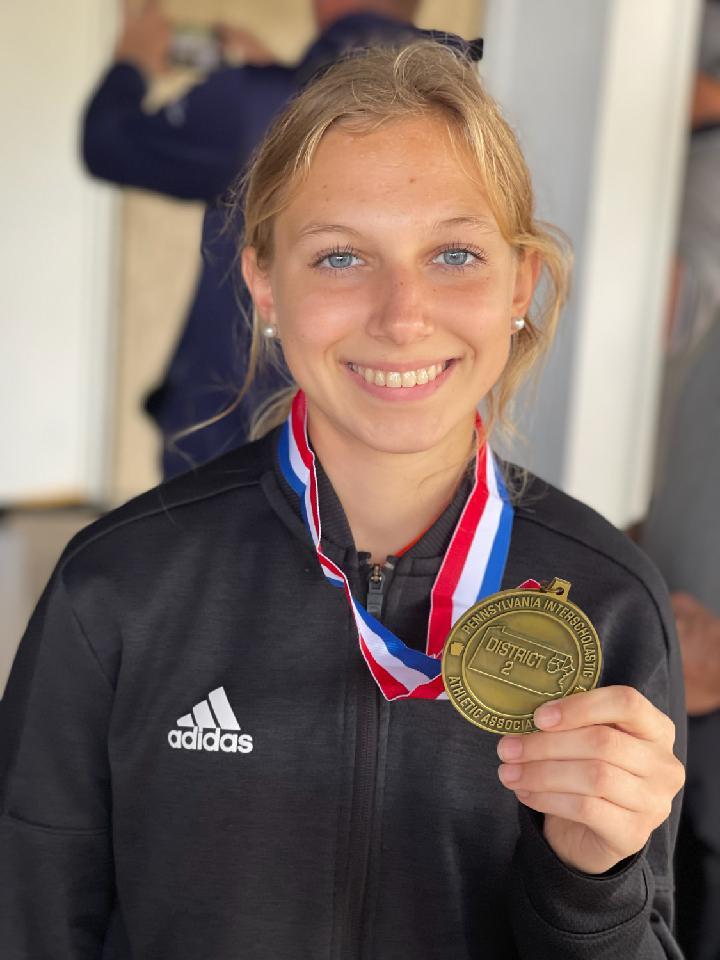 By Tom Robinson, NEPASportsNation.com
EXETER – Hallie Brown simply wanted to beat her last tournament performance at Fox Hill Country Club.
The Tunkhannock freshman wound up beating a highly accomplished field and posting her best-ever competitive round, capturing the District 2 Class 2A girls golf title Tuesday with a 2-over-par, 75.
"I was just trying to beat my score from pre-districts, which was 80, so I wanted to be in the 70s," Brown said. "I thought that would give me a real good chance of going to states."
Brown finished one stroke in front of Hanover Area's Kyleen McCance, one of two former district champions in the field, which also included a returning state medalist in third-place finisher Ciera Toomey from Dunmore.
Being paired with defending champion Chloe Sipe from Elk Lake and midway-point leader Toomey gave Brown a good indication of what she needed, but she had "no idea" how McCance was doing.
Toomey had a two-stroke lead until getting into trouble and posting a triple bogey on No. 2, the 16th hole the group played in the shot-gun start while Brown was chipping close and rolling in a birdie on the par-5.
"I just tried to make pars," Brown said. "I figured if I made pars, I would be in pretty good shape."
Brown said she putted well throughout the round, including rolling in a tough sidehill putt on 17 to save a par.
A four-way battle developed in the 12-player field between the three established veterans and Brown, who was medalist during Wyoming Valley Conference qualifying.
All four started on the fifth hole, but McCance was in a different threesome.
Toomey posted a 37 on the back nine while Brown and Sipe had 38s.
McCance, who had a 40 on the back, had the best front nine score with a 1-under, 36, but since the front nine was split up as their first five and last four holes and those scores weren't posted in the end, she was almost able to sneak up on the other threesome.
District 2 is able to send its top three finishers to the Pennsylvania Interscholastic Athletic Association Class 2A individual state championships Oct. 18, but McCance will be out of state in a different event that day so she declined her berth.
McCance's decision opened up a spot for Sipe to return to the state tournament at Heritage Hills Golf Resort in York after finishing fourth with an 82.
Toomey placed third with a 79.
Only four other players – Lakeland's Aaliyah Matylevich, Lake-Lehman's Abby Beyer, Riverside's Jennifer Genell and Mountain View's Lily Sedlak – broke 100, taking fifth through eighth place by finishing between 93 and 99.
MORE
Complete scores: https://nepasportsnation.com/district-2-individual-golf-championships/.